Three Skylight Window Features to Look for
With so much choice out there and so many buzzwords associated with skylight windows, it can be difficult to separate the wood from the trees and purchase a product that's perfect for your needs.
To give you some food for thought and help you make the most informed decision possible, we've created this shortlist of three features you should look for when choosing a skylight window specifically for a pitched roof:
1. A Frameless View
The primary purpose of a skylight window is to allow more natural light to enter your home. In fact, flat or sloping roof windows and lanterns let in proportionally much more daylight than a vertical equivalent.
 Related reading: How important is natural light for your health?
And if you install a pitched skylight window with no visible frame around the edge, you can actually achieve that primary purpose even more effectively, because it allows the optimum amount of valuable light into your room.
Not sure what we mean?  Here is a photo that shows how a frameless skylight window looks compared to the more traditional type of pitched roof window you are probably used to seeing.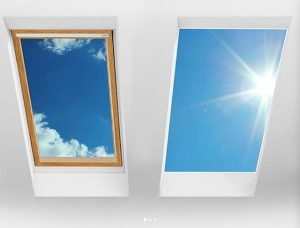 The image above without the wooden frame is Roof Maker Luxlite™  featuring a contemporary frameless design. This unique product allows a lot more sunlight to enter your home, than other traditional pitched rooflights.
The Roof Maker Luxlite™ is also a great choice for homeowners who are looking to achieve a cleaner, more minimalistic feel. If sleek aesthetics are one of your top priorities, the Roof Maker Luxlite™ could be just what you're looking for.  In fact, it can transform a room to give a more contemporary feel without the need to do a lot of other decoration.
2. A super low Ug-value
Achieving maximum energy efficiency is always a top priority for homeowners. It's something that's good for both the environment and your wallet – so it really is a win-win.
When it comes to the energy efficiency of skylight windows, the aspect you need to focus on is the Ug-value of the product you're considering.
In a nutshell, a Ug-value is a measure of a building material's thermal performance. In other words, how good an insulator it is and how quickly heat transfers through it. And the rule of thumb you should always follow is the lower the Ug-value, the better the thermal performance.
Related reading: What are Ug-values and why are they important?
So, if exceptional thermal performance and energy efficiency are important to you, you're going to want to focus on skylight windows that have low Ug-values.
How do our products compare?
Well, low Ug-values are something we specialise in. Our Luxlites for example, feature triple-glazing as standard and boast Ug-values as low as 0.6 w/m2k. To give you an idea, a typical double-glazed vertical window has a Ug-value of between 3.5 and 1.5 w/m2k.
If you opt for our specialist Reflex solar control glass or go one step further and choose our quad-glazed ultimate glass, you can expect Ug-values as low as 0.5 w/m2k and 0.2 w/m2k respectively.
With the UK being the first major economy in the world to pass laws to end its contribution to global warming by 2050, the issue of Ug-values will become more and more important in our efforts to become energy efficient, so worth checking before you install.
3. A range of glazing options
When selecting a skylight window, glass is glass, right? Well, actually, while the glass in a skylight window is there to allow light in and keep rain out, there are a number of different types you can choose from, each with its own range of benefits. That's why you shouldn't just settle for whatever glass is offered as standard, but investigate what else is available and whether you might want to choose something more specific to your requirements.
As a minimum, look for skylight window glass that is labelled as being 'Easy clean.' This means it has a special coating that enables sunlight to break down dirt on it, which can then be washed away the next time it rains.
At Roof Maker, we manufacture our own, but regardless which type of glass you choose (more info below), it will come with a low-maintenance, easy clean coating as standard, no extra charge.
Our Reflex® Glass can also be ordered in four different varieties:
Energy – Designed to provide even better insulation and toughness
Solar Control – Features a special reflective coating to repel heat from the sun
Noise Control – Significantly reduces unwanted outside noise
Security – Our toughest type of glass, designed to withstand break-ins and not shatter
Hopefully, these three pointers will help you make the right choice, but if your appetite has now been wetted for more detailed information, please give one of our expert team a call and they will be happy to answer all your rooflight questions.
Meantime check out our video on the five reasons you should choose a Luxlite pitched skylight window.
Contact our sales team on 0116 269 6297, pop into our Leicester showroom or go online for a quote.