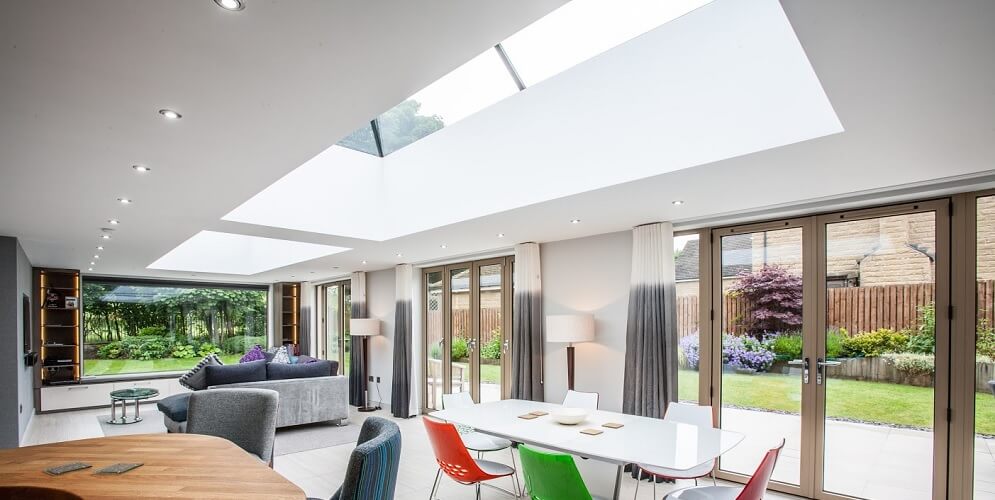 3 Amazing Rooflight Projects from Roof Maker in 2016
The end of the year is a time for reflection. As we look back on our successes in 2016, and start to plan for 2017 and beyond, a few projects stand out in our minds. Here's our top 3 skylight projects
1. Pannal Water Tower – as featured on Channel 4's Restoration Man
This was a very exciting project to work on – restoring a stunning period building in Yorkshire. The 46ft water tower was originally built in the 1930s by Harrogate Corporation Waterworks Department to serve the nearby village of Kirkby Overblow.
After the tower fell out of use and into a state of disrepair in the 1960s, planning permission was obtained for conversion to a dwelling in 2010 and the tower was put up for sale.
Carol and Majid Nadry purchased the tower and laid out their vision for its restoration. This included restructuring to flood the building with natural light and offset the tower's industrial features. Our Roof Maker 2 x 1 metre fixed flat triple glazed rooflights with energy efficient glass helped to achieve this goal.
The end result is a striking, contemporary dwelling which we are proud to have been a part of.
Featuring on Restoration Man was certainly a highlight for us in 2016.
2. Contemporary Flat Extension – Sheffield
Another project we're particularly proud of is the contemporary flat extension we worked on in Sheffield this year.
The aim here was all about getting as much natural light into the property as possible, which happens to be our speciality!
Natural light can improve your mood, as well as help to save money on energy bills. Our skylight installations in this compact, beautiful home helped to bring a warming glow to the space, whilst maintaining the chic, contemporary aesthetic.
We used our SlimlineTM roof lanterns to achieve this effect, which added height to their living space and helped to draw the outside in, creating a harmony between the garden and living areas.
3. Bolton Eco House
Another great project and an easy entry into our top 3 skylight projects list – this home we worked upon was featured on Grand Designs. We were thrilled to have our work showcased on this brilliant platform.
The project in question was based in Bolton, creating a beautiful, energy efficient home for Paul and Carol Rimmer. Paul is a former builder, and put his years of experience on construction sites to good work in designing and building this dream home for his family.
The Rimmers converted a traditional stone barn in Bolton's idyllic countryside. Our fixed flat product helped the building to blend in with the natural surroundings and bring in plenty of natural light, which was crucial to the design.
The result is a bright and airy modern property, which retains a natural feel with the use of stone walls and wooden cladding. Respect for the environment was key here, and we think that has certainly been achieved.
Are you planning a renovation or restoration project for 2017? Get in touch with us today to discuss your vision, and discover how our rooflight products can help your vision to become a reality. Maybe next year, your home will be in our top 3 skylight projects list!

Call us on 0116 269 6297 or email [email protected].