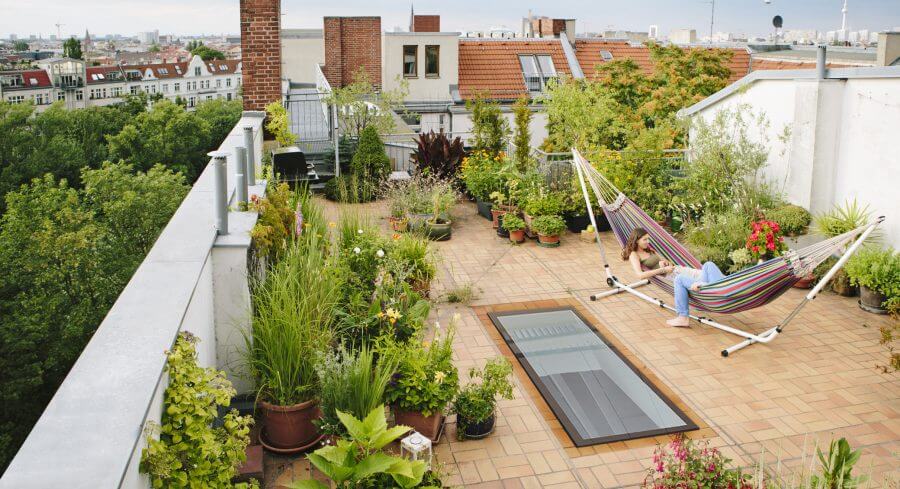 August 17, 2018
There's talk of the current heatwave in the UK continuing until October. And while this will come as welcome news to many people across the country, those without gardens may be feeling as though they are missing out on opportunities to make the most of the good weather.
Other than going to a local park, a nearby beach or around a friend's house, what alternatives are there if you want to enjoy the sunshine but don't have a garden at home?
The solution could be creating a roof terrace or roof garden for your home. A flat roof offers the perfect opportunity to build roof terrace without breaking the bank. Whether it's a flat roof on a house, garage, extension or top floor penthouse. These tips will help you to plan how to create a roof garden or terrace.
1. Is your roof suitable?
Before you start considering design options and creating an image of your finished roof terrace in your head, you need to determine whether your walls and roof can take the weight of one. After all, a roof terrace alone adds additional weight and this is increased significantly once furnishings and fittings have been added and people are walking around on it.
It's best to a surveyor to take a look for you to advise you on what can and can't be done and any building regulations etc.
2. Do you need planning permission?
You almost certainly will. That's because adding a roof terrace will involve some major surgery on your house. Moreover, if your terrace will overlook neighbouring properties, securing planning permission is almost certainly a must.
Going ahead without checking the required planning permission requirements and you could end up in a very difficult situation if someone complains, or you want to sell the property.
If you live in England, contact your local planning authority (LPA) in the first instance and take it from there.
3. Be a good neighbour
Even if your roof terrace doesn't require planning permission, it's still best to be a good neighbour and discuss your plans with the people who live near you. It's a simple gesture of goodwill that could prevent any complaints in the future.
Your new roof terrace may overlook their property and impact their privacy and during the building work, there is likely to be some noise and disruption. The bottom line is being open and honest with your neighbours is likely to stand you in better stead going forward.
4. Create an access point
Your new roof terrace obviously needs an access point and while it is common for people to use standard doors, there is another solution that will really give your roof terrace the wow factor: an opening rooflight combined with stairs from the room below.
There are two different types of rooflights that are suitable to serve as an access point for a roof terrace. Here's the lowdown on each of them:
Hinged opening rooflight – hinged to open to a 90° angle to serve as a flat roof access hatch, open at the touch of a button with a remote control
Slide-opening roof lantern – with the option to open fully to create enough roof for an access point, operate using the remote control
In addition to providing rooftop access, adding an opening rooflight will allow more natural light and fresh air to enter the room below, making it a win-win solution.
5. Consider drainage
We're sorry to say the gorgeous weather isn't going to last forever, so you need to seriously consider how rainwater is going to drain from your roof terrace. Even though most appear flat, roof terraces slope very slightly and drain into one corner.
Check to see if you've got an existing downpipe that your roof terrace can drain into. If you haven't, one will need to be added or you're going to end up with a rooftop swimming pool instead –hmmm, now that's an idea!
6. Install some windbreaks
Your new roof garden is going to be quite a bit windier than a regular garden. For a start, it's unlikely to have any buildings providing it with cover. That's why you'll almost certainly need to install some latticed windbreaks.
This is also an important factor to consider if you're planning on putting plants on your roof terrace. Some species do not like windy, exposed environments, so bear this in mind when choosing plants and flowers.
Are you considering buying an access rooflight for your home? If you are, call Roof Maker on 0116 269 6297. Our rooflight experts will help you to choose the right solution for your needs. Alternatively, visit our showroom or get a quote online.