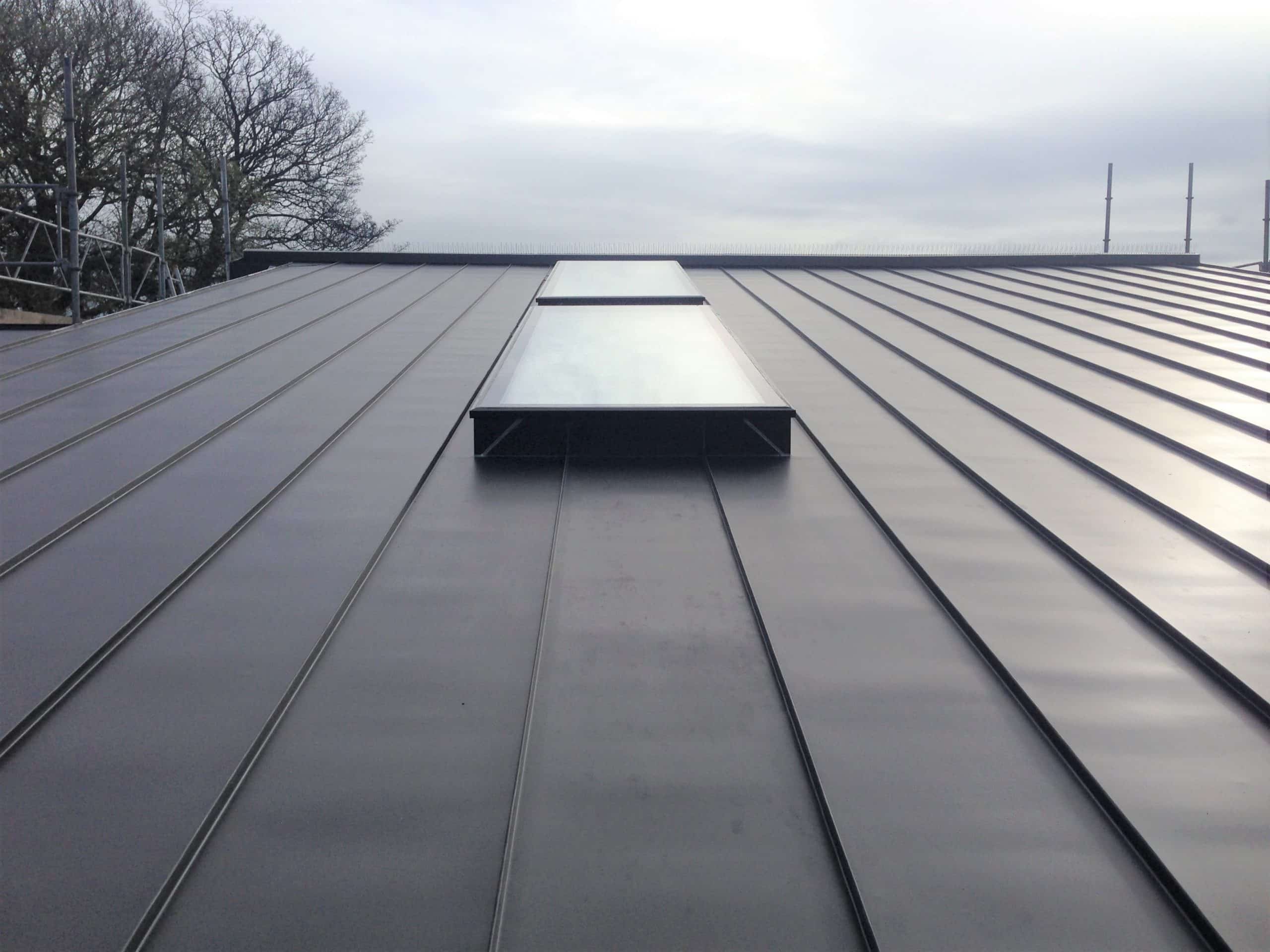 September 22, 2021
Whether you're building a new home or renovating your existing property, the type of roofing material to use will be one of your biggest considerations. With so many different roof materials available, knowing which is right for your project can be tricky.
If you want to add more light into the space or room below, adding a flat, pitched or lantern rooflight can help, but you need to be aware that the roofing material and pitch will impact what type of rooflight you can choose.
Popular roofing material options
Modified bitumen torch-on felt roof
Built-up flat roof (BUR)
GRP fibreglass flat roof
EPDM rubber flat roof
Tiles for a pitched roofs
Slate for a pitched roof
Zinc for a pitched roof
Thatch for a pitched roof
Green roofs
Here's some food for thought, we've outlined the most popular roof materials in this blog, providing pros and cons for each.
When considering any roofing material, you need to take into account the following:
Flat roof or pitched roof
The size of your flat roof
Your budget
The look you want to achieve
General weather conditions where you live
Once you've thought about all these factors, you can begin looking into the roofing material options that are available.
Modified bitumen torch-on felt roof
The modern way of installing felt is to use modified bitumen and the torch-on felt technique. This involves felt sheets that come in rolls, which are then heated using a blow torch or heat gun so they adhere to the roof surface.
Durable, lightweight and inexpensive, modified bitumen torch-on felt roofs are a popular choice among homeowners.
Pros of felt roofs
Affordable
Lightweight
Easily repaired
Flexible for a wide variety of roofs, regardless of shape and size
Cons of felt roofs
Require ongoing maintenance to keep them at their best
Can be prone to extreme weather like heat and snow
Prone to wear if the roof is walked on regularly
Built-up flat roof (BUR)
BUR flat roofs are installed by layering molten tar and gravel to achieve a waterproof finish. It's one of the most common flat roof materials out there and has been being used for more than 100 years.
Pros of BUR flat roofs
Excellent water resistance
Low maintenance
Good insulation
Strong
Easy and cost-effective to maintain
Cons of BUR flat roofs
Can be expensive and slow to install
Installation can also be messy
Relatively heavy, making them unsuitable for lightweight structures
Advisable to not live in the property during installation because of the potentially hazardous fumes
GRP fibreglass flat roof
A GRP flat roof, also known as a fibreglass roof, is one of the most popular flat roofing choices.
GRP, which stands for 'Glass Reinforced Polyester', involves strengthening plastic with glass fibres to create a material that is strong, watertight and virtually maintenance-free.
Pros of GRP fibreglass flat roofs
Suitable for complex shapes
Good weatherproofing
Strong and durable
Maintenance-free (occasional cleaning is all that's usually required)
Good insulation
Lightweight
No joints or seems
Cons of GRP fibreglass flat roofs
Can be noisy when it's raining
More expensive than some other roofing materials
Can only be installed during dry conditions
Can be prone to curing problems if installed during cold weather
Often unsuitable for large roofs
EPDM rubber flat roof
EPDM stands for 'Ethylene Propylene Diene Monomer' and it's a single-ply rubber roofing system that is made up of recycled rubber, making it an environmentally-friendly choice.
EPDM flat roofs are installed by basically gluing the strips of synthetic rubber material onto clean roof decking. Because no naked flames or heat are required, no noxious or poisonous chemicals are released during installation.
Pros of EPDM rubber flat roofs
Suitable for extreme conditions
Long-lasting (50 years+ in some cases)
Environmentally friendly
Excellent insulation
Highly resistant to UV light and
Flexible (won't crack due to expansion/contraction)
Easy to repair
Lightweight
Low maintenance
Cons of EPDM rubber flat roofs
Can only be installed during dry conditions
Can be prone to leaks if not installed correctly
Footfall and falling debris can cause the rubber material to tear
Requires a specialist to install
Pitched roof material options
Roof tiles for a pitched roof
In the UK, the dominant choice in roof tiles is either slate, clay or concrete. Slate is mainly used in areas where there is a local supply and has recently seen a rise in popularity. The choice of tiles for pitched roofs has increased significantly, encompassing everything from handmade clay tiles to mass-produced concrete and imported slate.
Available in a range of different shapes, sizes and colours, roof tiles provide plenty of choice for homeowners. Both concrete and clay roof tiles are durable and will last for a long time.
While concrete varieties tend to be cheaper, clay tiles generally weather better over time, improving in appearance with age.
Pros of roof tiles for pitched roofs
Long-lasting
Impervious to rot and insect damage
Weather-resistant
Low maintenance
Cons of roof tiles for pitched roofs
Heavy
Can be expensive
Can leak if not installed correctly
Brittle, so may crack if hit by falling debris
Regular cleaning required to achieve the best results
Slate for a pitched roof
Roof slates have been being used for pitched roofs for hundreds of years. The fact they are environmentally friendly, fire-resistant and can withstand high heat makes them suitable for numerous applications.
Slate is also suitable for different shaped roofs, but installation is often labour intensive and requires the services of a professional.
Pros of slates for pitched roofs
Reusable and recyclable
Extremely durable
Environmentally friendly
Fire resistant
Aesthetically pleasing
Cons of slates for pitched roofs
Heavy
Expensive to buy
Professional installation required
Fragile, leaving them open to damage from falling
Zinc for a pitched roof
Zinc is often used for pitched roofs on modern houses. It provides a unique look and will last for years with little to no maintenance. In fact, in an unpolluted urban environment, zinc roofs can last more than 100 years. Other than copper roofing, no other roof material offers such a long lifespan. They'll last between 60 and 80 years even in marine environments. Zinc is also fungicidal, which means it will prohibit the reproduction of mould, mildew and fungus.
But while zinc is a durable option for roofs of virtually any pitch, its associated costs can make it prohibitive for some homeowners. It also requires a specialist installer.
Pros of zinc for pitched roofs
Can be easily shaped
Corrosion, rust, moisture resistant and fire resistant
Insect-proof, mould, mildew and fungus resistant
Environmentally friendly, they use less energy to produce than metal roof materials
100% recyclable
Aesthetically appealing
Zinc roofs can self-heal, meaning scratches can recover over time
Low maintenance
Cons of zinc for pitched roofs
Expensive to purchase and install
Aged patina hard to predict – starts dark grey, changes to a patina light grey or bluish
Must be installed by a specialist
Thatch for a pitched roof
Thatch roofing is a traditional roofing method that can be used on pitched roofs. Straw, rushes, water reed, sedge and other dry vegetation are used to create the 'thatch'. Because thatch has natural air pockets throughout, it's a very effective insulator, helping to keep houses cool in the summer and warm in the winter. When applied correctly, thatched roofs are robust and will stand up well against high winds.
You may be surprised to learn that a thatch will normally last between 40 and 50 years which is the same as any other roof. You will need to replace the ridge roughly every eight to ten years. Thatch needs to be installed by skilled professionals.
Pros of thatch for pitched roofs
Great insulation
Sustainable
Flexible, making it suitable for a range of shapes and sizes
Lightweight
Cons of thatch for pitched roofs
Expensive to install
Must be installed by a professional
Higher maintenance than some other materials
Can pose a fire risk
Prone to damage from algae and moss (if not maintained properly)
Green roofs
A 'green roof' also known as a 'living roof' or 'eco-roof' is a roof where vegetation or habitat for wildlife is intentionally established. Not all 'green roofs' are consistently green in colour. The use different types of vegetation, stones, sandy soils and/or dead wood create a wildlife habitat and also introduces a variety of colours and textures. Green roofs help support wildlife by creating healthy habitats and providing an eco-friendly environment for birds.
A green or living roof should last for between 30 to 50 years if properly installed and maintained. You can install most living roofs onto any pitch of roof including completely flat to vertical. Green roofs can be installed on existing buildings, planning permission is not always required, however it is advisable to check with your local planning department.
Pros
Excellent thermal performance
Environmentally friendly
Helps to improve air quality
Provides wildlife habitat
Helps reduce noise
Cons
Can be more expensive to install than traditional roofs
Heavier than a standard roof so may require increased structural support
Susceptible to damage and leakage
Requires regular maintenance
Considering any of these roof materials and thinking about adding a rooflight?

Speak to our team to find out which Roof Maker rooflight is best suited to your chosen roofing material and pitch.

We're always happy to help. We are not able to offer advice but we can give you all the information you need to make your choice.

So if you would like to discuss your requirements in more detail please give us a call, drop us an email or find us on chat.

Call us Monday-Friday 8.30am-5.30pm and Saturday 10am-4pm on 0116 497 9832; email us at [email protected] or find us on chat at roofmaker.co.uk

Roof Maker designs, manufactures and supplies world class rooflights. All our rooflights are hand-crafted and made to measure with a full 20-year unit seal warranty.

Tags: Flat Roofs, Roofing, Rooflights