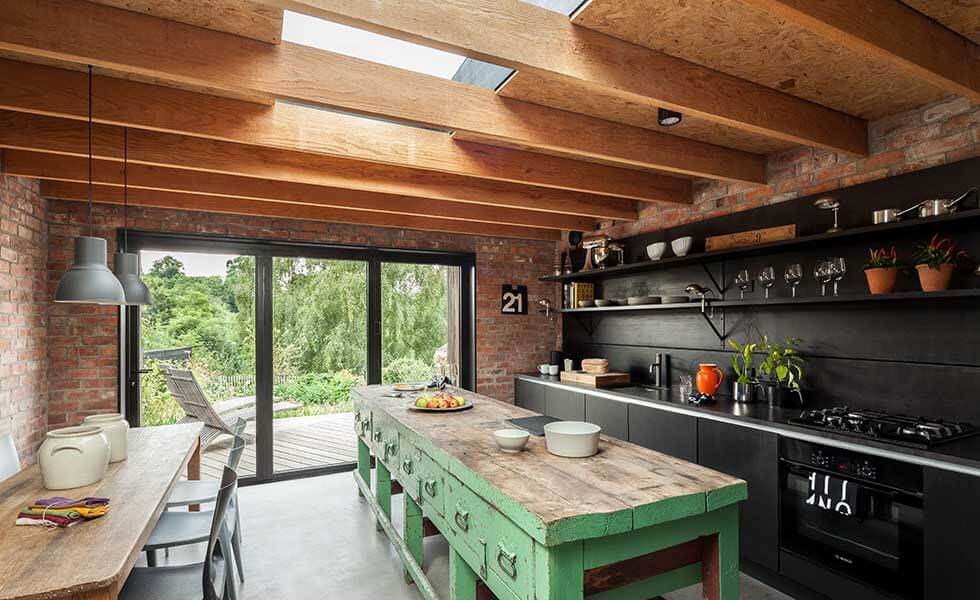 7 examples of natural light transforming living spaces
Have you noticed how sunny days brighten up everyone spirits? Even the odd freezing, but bright and sunny winter day seems so much better than the grey and miserable days we're used to at this time of year.
Skylights are a great way of letting that sunshine and natural light flood into your home, which not only brightens up your space and your mood, but also saves you money on energy bills! Here's a few examples of how our skylights have transformed living spaces.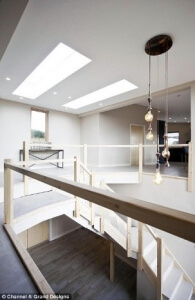 Fixed flat light floods stairwell with sunshine
This Bolton Eco Home appeared on Grand Designs in 2016, and our roof lights played an important role in lighting the space.
Stairwells can be tricky to light, and often end up being dark areas. As you can see, the use of fixed flat skylights avoided this!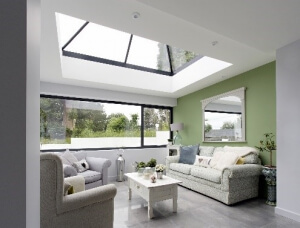 Slimline rooflight adds space and style
Keeping up the theme of television architecture and design shows, this home appeared on Building the Dream, hosted by architectural designer Charlie Luxton.
A slimline rooflight brings a great sense of space by adding height to the room, and really enhances the quality of the area by bringing in not only light, but style too.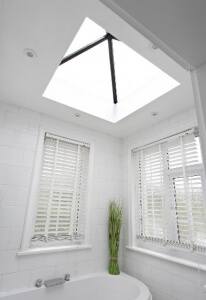 Natural light enhances small room
Installing skylights in bathrooms can be a fantastic way to flood relatively small rooms with natural light. They can also be used instead of regular windows if you're after that sense of privacy, but don't want to sacrifice any natural light.
Here we can see that the placement of the pyramid skylight means you could look up at the stars whilst in the bath – what a relaxing way to end the day!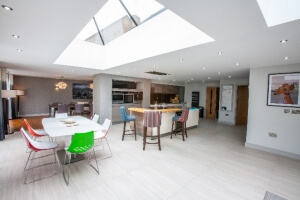 Roof lantern transforms kitchen

Natural light reaches every corner of this vast space thanks to a kitchen roof lantern, which lets natural light cascade into the room and complements the contemporary design.
This is a great example of how a skylight has reduced the amount of electric lighting necessary – and just look at how it illuminates the dining area!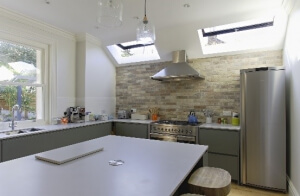 Hinged opener skylights provide sunshine and ventilation
Not only is it important that your kitchen is brightly lit, but also that it's well-ventilated.
These Luxlite Hinged Opener skylights, with one either side of the cooker, ensure that both needs are met.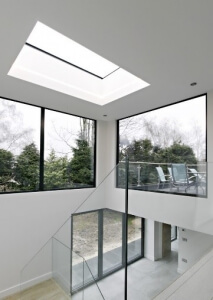 Striking contemporary rooflight complements modern home
From a traditional miner's cottage to the other end of the spectrum, this state-of-the-art contemporary home has similarly benefited from the vast amounts of natural light which a skylight brings.
A modern design statement, this fixed flat rooflight allows natural light to pour into the stairwell and bounce off the white walls. The result is an area truly immersed in sunlight.
Whether your home is traditional or modern, small or large, you can be sure that more natural light will transform the space. Skylights and bifold doors are a great way to do this, as well as adding a sense of space, style and connection with the outdoors.
Get in touch with us today to discover how our rooflight products can help transform your home with natural light.
Call us on 0116 269 6297 or email [email protected].