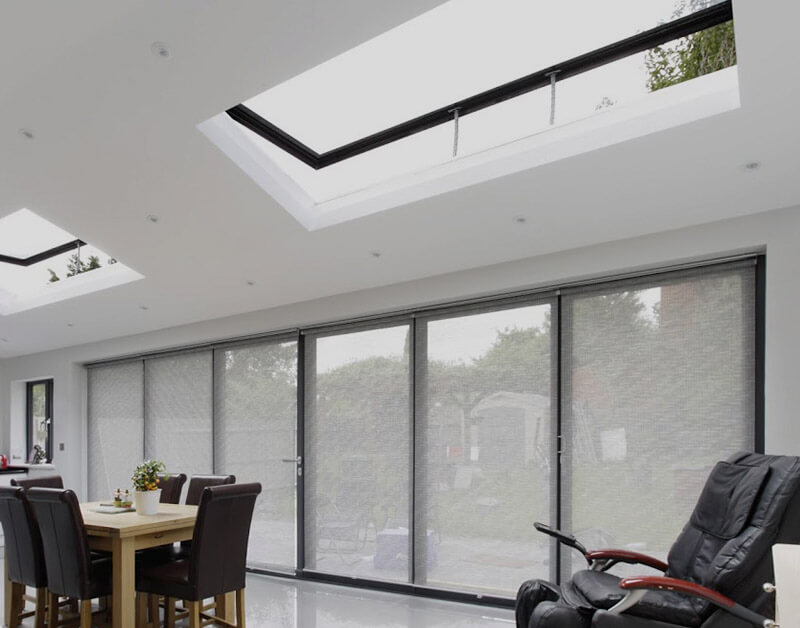 How to choose the right rooflight
Installing a rooflight can transform your property, flooding dull or dark rooms with beautiful, natural light, but a lot of people need help to choose the right rooflight.
We have developed this handy guide to help you choose the right Roof Maker rooflight for you, your needs and your property.
Understanding the features and options.
Flat roofs and pitched roofs
The type of roof you have will choose the right rooflight for you.
Fixed flat rooflights are designed for use on flat roofs and can brighten up any flat roof extension. For an even more stunning architectural feature, you could consider a pyramid rooflight, slimline roof lantern or circular O-lite design.
Our LuxliteTM roof windows are designed specifically for tiled or slate pitched roofs. Adding a pitched roof window can help transform your loft into valuable extra living space.
Single and multi-pane glass panels
Flat, single-pane rooflights are a good choice for flat or pitched roofs and opening options are available for both.
Multi-pane rooflights have a number of angled glass panels, which draw in light from all directions. These rooflights are specifically for flat roofs and some designs can also open up to ventilate your room.
Glazing options
Triple glazing offers you the very best in heat insulation and noise reduction. All rooflights are available with triple glazing and some models are triple glazed as standard.
Opening rooflights
Some of our rooflights are designed to open, giving you the benefit of increased daylight and ventilation. Opening rooflights are ideal for warm rooms, like kitchens and bathrooms, where they can also help to remove steam and cooking smells.
Two opening mechanisms are available: hinged or sliding. Hinged opening rooflights are chain-actuated and open via a wall-mounted rocker switch. Slide opening rooflights are operated by a remote control which allows either full or partial opening.
Glass coatings
Standard coatings help to keep your rooflight clean and block damaging UV rays, which can fade your fabrics and furnishings. Additional coating options include glare-reducing tints or an opaque finish for privacy if your roof is overlooked.
At a glance product guide
This table makes it easy to compare the features of the products in the range: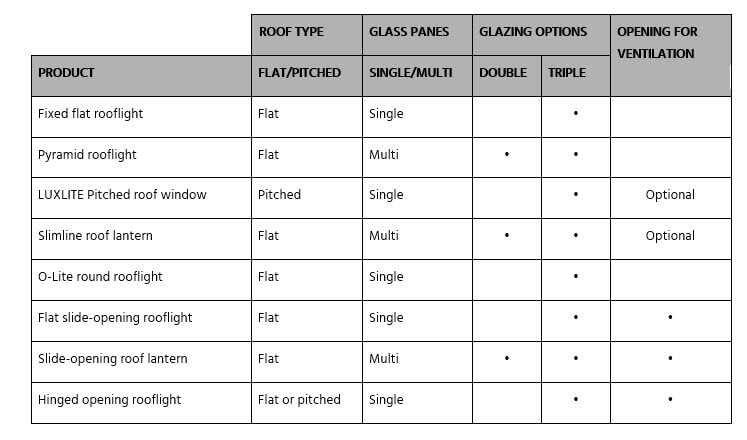 What to do next
For full product information and a FREE QUOTE:
Simply click on the images below:
slimline rooflight

 

pitched rooflight

 

pyramid rooflight

 

fixed flat rooflight

 

hinged opening rooflight
For further advice or help to choose the right rooflight:
Call 0116 269 6297 to speak to one of our highly experienced advisors, or to book an appointment at our Leicester showroom.
To see our rooflight range up close:
Visit our Leicester showroom to experience our products in person.
Roof-Maker Ltd 1 Pinfold Road, Thurmaston Leicester, LE4 8AS
Monday to Friday 9.00am to 5.00pm
Saturday 9.00am to 4.00pm
Sunday Closed