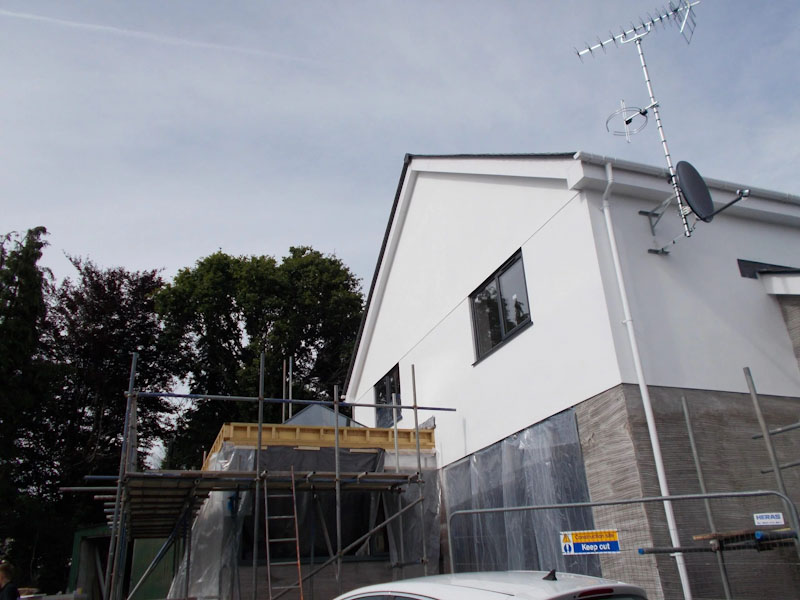 Do I Need A Builder To Install My Rooflight?
One of the questions we often get asked here at Roof Maker is 'do I need a builder to install a rooflight?' And it's actually a very good question because the answer isn't just a simple 'yes' or 'no'.
The bottom line is… it depends on a number of factors.
In this post, we are going to look at some of them, and point you towards some useful resources to help you make up your mind.
Heights and heavy objects
First and foremost, installing a rooflight involves two potentially hazardous components: heights and heavy objects. If either of these things faze you, it's probably best if you get a professional tradesperson to install your new rooflight for you.
It goes without saying that safety should be your number one concern when considering installing one of our rooflights yourself. While you might not think it, our rooflights can be heavy depending on their size. For example, even a 600mm x 600mm fixed flat rooflight weighs around 25kg – slightly bulky by anyone's standards.
So, if you are considering installing one of our rooflights yourself, we highly recommend you have an extra pair of hands to not only help make the process easier, but also safer.
Timber upstand
Another factor you'll need to consider is whether your new rooflight needs a timber upstand/builder's kerb. It's basically a wooden frame that ensures flat rooflights are installed on the correct angle (between 5 and 15 degrees) and protrude at least 150mm above the finished roof level (to satisfy building regulations).
The internal dimensions of the builder's kerb need to match those of the rooflight, while the width needs to match the width of the rooflight frame (usually 75mm). If you consider yourself to be a pretty good DIY carpenter, a timber upstand shouldn't cause you too many problems.
Don't fancy making a timber upstand yourself? Then consider purchasing one of our readymade builder's kerbs instead. It guarantees a perfect fit every time and will afford even better thermal insulation. From just £250 (+VAT), you really can't go wrong – especially if the thought of making your own isn't appealing!
Technical document hub
To provide you with all the information you need to install a rooflight yourself, we've invested significant time developing our Technical Document Hub. It's a treasure trove of knowledge for all things Roof Maker and is designed to walk you through installing our products step-by-step.
Each technical document tells you exactly what you should expect to receive when you order a particular product; what you will need to complete the installation; and the exact steps you need to take to carry out the work.
As you can see from the extract below, everything is designed to be easy to follow and provide you with clear instructions along the way: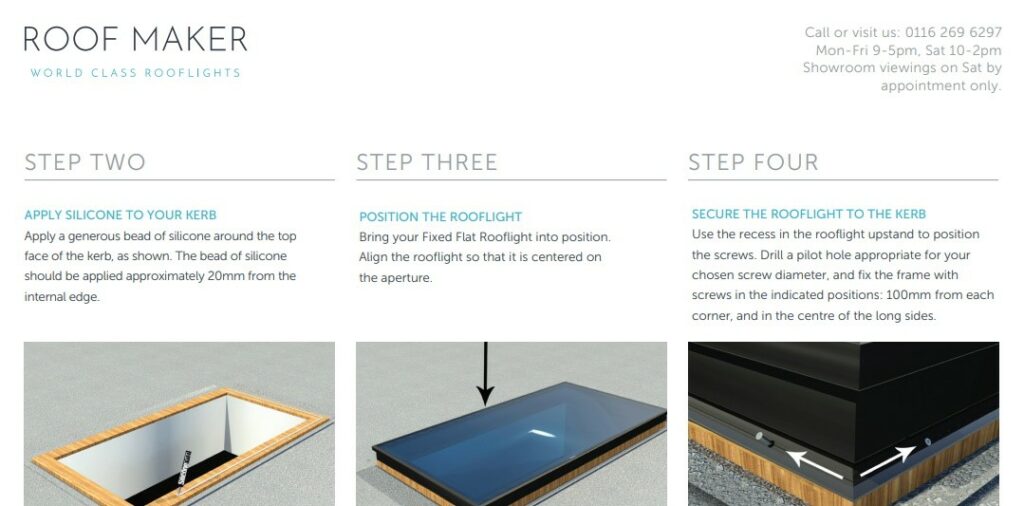 As a very minimum for any rooflight installation, you will need:
• Suitable safety gear
• Enough timber for your builder's kerb
• Silicon adhesive (we recommend Dow Corning 791)
• A drill
• A range of drill bits and screws
Handy rooflight installation videos
In addition to our comprehensive Technical Document Hub, we have also created a number of handy rooflight installation videos to show you exactly how some of our products are installed. These videos complement our technical documents superbly as they enable you to see how the necessary installation steps are carried out.
While our world-class rooflights are designed to be as easy as possible to install, if you don't feel confident doing it yourself, please either enlist the services of a professional builder in your area, or get our specialist installation team to carry out the work for you.
Your rooflight needs to be handled carefully to avoid damage to it and injury to you. That's why we only suggest you install it yourself if you are confident, have all the correct tools and have carried out similar work in the past.
For more information about any of our products, or to ask any questions you might have about installation contact us today.