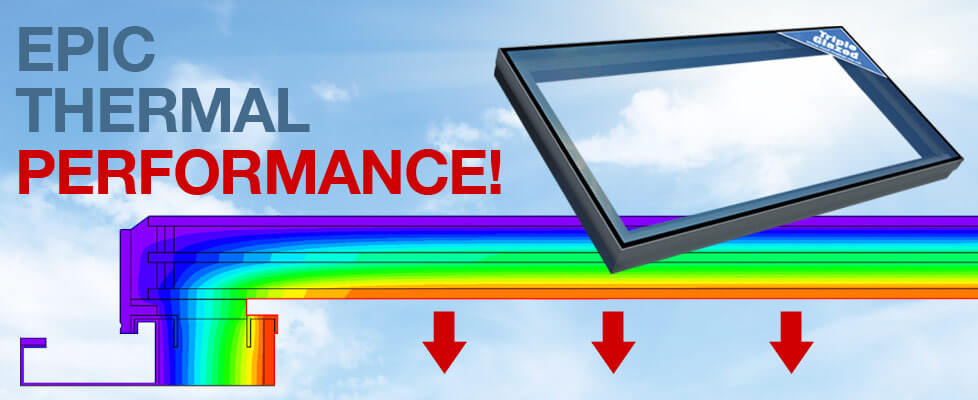 Epic Thermal Performance
We are very excited with the recent third party product testing that revealed just how good the whole product Ug-value calculation is for our latest triple glazed rooflight product. Demonstrating just how good our triple glazing and composite product design are at keeping in heat over standard double glazed rooflights supplied by others and allowing us to bring you the best Ug-performing rooflights.
While other rooflight suppliers try to talk down the advantages of triple glazing, we know and understand the real advantages, this is why we make Flat and Luxlite products Triple glazed as standard at no extra price.
When you consider the performance improvements are up to 40% better than normal double glazed rooflights (0.7 W/m2k V's competitors 1.2 W/m2k) the insulation reduction is obvious! Our design team have created the optimum in rooflight thermal performance, blending aluminium skimmed profiles with hardwood, softwood and phenolic foam to create composite material design for the very best energy savings.
Exceeding building regulations by miles and future proofing properties with epic thermal performance. Buying direct from us as a manufacturer allows us to impart years of product knowledge and advice for your design project.
Looking at the image below the areas shown in REDidentify the heat staying inside the room on the material surfaces being insulated by the GREEN composite material selection and triple glazing, with the cold BLUE and PURPLE remaining external.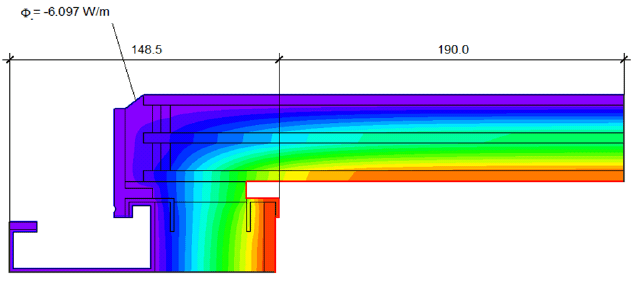 Independent product analysis proves that triple glazed rooflights far exceed that of double glazed rooflights, allowing much larger expanses of glass to be included in project plans and building designs and creating the best Ug-performing rooflights.
Many of our Reflex performance glass units feature Krypton gas within the cavities for optimum thermal insulation, most feature argon gas which reduces the convection currents within the glass itself reducing heat loss through the glazed area. Our Leicester factory holds cryogenic, liquid supplies allowing us to switch between these remarkable gasses for the various triple glazed units that we manufacture.
With more and more emphasis on energy performance and heat loss reduction in buildings now it is vital that triple glazing be used to attain the very best results in any building project with overhead glazing. Heat rises and escapes through the lower performing areas in a building such as a glass rooflight so the reduction of cold spots when standing underneath overhead glazing is also a factor in comfort ability during cold winter months.
Lookout for further updates as we expand our R&D and evolve product design, to demonstrate how Roof-Maker is leading the way in energy saving rooflight design and bringing the best Ug-performing rooflights in the UK.