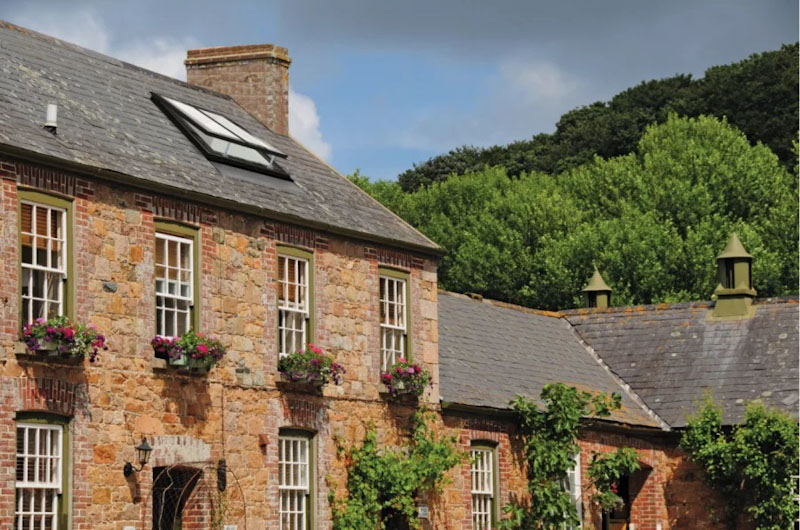 The History Behind The Conservation Skylight
Did you think that the conservation skylight was a new thing?
Believe it or not, despite not being quite a 'conservation skylight', other types of rooflight have been around since the Roman times, when oculi were used in ancient buildings to allow more natural light and fresh air. Often found in the roofs of domed cathedrals and monuments such as the Pantheon in Rome, they are open to the weather rather than incorporating glass into the circular design – allowing rain to fall to the centre of the building where it is then carried away by drains.
Fast-forward to the Victorian period of not so sunny England and rooflights now have glass panels. Being used to not only afford more light into homes, but to also improve their aesthetics. Indeed, Victorian-era rooflights were things of beauty. Usually featuring a black frame, a vertical split bar was added to the centre pane of the single glazing to reinforce the glass and prevent strong winds from blowing the panels out. Allowing them to serve a beneficial purpose whilst blending in with the overall architecture of the property.
However, Victorian rooflights were typically made of cast iron. Whilst they were strong enough to withstand even the most adverse weather conditions, they were inevitably heavy. Nevertheless, rooflights were popular additions to homes at that time and their popularity has continued to grow over the years.
Whilst the modern rooflights of today are significantly advanced compared to their Victorian counterparts, featuring exceptional thermal performance, triple glazing and boasting lightweight aluminium frames, many do not have the same traditional architecture about them and simply look mismatched in Victorian and character properties.
So what can you do when you want to install a rooflight in a Victorian building or heritage home without detracting from its characterful appearance?
Introducing the Roof Maker Conservation Luxlite™
Here at Roof Maker, we know how important it is to select the perfect product for your application – especially when you want to maintain the heritage feel of character properties and barn conversions.
That's why we created the Conservation Luxlite™ rooflight, designed for use in period properties and areas where conservation is a top priority.
Perhaps the most recognisable feature of our Conservation Luxlite™ is the slim vertical aluminium split bar that is designed to replicate the original look of Victorian-era rooflights. This split bar is structurally bonded to the surface of the rooflight glass to prevent dirt and debris from accumulating underneath.
But despite its traditional look, our conservation skylight features a host of the very latest technological advances and affords superior thermal performance.
Here are some of its key features/benefits:
Triple glazed with easy clean glass as standard (superb thermal performance and a doddle to clean)
Ultra slim split bar (allows more light to enter your home/property)
The split bar is structurally bonded to the glass (unlike many other conservation skylight models), so zero room for dirt and debris to accumulate. This important design feature also means there is no thermal bridge, significantly reducing the chances of condensation forming and heat escaping
The rooflight and split are made out of aluminium (making the whole entity lighter and more resistant to corrosion and rusting)
An electric opening version is also available, which comes with an automatic rain sensor if the remote control option is specified (allowing you to open the rooflight from the comfort of your chair and not having to worry about it being left open in the event of rain)
The mechanics for the electric opening version are sealed and hidden away from view (providing a clean, minimalistic look for your conservation skylight)
So if you have a character property and are looking to add a conservation skylight that is in keeping with the overall look, but also features a host of modern technological advances, including superior thermal performance, look no further than Roof Maker's Conservation Luxlite™.
Are you considering buying a Conservation Luxlite™ for your home? If you are, call Roof Maker on 0116 269 6297. Our rooflight experts will help you to choose the right solution for your needs. Alternatively, visit our showroom or get a quote online.