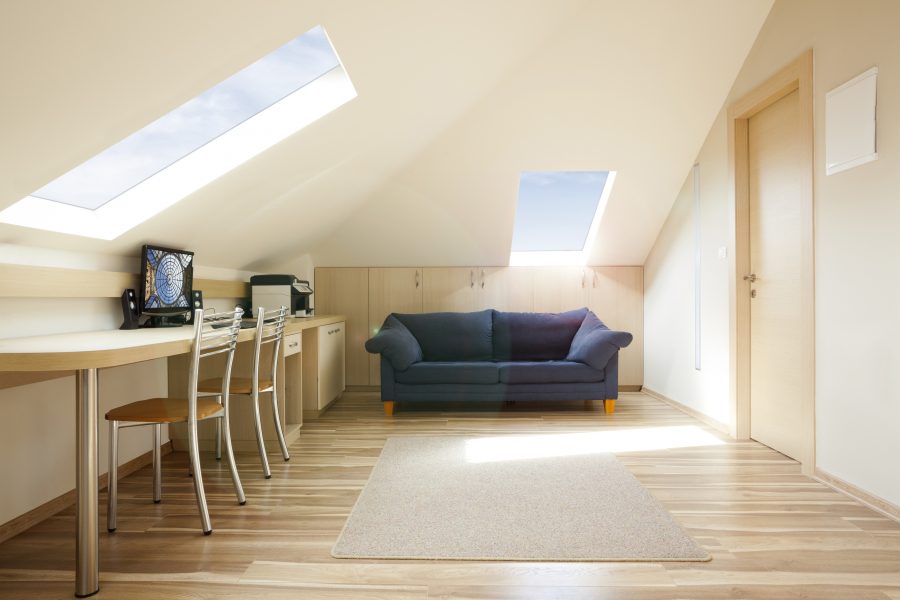 7 Home Office Design Ideas To Boost Productivity
Whether you work from home on a regular basis or once in a blue moon, a pivotal factor for determining how productive you are is your environment. That's why many people invest in a home office and reap the rewards that having one affords.
But simply putting a new cushion on one of your kitchen chairs, placing a new plant on your kitchen table and setting up your computer there does not constitute a home office. At the very least, you need to assign a room and create a space that enables you to be the most productive version of yourself you can be.
So what do you need to consider when planning home office design ideas to ensure it delivers the productivity boost you're looking for?
Here are 7 home office design ideas to boost productivity:
1. Minimise clutter
You may hear people say things like, "A messy desk is a sign of genius" but the reality is most people are far more productive the less clutter they have lying around. The bottom line is clutter is distracting – especially if you 'keep meaning to clear it up' and it can be detrimental to your health because of the potential bacteria it can harbour.
2. Focus on ergonomics
When you start a new job, someone from the HR department usually comes round to do a workstation assessment. They check that your chair is fit for purpose, your desk is the correct height, whether you need something to put your feet on, etc.
Now they do this for a very good reason: because it's important for helping prevent long-term injury. That's why you should seek to do the same in your home office. Make sure all your equipment is fit for purpose and if it's not, replace it. Feeling uncomfortable or strained will not only distract you, but make you less productive.
3. Have plenty of storage
Storage helps keep your stuff organised, which reduces clutter, and provides somewhere for your important work bits to be stowed. Even if it's just a drawer under your desk or a set of shelves fixed to a wall, storage is something you absolutely need in your home office.
4. Increase the air flow
Sitting in a room with little air flow not only makes you feel lethargic, it also reduces your concentration. That's why your home office needs to benefit from plenty of air flow whenever you are using it.
The obvious way to improve air flow is to simply open two opposing windows. But this isn't always practical or possible. Plus you need to remain security conscious – especially if your home office is downstairs.
An excellent alternative is to invest in a rooflight (or two). If your home office has a flat roof, then one of our opening flat rooflights would be ideal. If you've got a pitched roof, opt for the Roof Maker Luxlite™.
5. Flood the space with natural light
Now, this point is linked very closely to the previous one and it's equally important. It can also be acted upon in the same way – so installing some rooflights can literally be win-win!
Numerous studies have linked natural light to increased happiness and productivity. But in a home office it's even more important. That's because you aren't inevitably surrounded by colleagues, so won't benefit from as much mental stimuli.
6. Manage distractions
Distractions can actually be both good and bad. For example, doing something you enjoy when you're having a short break can help wipe your mental RAM and get you ready to work again.
On the flip side, stuff that distracts you whilst you're supposed to be working isn't good (obviously). So, if you live by a busy road or there's some other kind of external noise that seems to penetrate your working space, keeping windows open might not be ideal.
Did you know that our Reflex® Glass comes in four different options, one of which (Acoustic Performance) is designed to insulate against outside noise?
7. Add a few plants
Plants are not only pleasing on the eye, they also convert the gases you breathe out into beneficial oxygen. Furthermore, plants remove toxins form the air and boost your mood, which in turn helps increase productivity.
Including a plant or two within your home office design ideas is a no-brainer. All you've got to do is pick some you like.
Are you planning on adding rooflights or roof lanterns to your home? If you are, call Roof Maker on 0116 269 6297. Our rooflight experts will help you to choose the right solution for your needs. Alternatively, visit our showroom or get a quote online.