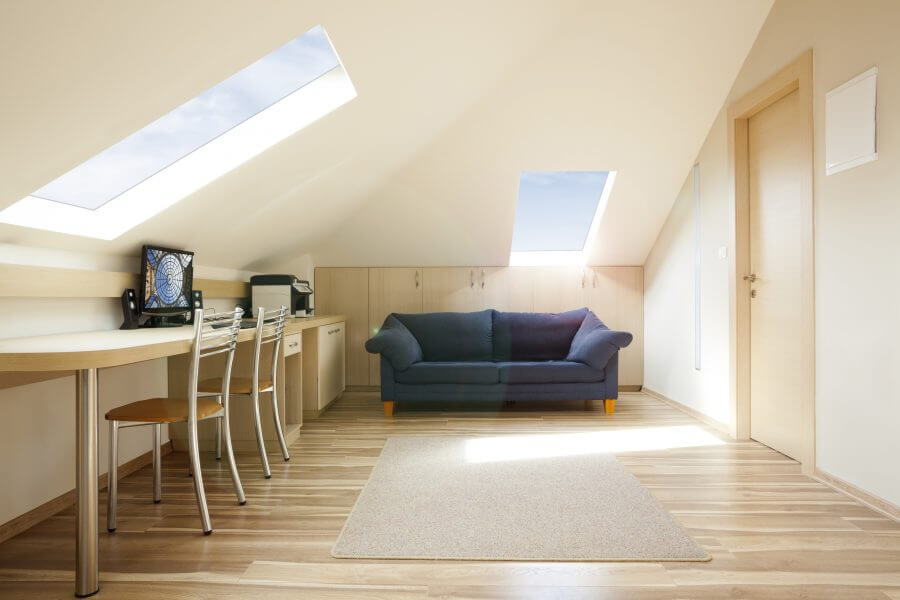 10 Home Office Design Hacks
Whether you work from home (either full-time or part-time), or just need somewhere to stay on top of all your monthly paperwork and organise your schedule, a home office is often a sound investment.
But before you rush to stick a small table and chair into a spare corner of your home, please appreciate that such a setup does not constitute a home office and that doing so will not afford you the same number of benefits as a dedicated office space would.
A dingy, cramped, unappealing home office will not be conducive to you being productive and won't help your psyche either.
An investment in a good home office is an investment in yourself (and your business if you run one from home), one that will pay dividends in terms of both productivity and happiness.
To provide you with some inspiration and get your design juices flowing, we've compiled this list of 10 home office design hacks:
1. Location, location, location
First and foremost, your home office should allow you to work to the best of your abilities and be as productive as you can. That's why adding a small table and chair combo to an existing room won't cut the mustard.
Consider what type of environment you work best in and then design your home office accordingly. For example, if you're easily distracted, areas that are busy and noisy should not be avoided. Look instead for a quiet corner or, even better, a dedicated room in which to create your home office.
2. Functionality first
Once you've chosen an acceptable location for your home office, it's time to think about the actual design. As a rule of thumb, never sacrifice form for functionality. You wouldn't in your kitchen (we hope) and your home office should be no different.
Every aspect has to lend itself to helping you be more productive and boosting your psyche. It's one of the reasons why you should always consider your workflow when laying out your home office and think about what items need to be close to hand before you purchase any furniture.
3. Don't scrimp on an office chair
Some people, quite rightly, invest in a really solid office table that can accommodate everything they need and has built-in storage. However, what they neglect to invest in is an equally regal office chair. But why?
The majority of your time in your home office is going to be spent sitting. It's unlikely that you'd sit on a plastic garden chair while watching TV in the evenings, so why would it be acceptable to use one in your home office?
Look for an office chair that's ergonomic and a delight to sit in.
4. Don't be afraid to splash out on paint
Offices don't have to be boring, especially if you have some favourite colours that help brighten your mood and your productivity.
Don't be afraid to do away with traditional beige or white colour schemes and paint your home office walls with something a little more vibrant, cheery and positive. Likewise, if calming shades help you work better, opt for those instead. It really is up to you. The bottom line is you don't need to conform to typical office standards when it's your own home.
5. Light and airy is the order of the day
By allowing plenty of natural light and air into your office, you'll not only reduce eye strain and headaches but also boost your mood in the process.
Numerous studies have shown that exposure to natural light helps ward off seasonal depression, improves sleep and boosts your productivity. Similarly, fresh air also brings benefits, primarily because it is a much better alternative to the stale, musty air often found in homes – particularly in the winter.
Adding another window to allow more natural light and air into your home office is usually a non-started because of the associated costs. A much more viable option is to opt for a  rooflight.
With flat rooflights, pitched rooflights and roof lanterns all available, you can be sure there is an option to suit both your application and your budget.
Recommended reading: 5 ways to improve the air quality in your home
6. Aim to give yourself a nice view
While you shouldn't place your desk in front of a window because the glare can play havoc with your eyes when you're trying to work, you should try and give yourself some kind of view from your workstation.
A great solution is to position your desk with a window to the side. Then you can just glance sideways whenever you take a short break and soak up a bit of the great outdoors.
If you've got no windows, consider hanging some nice pictures on the walls to give yourself something to look at when your eyes aren't glued to your computer screen.
7. Make it homely
As we've already said, your home office doesn't need to conform to traditional style cues. Instead, choose accessories that enhance its comfort levels. Even the smallest of personal touches on your desk can provide you with a little mood boost throughout the day.
Family photos, your favourite mug, a whacky pencil holder and that all important paper tray are all little touches that will make your home office feel slightly more homely.
8. Consider the electronics
When it comes to technology, you're inevitably going to have a computer, printer and telephone in your home office as a minimum. And while there's not much you can do about the aesthetics of each of these, you can be proactive when it comes to all those unsightly, annoying cables.
Nobody wants to run cables across a floor, so consider this when you're planning your home office layout. Power cords need to be easily accessible and other cables should be tamed with tubing to minimise their impact under your desk.
9. Stay organised
Minimalist offices are very popular. Their clean, sharp appearances give them an almost clinical vibe and that's something many people love.
However, empty space is wasted space, space that could be used for other purposes, including storage. In the same way your kitchen requires plenty of storage, so too does your office.
Consider organising all of your important stuff using bookcases, shelves and hanging storage solutions. If you don't manage to fill it all, you can use it as overflow storage from other rooms in your house.
10. Don't forget feng shui
Finally, last but not least, why not optimise your office space to afford happiness, abundance and harmony by following the principles of feng shui!?
Feng shui is all about creating positive energy in a room. When it comes to your home office, a clutter-free environment is a must (another reason why you want all that storage). Aim to only have the stuff you are actively working on that day on your desk. Everything else should be out of sight. Remember, a cluttered space creates a cluttered mind.
Furthermore, never sit with back facing a door, window or traffic thoroughfare. It will, apparently, cause your energy to become weak and insecure. Position yourself so you have a wall behind you and can command the space in front of you.
Related reading: 7 simple ways to feng shui your home
Are you considering buying a rooflight or roof lantern for your home? If you are, call Roof Maker on 0116 269 6297. Our rooflight experts will help you to choose the right solution for your needs. Alternatively, visit our showroom or get a quote online.