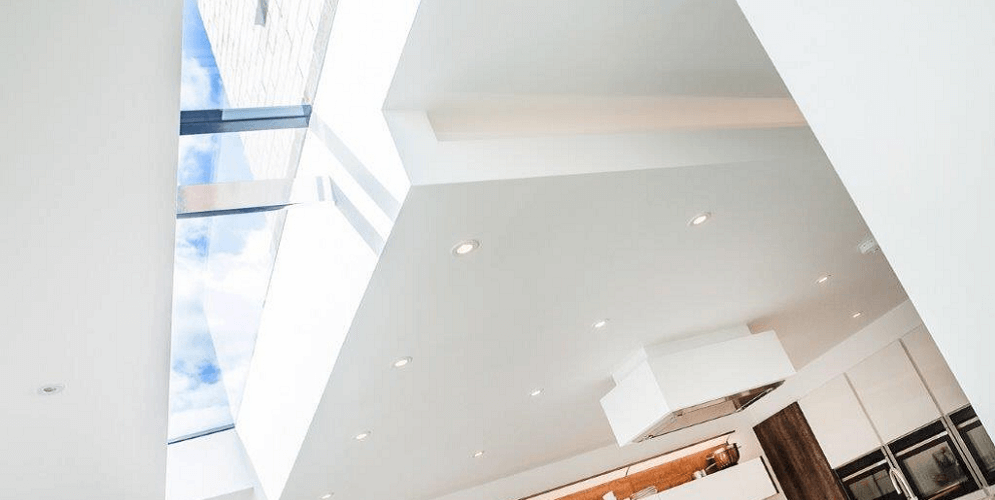 Modular Rooflights Create a Spectacular Glass Ceiling
Imagine your room with a ceiling made of glass.
Look up at the stunning feature, created to your own design.
Marvel at the spectacle of natural daylight, spilling in and brightening every corner.
Be amazed as you learn this is all possible, using a modular rooflight system.
What are modular rooflights?
Standard flat rooflights consist of a single glass panel. The size of the glass panel can vary, but will be limited to the size that can be manufactured. A modular system allows you to create a larger design by joining glass panels together in a line. Each panel is added to the line using a minimal aluminium support, which strengthens the structure without compromising the light flow.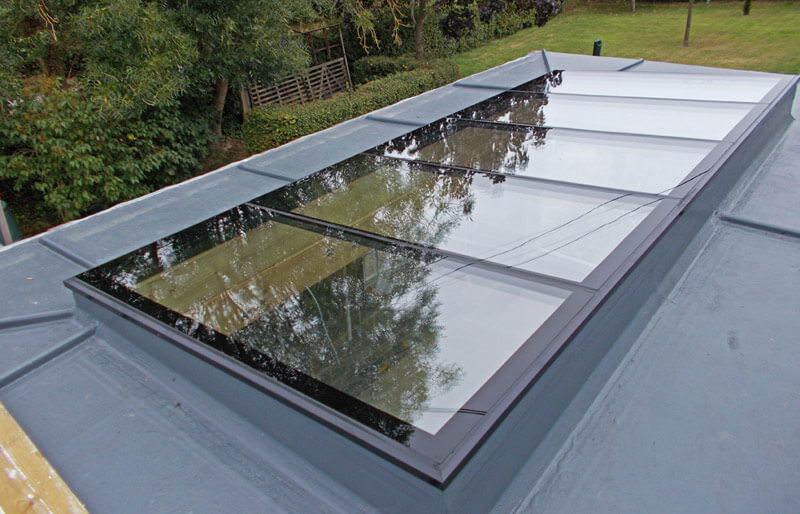 Why should I choose modular rooflights?
A modular rooflight system provides significantly more scope for transforming a space than you would get from a single unit. The rooflights create an architectural wow factor, designed to excite and inspire. The system offers natural lighting solutions for potential problem areas such as corridors and hallways, large or extended areas and rooms where conventional windows are not an option. For more details about the other types of rooflight we offer, or to learn more about choosing a rooflight in our handy guide.
How do modular rooflights work?
Your modular configuration will depend on the size and shape of the roof area you have available. For example, if you want to brighten up a narrow room or dark hallway, a single line of fused panels may be sufficient. If your room is larger, you may need multiple lines of panels to create a glass ceiling effect.
How can I achieve the look I want?
As the modular system is bespoke, the possibilities are endless. Within reason, you can create whatever configuration you can imagine. By varying the size of the glass panels and the length of each line, you can design a unique feature specifically for your property. You will find the additional light also offers more options for decorating and customising the space. For example, you can choose from a full spectrum of colours when choosing your furnishings and fabrics, rather than dismissing some because they might be too rich or too dark.
And those colours will keep their vibrancy, thanks to a special UV coating on the rooflight glass. The coating blocks the harmful rays that cause fabrics and furnishings to fade.
How can natural light improve my living space?
Natural light is one of the most valued commodities in the home. It makes your living area feel more spacious and creates the best task lighting for indoor activities such as reading, cooking and working. Sunlight is also linked to a number of positive health benefits. In research it has been shown to increase seratonin levels in the brain. This can help to improve your mood, sleep patterns and capacity for learning.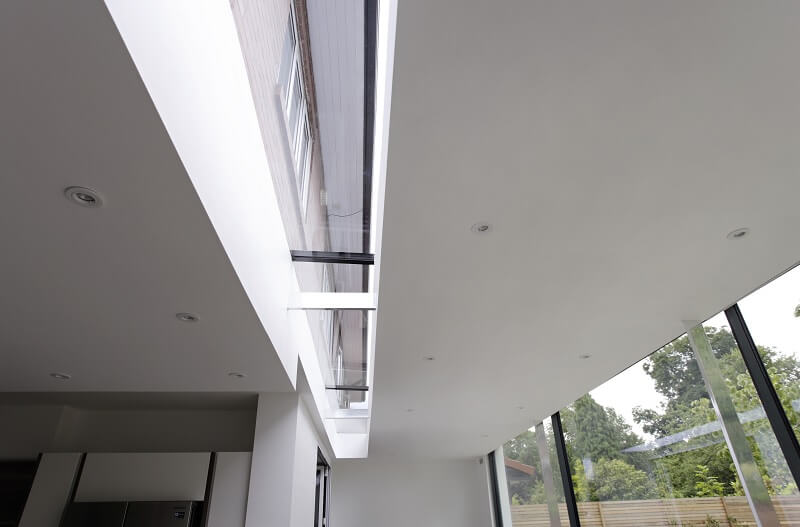 What if my property is overlooked?
If you are concerned about privacy, you can have a translucent coating applied to the glass panels. This will stop people seeing in without compromising the light levels.
What if the sun gets too much?
When the sun's rays are particularly strong, solar control glass helps to maintain a comfortable temperature in the room.
On bright days you may want some control over the amount of light coming in through the rooflights. For such occasions there are blackout blinds, which can be fitted to the rooflights and closed, or partially closed, using a remote control.
Would you like to learn more about Roof Maker's modular rooflights? Read more about them here, or call our product experts on 0116 269 6297