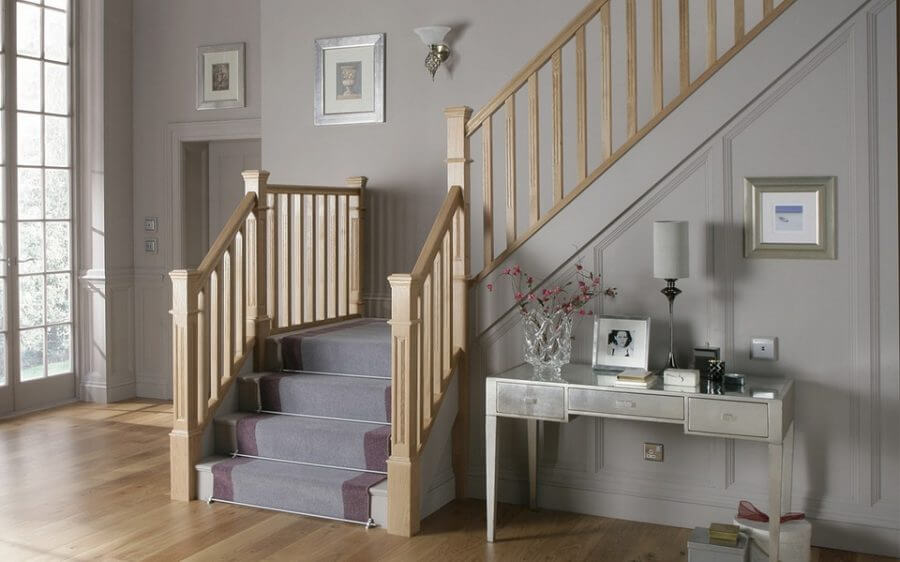 The Elements You Need For A Perfect Hallway Design
First impressions count and that's why your hallway is one of the most important rooms/spaces in your home. It welcomes guests and provides an insight into the rest of your home.
Moreover, if you are trying to sell your home or preparing for the arrival of friends and family at Christmas, your hallway will play a vital role when you're meeting and greeting.
Bearing all this in mind, why are hallways so often overlooked by homeowners?
To help you transform your hallway from being just a place where shoes and coats are left as people proceed into the rest of your home to a space that adds real value and creates a great first impression, we have compiled this list of elements that every perfect hallway should have.
1. Lighting
The first element to consider is your hallway lighting. Remember, you are setting the tone for the rest of your house, so your lighting decisions in your hallway are actually pretty important.
You don't want a hallway that is too dark as it doesn't create a welcoming atmosphere. Likewise, a hallway that's too bright will illuminate and highlight any imperfections the space is trying to hide.
Most people would love a window or two in their hallways but space restrictions can often make this a non-starter. If this is the case in your own hallway, would a rooflight solve the issue?
The good news is that there is an incredible choice of different styles of rooflights available, which boosts your chances of finding the perfect rooflight solution for your home. Whether you're looking for a flat rooflight, pitched rooflight or a gorgeous roof lantern, we've got you covered.
No space for even a rooflight? Consider lighting long, narrow halls with wall lights to create a uniform feel throughout the space. If your hallway is very small, use a pendant, standing lamp or table lamp to add a little more depth and a focal point.
2. Colour
It can be tempting to paint your hallway with colours that are light and bright in an attempt to steer clear of creating a dingy atmosphere. And whilst this is fine – particularly if you have a small hallway – you need to remember that there are inevitably a bunch of other rooms leading off your hallway.
Therefore, any colour choices you make in the hallway should (in theory) complement the colours of your other rooms.
If you opt for safe, neutral colours, consider jazzing things up a little with flashes and accents of citrus colours where possible to add more depth and character.
One way to do this is with your rooflight. The Slimline© roof lantern is available in any of the 1,625 RAL colours, which means you can pick a colour that complements your home perfectly.
3. Flooring
Unfortunately, your hallway floor will accommodate more foot traffic and receive more abuse than all your other carpets put together. That's why practical, functional flooring solutions are a must here.
Carpets, whilst looking nice and providing additional comfort, are hard to keep clean. One mistake and that beautiful hallway carpet of yours could be stained forever. Instead, consider using wooden flooring or natural stone. Both are durable, easy to clean and can even be softened with the addition of a well-placed rug.
If you have a room below your hallway with limited light, such as a basement, then adding a walk on rooflight to your hallway flooring could offer a great solution. Not only will it make a unique impact to the aesthetics of your hallway, it will also improve the functionality of the room below by introducing more light.
4. Furniture
Okay, so it's unlikely that you've got enough room in your hallway for lots of furniture, but you might be able to squeeze in a beneficial small table and chair combo. After all, there's nothing worse than having to balance on one leg and hold a nearby wall whilst you remove a shoe.
Also, by adding a piece of furniture you are definitively labelling your hallway as a room in its own right and not just a thoroughfare.
If you've got children (and even room), place a small bench along one of your hallway walls. It'll help get your kids into the habit of removing their shoes when they come inside and that could just save your beautiful interior carpets.
5. Storage
Nobody likes to see a hallway being used as a glorified shoe storage space. A mini mountain of shoes when you've got guests round doesn't do your hallway justice, which is why a simple, narrow shoe rack can work wonders to organise the area.
Similarly, a wall-mounted or floor-standing coat rack is also a must for accommodating outdoor garments – especially at this time of year when everyone's wrapping up warm!
A sturdy storage box with a cushion on top can double up as a seat, giving you both a place to sit and an extra place to conceal your boots and brollies.
6. Those all-important finishing touches
Finally, by adding a few personal touches to your hallway, you can tell visitors to your home lots about you without even opening your mouth.
For example, a family photo on the hallway table or one of you doing your favourite hobby will not only brighten up the space, but also tell your visitors a silent story.
If you've got some favourite paintings or posters, consider putting some of them up in your hallway too. It's a subtle way to say, "Hello! This is our house and this is what we like."
Fresh flowers, plants and mirrors all also add to the overall atmosphere and vibe of your hallway, helping to create the perfect lead into the rest of your home.
Are you considering buying a rooflight or roof lantern for your home? If you are, call Roof Maker on 0116 269 6297. Our rooflight experts will help you to choose the right solution for your needs.