We don't claim to be perfect, but sustainability is a journey and we encourage everyone to do as much as they can. Our goal is to reduce our environmental impact, reduce our carbon footprint and contribute to a more sustainable future.
What makes a manufacturer eco-friendly?
In recent years, there has been a growing awareness of the impact our actions have on the environment. As a result, more and more companies are trying to reduce their carbon footprint, reduce waste, recycle, and improve employee health.
Manufacturers who review all processes and minimise the negative effects on the environment are considered eco-friendly. If you want to understand more then you should look at the companies you buy from and ask the following questions:
What are they doing to limit their damage to the environment?
How are they reducing their carbon footprint?
Do they recycle waste?
Do they utilise any renewable energy sources?
How do they look after their employees?
1. Recycle
Instead of sending aluminum waste to landfill our off cuts are recycled. Aluminum is a highly recyclable material, and the manufacturing process of aluminum products requires significantly less energy than creating new aluminum from raw materials.
Roof Maker have implemented recycling programs in all areas of the office and factory to ensure that items such as card, paper, cans and plastic are recycled where possible.
2. Solar Energy
The main building in which we operate has been fitted with solar panels, a move that has significant benefits for the environment. Solar panels generate electricity by converting the sun's energy into usable electricity. This is a clean and renewable source of energy that does not produce any harmful emissions or pollution. By using solar energy, it helps to reduce the reliance on non-renewable sources of energy such as coal, oil, and gas, which are major contributors to greenhouse gas emissions and climate change.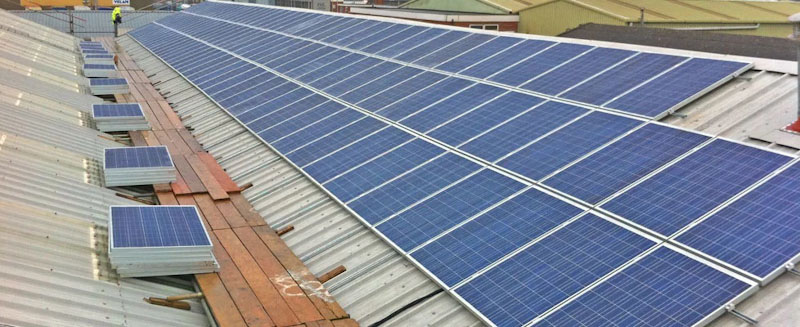 3. Employees Health and Wellbeing
Where possible, our office staff are allowed to work from home to reduce the carbon footprint of commuting. This also helps to improve the health and well-being of employees due to less exposure to pollution on their daily commute.
4. Upgrades for Delivery Fleet
Our commitment to being ecologically friendly extends beyond operations and buildings to our transportation fleet as well. As part of our efforts, we have decided to upgrade our van fleet, with newer vans that have eco-benefits compared to older models. For instance, newer models have improved fuel efficiency, which translates to reduced emissions and a lower carbon footprint. Fuel-efficient vans also require less maintenance, which results in lower repair costs and downtime.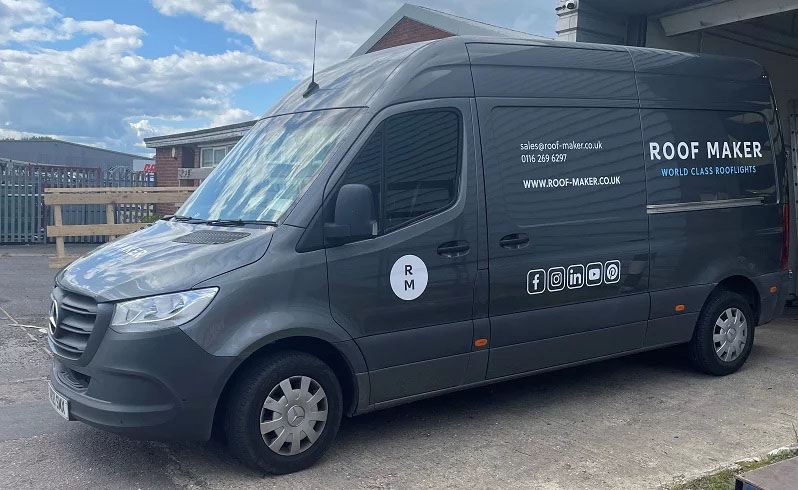 5. A Paperless Office
By investing in IT solutions Roof Maker has reduced the need to print, allowing the implementation of paperless systems where possible. A long-term reduction in paper usage will help to save trees. Trees are a vital part of the environment as they release oxygen when they use energy from sunlight to make glucose from carbon dioxide and water.
6. Reduce Energy Usage
We have installed automatic lighting in communal areas to ensure that lights are not left on unnecessarily. Additionally, employees are encouraged to switch off any lighting and equipment that is not in use.
Quality products from a company that cares
Roof Maker's range includes premium rooflights for both flat and pitched roofs.
All rooflights are designed and manufactured in-house. This means they can be made to bespoke sizes and customised to your customers' specifications.
Products are packaged and delivered by our experienced team, so you can rest assured, all the components will be provided and your rooflights will arrive in perfect condition.
For more information, visit our product pages, call our experts on 0116 269 6297 or email [email protected]