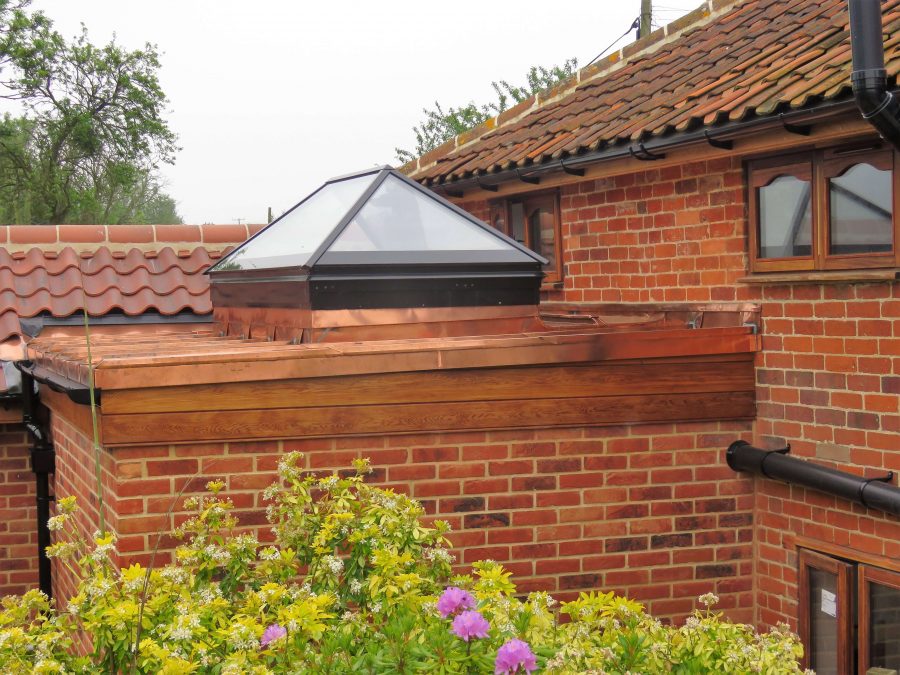 Which Roofing Materials Are Suitable For Rooflights?
If you are thinking of building a home extension in the near future, one of your main considerations will be what type of roofing material to use. With so many different options out there, it can sometimes be difficult to make an informed choice.
But what if you want your new extension to feature a high quality rooflight? Does it significantly narrow down your choices of roofing material? The good news is that it doesn't.
To help you out, we've compiled this list of some of the roofing materials that are suitable for and can accommodate rooflights:
Slate roof tiles
Despite having its roots in Victorian times, slate roofing remains a popular choice for homeowners today. That's because it is tried and tested, looks great and is extremely durable.
Opt for artificial slate tiles (often known as fibre cement slates) and you'll benefit from a tile that's light, cost effective and available in a number of diverse shades of grey and brown.
In comparison, natural slate roof tiles are much more expensive, but they will last you a lifetime and attract far less moss than their artificial counterparts. Plus, they are totally unique because of their natural composition.
Clay roof tiles
Clay roof tiles have been used for literally thousands of years (as far back as 3000 BC, according to some sources). One of the main reasons why is because they are virtually imperishable. In fact, even after ancient buildings are long gone, their terra-cotta roof tiles still somehow survive.
Use clay tiles for your roof and they will not only look fantastic, but also provide you with years and years of faithful service. Clay roof tiles can also be purchased in a number of different colours.
Metal roof tiles
Perhaps the biggest advantage of metal roof tiles is that they are much lighter than traditional slate and clay tiles, making them easy to work with and relatively quick to install. Available in wide range of styles and colours, metal roof tiles are usually made from steel, aluminium or zinc.
Metal roofs are durable, but in the event that you ever need to replace a section, the tiles you remove can usually be recycled. Metal roof tiles are available in a large range of colours too.
Asphalt shingles
Asphalt shingles popular and common because of the benefits they afford. They are lightweight, affordable, easy to install and last a reasonably long time. They can also be replaced with relative ease if they ever get damaged.
Because of the way in which they are installed, asphalt shingles are sometimes called composition shingles. That's because they have to be installed in an overlapping style comprising several layers.
GRP
Glass Reinforced Plastic (GRP), or fiberglass, it one of the most popular roofing materials for flat roofs. If offers strength and durability without adding too much additional weight to the overall structure.
One major advantage is that there are no joins of seams what-so-ever, due to the material having a liquid form. Creating an extremely smooth surface. This, alongside the wide range of colours available, provides great aesthetics.
If the roof has been well installed, the GRP should last for at least 25 years. But if a repair is needed, the material itself is also very easy to repair.
EPDM rubber
Ethylene Propylene Diene Monomer (EPDM) is a type of rubber that's frequently used for roofing and has numerous advantages. It is low-maintenance, cost effective, can last a lifetime and is durable enough to walk on regularly – making it an excellent choice for flat roofs where you plan to have a suitable access rooflight installed.
Perhaps the only downside of installing an EPDM roof is the lack of initial aesthetics. The rubber look won't appeal to many people, but EPDM can usually be painted in a variety of different colours.
Sedum
Green roofing materials have become increasingly popular in recent years, even though they've been being used in places like Scotland and Scandinavia for centuries.
One of the most popular types of living green roof uses sedum, a perennial plant with thick, succulent leaves, fleshy stems and clusters of star-shaped flowers. Placed upon a more conventional roofing material, sedum usually comes in the form of matting (it's the easiest way to install it), which saves you considerably in terms of installation time.
Sedum roofs are designed to be low maintenance e.g. they do not require watering, deadheading or mowing. All you have to do is give it a good weeding once a year and check your drainage gutters are free from debris.
Thatch
Did you know that rooflights can even be installed in thatched roofs too? That's right! Providing you have an experienced thatcher who knows exactly what they are doing, you can install and reap all of the benefits of a rooflight in a thatched roof.
When installed in a thatched roof, rooflights afford all the same benefits they do usually (namely more natural light and fresh air), as well as add a nice modern twist to such a beautiful, traditional roof.
Copper
We can even supply a rooflight for use in a copper roof and that's exactly what we did for a homeowner in the Wickham Market area, Paul. He had built a beautiful extension with a copper roof and wanted a rooflight that was equally as stunning and complementary of the overall look he'd achieved.
You can find out more about Paul's project and the beautiful Roof Maker Slimline® roof lantern he opted for by reading this case study on our website.
Are you considering buying a rooflight or roof lantern for your home? If you are, call Roof Maker on 0116 269 6297. Our rooflight experts will help you to choose the right solution for your needs. Alternatively, visit our showroom or get a quote online.