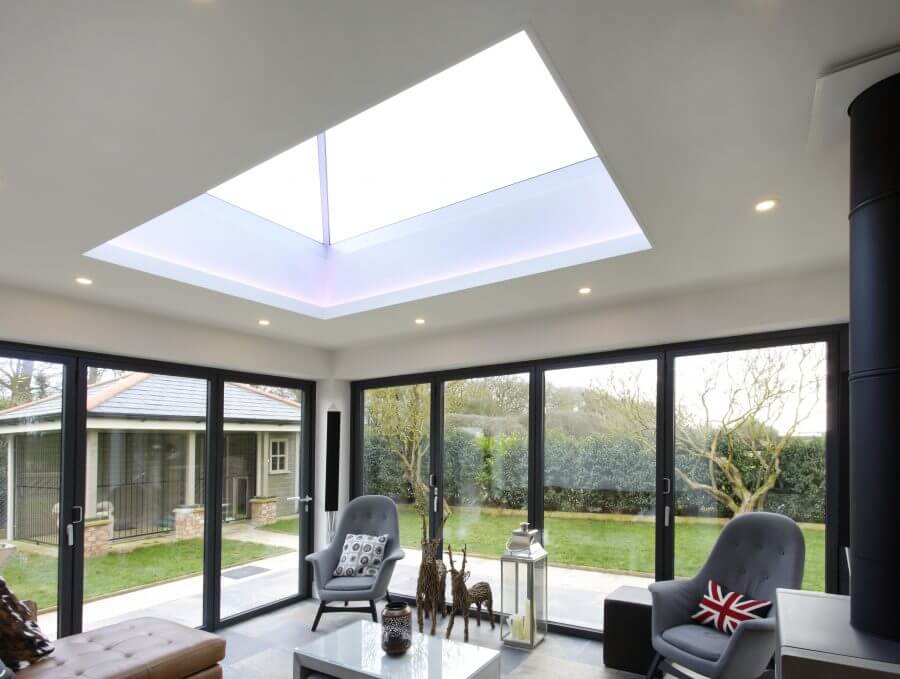 Flat Rooflights Vs. Roof Lanterns. Which Is Best For You?
With rooflights available in more styles and configurations than ever before, there is a rooflight to suit every style of home and roof. When looking for a rooflight solution for a flat roof, homeowners are faced with choosing between a flat rooflight and a roof lantern. In this blog, we explore which is option is best.
The right rooflight will transform a property, flooding dull or dark rooms with beautiful, natural light, additional ventilation and a feeling of extra space. This effect can be created in any area of the home, from kitchens to bathrooms, bedrooms and loft spaces.
Rooflights have become an integral part of thousands of striking self-build and renovation projects around the UK, mainly due to their versatility.  Both flat rooflights and roof lanterns have gained popularity over the years, so, which style is best for your project? These are the key differences which will help you to decide for yourself.
Flat Rooflights
A flat rooflight is a great choice if you don't want to see it from the outside, as they sit very low to your roof. If you choose a flat rooflight that is manufactured to internal dimensions, it will allow up to 25% more natural light than other flat roof windows to enter your room. Instantly and unobtrusively brightening any extension or renovation.  They can also provide a good source of ventilation if you select one which opens.
It is also possible to join multiple flat rooflights together to create a much larger modular system. These can be combined in many different configurations. Meaning the sky is quite literally the limit when it comes to sizing, perfect for creating an impact in long but narrow side returns and larger 'grand design' style homes.
Roof Lanterns
Roof lanterns offer a great choice. Not only are they better at channeling light from all angles than their flat counterparts, but they can also create a stunning architectural showpiece in your home. A lantern rooflight will make a room look bigger. They open up the ceiling to the sky, maximising light flow and providing additional room height to alter the ergonomics of the room.
Naturally, the construction of a roof lantern relies on using glazing bars as a support structure for the glass, these are visible from underneath, unlike a flat rooflight. So you need to look for a roof lantern with minimal glazing bar connectors, such as the SlimlineTM roof lantern, will help to minimise the impact on the look and the amount of light that will flow through.
Which Is Best?
Perhaps the greatest difference between flat and lantern rooflights is their appearance. Both internally and externally, flat rooflights are barely visible at ground level, whereas roof lanterns provide an impressive perspective to the architecture of any building.
If you're working to a tight budget, flat rooflights may provide you with a more cost-effective option.
Whatever style you decide on, it's recommended to invest in triple glazing for both flat and lantern rooflights. Triple glazing provides far better heat insulation, minimising the risk of cold areas in your room and reduces external noise. So not only do you maintain your green credentials, but you also keep those energy bills down.
Are you considering buying a rooflight or roof lantern? If you are, call Roof Maker on 0116 269 6297. Our rooflight experts will help you to choose the right solution for your needs.