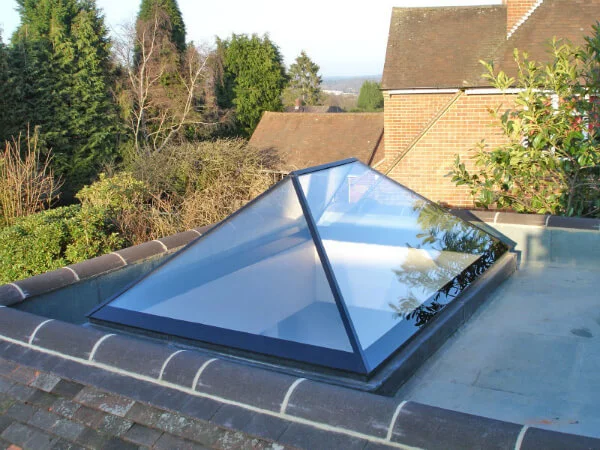 Rooflights 101 – A handy guide to understanding everything rooflights
When you're thinking of purchasing a rooflight, you may feel overwhelmed by the sheer range of choices available.
As a minimum, you'll need to decide whether you want a flat rooflight, a pitched rooflight or a lantern rooflight. But then there are all the components and optional extras to consider too. The bottom line is it can get quite confusing when you don't know your builder's kerb from your thermal break, so we've compiled this handy list of rooflight terms (a glossary, if you like) to help you out.
Aperture
The hole or opening in which your rooflight will be installed. Roof Maker rooflights feature some of the slimmest frames going and most of them sit outside your aperture, so you'll see more glass and enjoy more light for your money.
Argon gas
Argon gas is one of the gases that's often used (along with xenon and krypton) to fill the space between the two panes of glass used in a double-glazed window. Its inert nature means it has lower thermal conductivity than air, which significantly reduces the transfer of heat through the glazing and improves energy efficiency.
Blackout blinds
Blinds that can be fitted to most rooflights to give you greater control over how much light comes in, enabling you to achieve partial or total blackout as desired. Roof Maker offers a remote-controlled blind, which is simple to use – and essential if the rooflight is out of reach.
Builder's kerb
A timber frame that sits beneath a flat rooflight allowing it to be installed at the correct pitch (usually five degrees) so that water can run off naturally. It also allows the rooflight to sit at a height that complies with most building regulations. Usually made from wood, a Roof Maker ready-made builder's kerb makes installation easier. You'll benefit from increased thermal insulation too.
Easy clean glass
A standard coating that's added for free on all our glass. It inhibits the build-up of dirt and uses natural rainfall to help keep the glass as clean as possible, meaning you don't have to spend too much of your precious time cleaning your rooflight. Beware companies who claim their glass is 'self-cleaning,' significant deposits of dirt or bird muck will not magically disappear without some form of cleaning by hand.
Flashing apron
A surround that's built in to our pitched rooflights to allow easier installation and superior weatherproofing. The flashing apron also acts as an extension of the rooflight under your chosen roofing material.
Flat rooflight
A rooflight that's designed to be installed in/on a flat roof. Pitched at a minimum of five degrees (with the help of a builder's kerb) so that rainwater runs off, these rooflights come as fixed flat rooflights, opening flat rooflights, walk on rooflights and round rooflights (O-lite). Or, alternatively, you can install a pyramid, Slimline® or traditional lantern on a flat roof to allow more light into the space below.
Glazing
The different types of glass that can be used in a rooflight. The best rooflight companies offer a range of choices to help you control solar heat transfer or manage noise from outside. Also, toughened or laminated glass can provide higher levels of security compared to standard glass types. Find out more about our proprietary Reflex® Glass and it's 20 year unit seal warranty (T&Cs apply) .
Marine grade frame
All of our rooflights are finished with a marine grade powder coating to help them better withstand the elements and provide you with years of faithful service – massively reducing the chances of you having to repair or replace them in the future. We're so confident in ours the frame comes with a 10-year warranty (T&Cs apply).
Pitch
The steepness of a roof or rooflight, usually expressed as a ratio or number of angular degrees e.g. five degrees. If you're shopping for a pitched rooflight, it is always a good idea to know the approximate pitch of your roof before making your choice. Some companies have limitations whereby their pitched rooflight cannot be installed on roofs above or below a certain angle of pitch.
Pitched rooflight
A rooflight that's designed to be installed on a pitched roof. At Roof Maker, we offer both opening and fixed versions of our Standard Luxlite and our Conservation Luxlite.
Automatic rain sensor
You can opt to have a rain sensor with many of our opening rooflights. It detects rain in the air and automatically closes the rooflight, meaning you won't get caught with an open rooflight if there is a sudden rain shower.
Reflex glass
Our proprietary glazing option, developed in-house and designed to provide ultimate thermal performance. Available with specialist UV and IR blocking capabilities, our Reflex® Glass is branded in the corner with the Reflex® glass logo to guarantee authenticity. Every piece is manufactured to BS EN12150 standards.
Roof lantern
A contemporary rooflight designed for flat roofs. A lantern will provide a greater amount of daylight into a room as it acts rather like a prism. Available as a Slimline Lantern, or pyramid lantern a roof lantern can also be used to provide an eye-catching feature as part of your room design.a
Split bar
An aluminium bar that is used to reinforce a piece of rooflight glass. They are usually installed on a rooflight above a certain size to ensure there is adequate support for the weight of glass. A split bar is also featured on our Conservation Luxlite to reproduce the 'traditional look' required under building regulations for listed properties.
Thermal break
A piece of material – usually resin, silicone and Styrofoam – that has a low thermal conductivity. Placed between two different conductive materials, a thermal break reduces heat loss and cold transfer, as well as eliminating the risk of condensation.
Tint
In a nutshell, the colour of the glass used in your rooflight. While clear glass is our standard option here at Roof Maker, we also offer Subtle Blue Tint (helps reduce the heat gain and removes the harsh UV rays from sunlight, protecting furniture), Grey Tint Glass (the same as our blue tint but grey in colour) and Satinova Privacy (opaque glass, impossible to see through from either side). Finally, our Solar Performance offers the superb UV protection and control over heat gain, with the benefits of having a near-clear aesthetic effect.
Triple glazed Acoustic Performance glass
Our proprietary Reflex® Glass with extra insulation against noise – perfect if you live close to a busy road airport, or railway line etc. It also stops noise leaking out, so if you have band practice in your house, it will stop the neighbours sharing the experience.
Triple glazed Energy glass
Our standard Reflex® Glass comprising two or three panes of 4mm or 6mm toughened safety glass to ensure excellent thermal performance.
Triple glazed Security Performance glass
Our proprietary Reflex® Glass with an extra plastic interlayer, making it harder to break.
Triple glazed Solar Performance glass
Our proprietary Reflex® Glass with an additional solar reflective coating to repel heat from the sun and low Ug-values to retain heat. Helps to keep your room warmer in winter and cooler in summer.
U-value
A U-Value is a measure of how fast heat transfers through a building material or element of a house i.e. it's a measure of how good an insulator the item in question is. The lower the U-value, the better the material is at insulating.
You can read more about U- and Ug-values in another of our blogs: What are Ug-values and why are they important?
Still have questions? Our team of rooflight specialists are here to help you. Contact us today if you would like more information about any of our products.