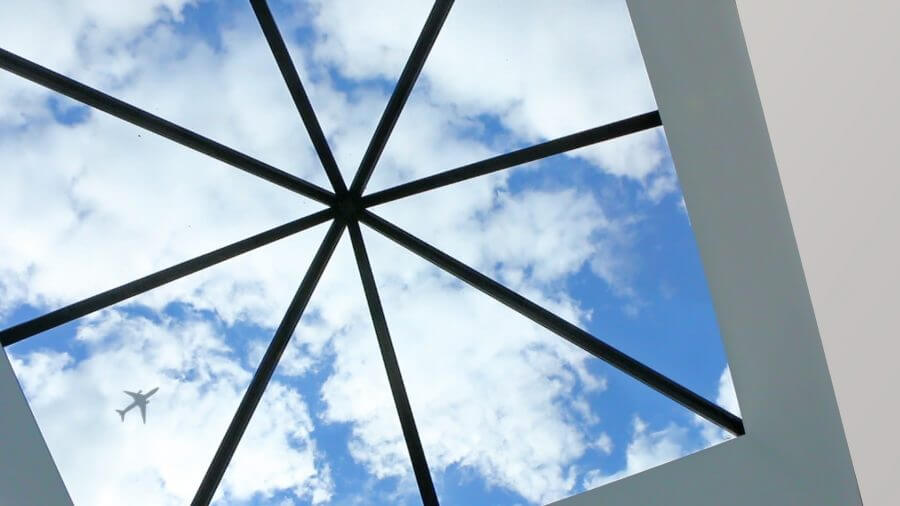 The Best Rooflights To Minimise Noise Pollution
Noise pollution can be a concern for some who are thinking of buying a rooflight for their home. Whether they live under a flight path or near a busy road, many worry their area is simply too loud for a rooflight to provide an acoustically comfortable living space. They couldn't be more wrong. With the right type of glazing, noise pollution is a problem of the past.
With a recent study revealing that over 2 million people could be exposed to additional aircraft noise from Heathrow's third runway, noise pollution is a hot topic. According to the Heathrow anti-noise group Hacan, households in Heston, Osterley Park, Brentford and parts of Chiswick and Hammersmith would be brought directly under the new flight path.
This would have a large impact on those living in these areas who are considering buying, or who have already installed, a rooflight with inadequate glazing. Daily noise pollution from aircraft would increase considerably. However, there are steps that can be taken to eradicate or minimise the impact.
Triple glazing for noise control
Without a doubt, choosing a triple glazed rooflight rather than a double glazed one will help to reduce noise pollution. The additional sheet of glass provides an extra layer of noise insulation and will help to minimise any sound from the outside world.
Whilst not all companies offer triple glazing in their rooflights, some companies offer triple glazing as standard. This means that you don't need to opt for an expensive upgrade or add-on to achieve adequate enough glazing to help with noise pollution.
If you already have a rooflight installed which isn't triple glazed, you may wish to replace it. You don't have to go back to the same supplier either. Rooflight manufacturers that offer bespoke options can create a triple glazed rooflight to fit perfectly into the space of your previous one.
Specialist acoustic glazing
Whilst opting for triple glazing can reduce outside noise, there are additional measures that can help further. For ultimate noise control, choose a rooflight that utilises acoustic control techniques. This could include adding lamination, thicker panes and wider cavities into the glazing.
Reflex Acoustic Performance  is a specialist glass, designed specifically to combat noise pollution. It does this by using laminated panes that are slightly thicker and spaced further apart than those typically used. This type of specialist glass is available for many different styles of rooflights and is most effective when combined with triple glazing.
Whilst adding a specialist acoustic glazing will marginally increase the overall cost of your rooflight, it is well worth the additional cost. For those living in noisy areas or under a flight path, it can hugely reduce the amount of noise pollution they are exposed to every day in their homes.
Do you need a rooflight which combats noise pollution? If you do, call Roof Maker on 0116 269 6297. Our rooflight experts will help you to choose the right solution for your needs. Alternatively, visit our showroom or get a quote online.