And when it comes to skylights for flat roofs, there's plenty of choice available. Keep it classic with flat rooflights, add some curves with a circular rooflight or get the wow-factor with a striking roof lantern.
Let's have a look at those options in more detail and show you some examples.
Fixed flat rooflights
Fixed flat rooflights are one of the most popular skylights for flat roofs and are made using a single panel of glass.
A fixed rooflight means a rooflight that doesn't open.
Flat rooflights sit close to the surface of your roof, so they're unobtrusive from outside. And from inside they appear frameless, like a hole in the roof, which allows maximal natural light to shine through.
Roof Maker's fixed flat rooflights are available in custom sizes up to 3 square metres.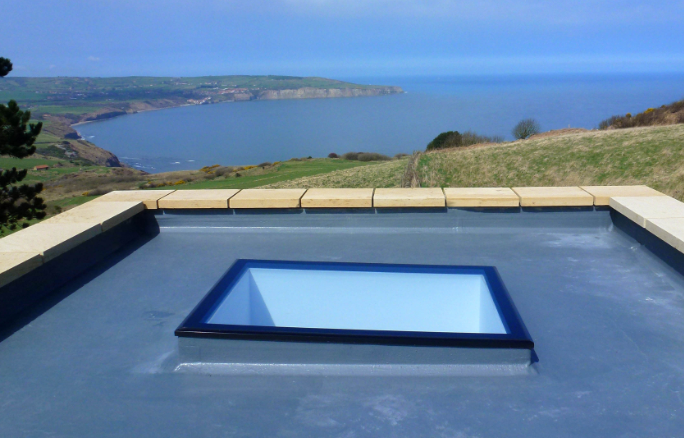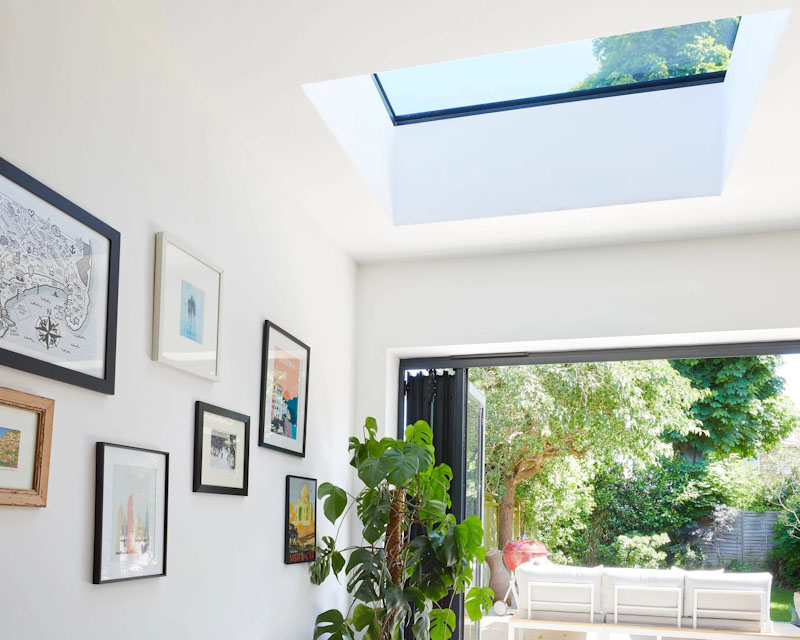 Modular rooflights
If you need something larger, you could consider our modular rooflights. The modular system lets you place several fixed flat rooflights together with supporting splits between them. This allows you to cover a much larger area of your flat roof.
Modular rooflights can also be ideal if you have an unusual space or want a more creative arrangement.
Circular rooflight
If your room has a more hexagonal or rounded shape, the O-lite could make a beautiful centrepiece. This circular rooflight is fixed (non-opening) and appears frameless from inside. It's available in three standard diameters: 750mm, 1000mm or 1500mm.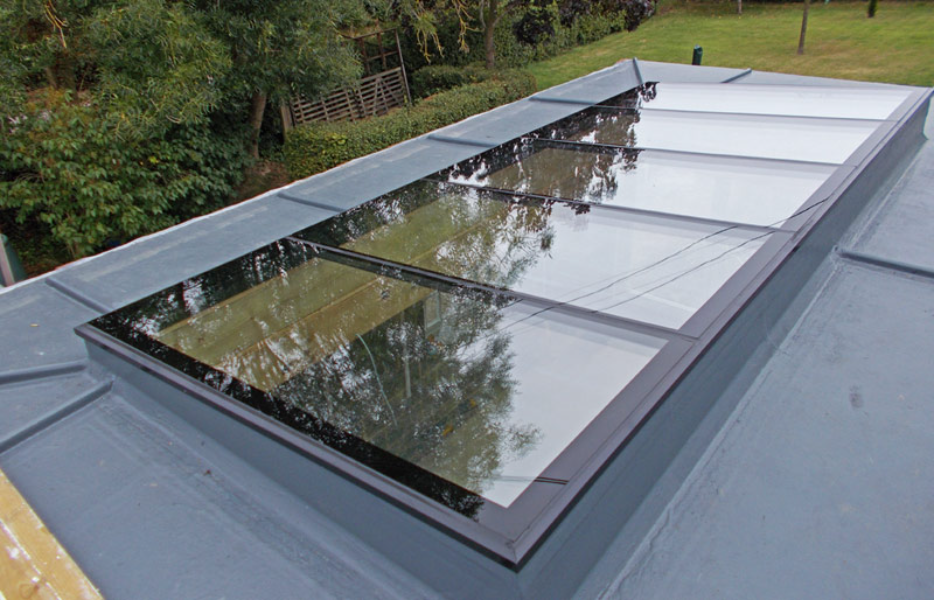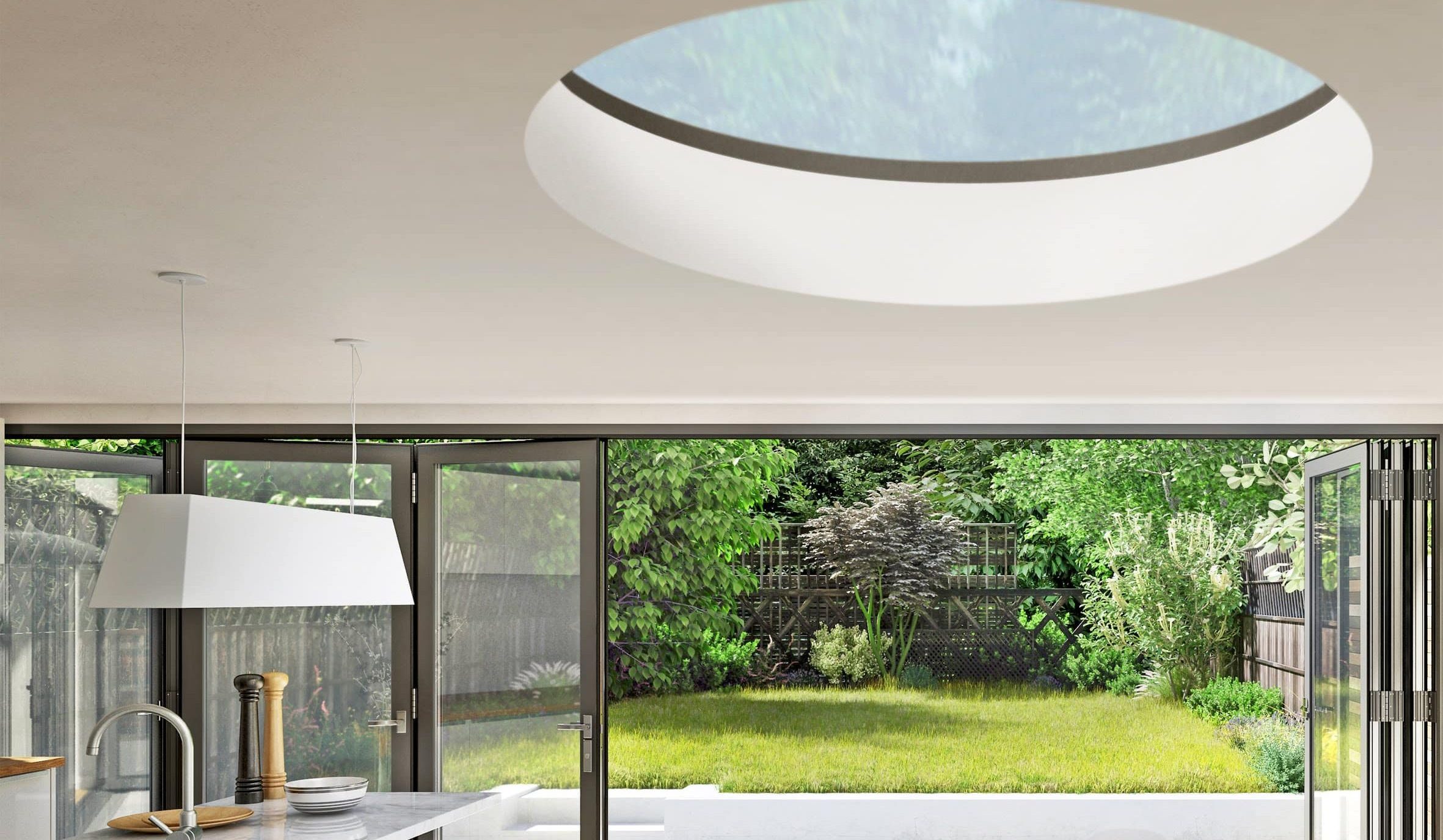 Openable skylight
Our openable skylight is a flat rooflight with a hinged opening for ventilation. They're particularly useful in kitchens and bathrooms, for clearing steam and cooking smells.
The skylight opens using a concealed chain mechanism. This is powered by a wall-mounted switch or remote control and can be opened partly, or fully up to 400mm.
And if it looks like rain, you don't need to worry. Our openable skylight is fitted with a rain sensor that will close it for you automatically if there's a shower.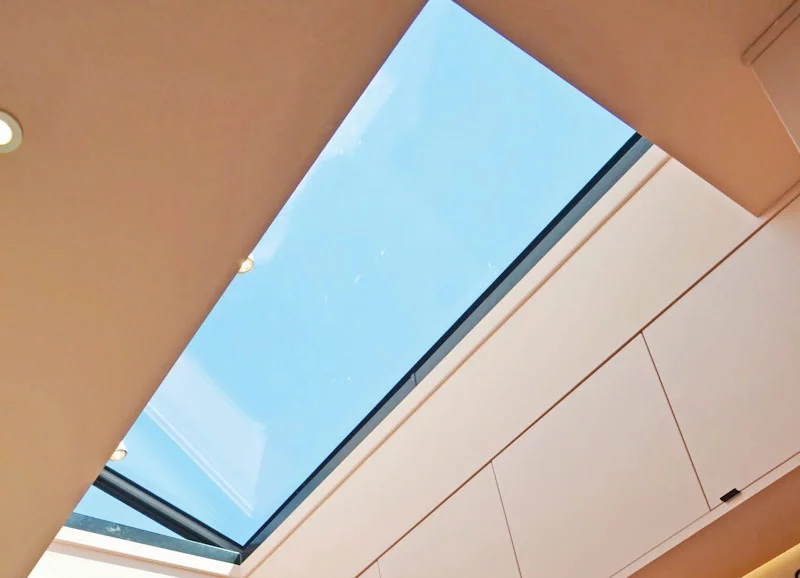 Roof lanterns
Unlike flat rooflights, roof lanterns are three-dimensional and have the shape of an elongated pyramid.
The lanterns are designed to create a stunning architectural feature in your room. They're functional, too, as the angled glass catches the sunlight from all directions and channels it down into your living space.
Because roof lanterns sit above the surface of the roof, they increase the ceiling height, which makes your room feel brighter and more spacious.
The structure of a roof lantern means there will be some visible glazing bars, but we've made those as slim and unobtrusive as possible, so they don't interfere with your view.
Roof lanterns can be made with an opening panel if you also need ventilation, but the opening panel will have a slightly thicker frame.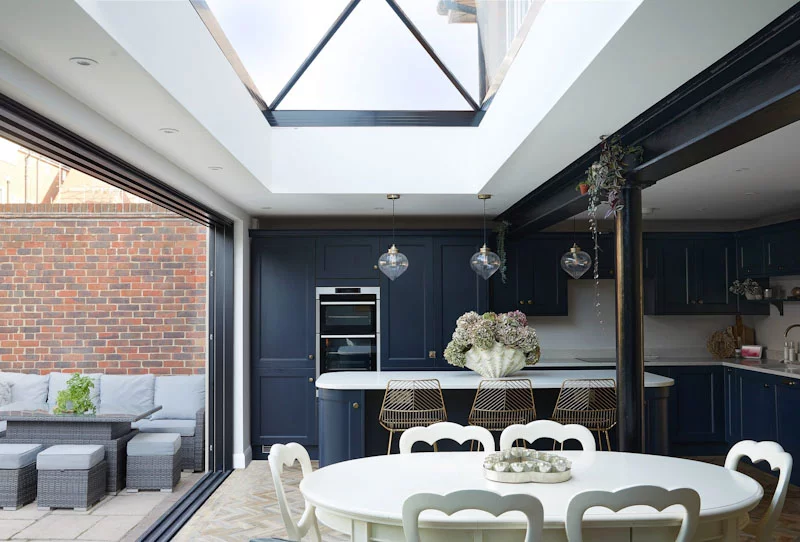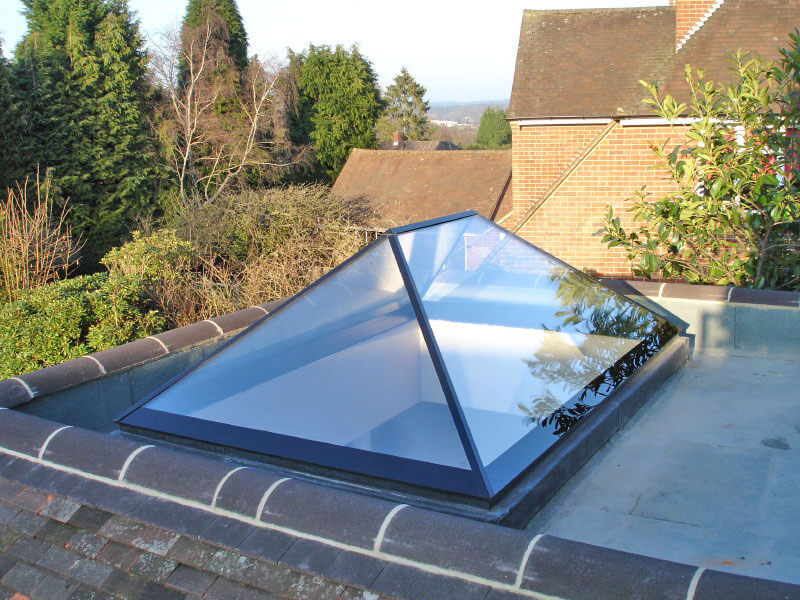 Flat rooflights or a roof lantern?
Now you've seen the range of skylights for flat roofs, the question is, should you choose flat rooflights or a roof lantern?
Here's a quick summary of the benefits and things to consider.
Flat rooflights
✓ Classic minimal style that suits most properties
✓ More cost-effective and easier to install
✓ Rectangular rooflights can be made to custom sizes*
✓ Circular rooflights and modular configurations also available
✓ Can be made with a hinged opening for ventilation
✓ Frameless appearance gives unparalleled sky views and allows maximal light to pass through.
If your skylight is for a room where you need more privacy, check first if your flat roof will be overlooked.
Roof lantern
✓ A stunning architectural centrepiece for your room
✓ Channels sunlight from all angles throughout the day
✓ Adds both height and light to your room
✓ Can be made to a custom size*
✓ Can have an opening panel for ventilation.
Some flat roofs have height limitations, which could mean a roof lantern is unsuitable, so check your building regulations first.
*Subject to manufacturing limitations
Want to see some more?
If you're still exploring your options, you can browse our full range here.
Our product pages will give you the technical information you need to imagine what might be possible.
Need some advice?
Our expert team are just a phone call or email away. They can guide you, answer any questions you may have and provide you with a quotation if you'd like one.
Call us on 0116 629 6297 or email [email protected] and we'll be happy to answer any questions or provide a quotation.