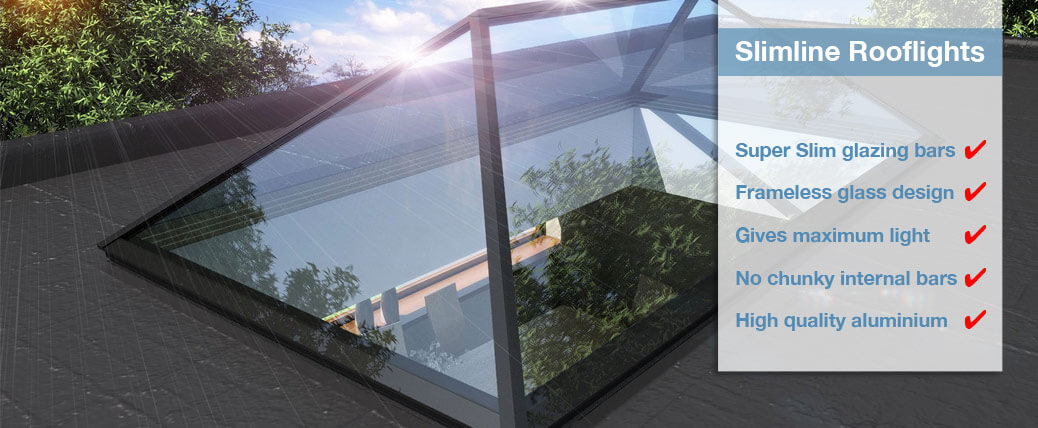 Slimline Pyramid Stepped Units
Stepped glazing rooflight or skylights have long been considered the Rolls Royce in rooflight orangery glazing at the luxury end of the market, often found in hardwood, timber framed orangery and pool houses costing hundreds of thousands of pounds.
Stepped insulated glass is a common feature in architectural and commercial glazing applications and costs considerably more due to the increased complexity in manufacturing.
But why are stepped units so much better than basic glass units? The answer is simple! It's all about the EDGE: The longer/stepped edge keeps water away from the seal as the Achilles heel to any glazed unit is water damage to seals. Unit seals sitting in constant moisture will breakdown and fail, no matter how good the adhesive or seal depths. Unit seals also become damaged by Ultraviolet rays from the sun without proper shielding.
If water is left to sit on the seals they will eventually perish and fail with condensation appearing in the unit cavity. The step moves the edge out away from the seals allowing water to run off cleanly and further protection to the seals from UV is given via a cloaking border.
Now most stepped glazing rooflight systems on the market are derived from low cost PVC systems due to copycat designing and easy low cost sourcing of glass units. These units usually have an exposed seal which is capped off with a basic extrusion supposed to protect the ends of the unit. Instead the unsightly trims often gather water and channel it along the unit seals eventually their drainage slots block with debris that wash off the roof.
Unsightly algae and even grass can often be seen growing from these trims, they require constant maintenance to insure longevity of the units. Often the units are held in place with primitive end caps that can allow the glass units to slip into the guttering and sit in water speeding up unit failure, the seals can also very easily be exposed to the suns damaging rays and the finish to the eaves of these roof systems is usually chunky and fiddly.
With a stepped glazing rooflight unit system, water is taken clean away from the seal area which stays set right back underneath behind a patented UV blocking border. Keeping it high and dry and well protected with a very clean and neat finish to the glazing. The unit cannot slip as it sits protected, flush within the aluminium kerb system. This makes obvious sense yes? So why don't all rooflight manufacturers use this system like the top end firms? Like most things it is down to cost! Pretty much every rooflight firm buys in their glazed units from a double glazed unit supplier and these suppliers charge a premium for stepped units! So they use the cheaper, more primitive units in their sloping roofs that require securing in place with fussy, untidy end caps. We often have to replace these units from older rooflights as the true longevity of the non stepped unit is a fraction of our stepped UV blocking units.
With third party testing we know that our stepped UV protected sealed units are good for 30+ years due to their unique construction. Our extensive R&D in this area is backed up by top industry consultants and test houses. So it's good news that our Slimline pyramid system features frameless stepped edges at the bottom to give the ultimate finish. Clean, minimalist lines ensure that rain water and debris runs clean off the glass without any obstruction from ugly trims. Using a patented UV blocking resin paint system we give these stepped units a very aesthetic border that colour matches the aluminium framework of the roof, black, grey or specialist RAL colour. We give the stepped glazing rooflight the perfect finish that not only hides any gaskets or fittings but stands it apart from the other products on the market. Our frameless Slimline stepped units create the best looking and best performing pyramid rooflight on the market today with true premium stepped glazing rooflight units to give you total peace of mind!