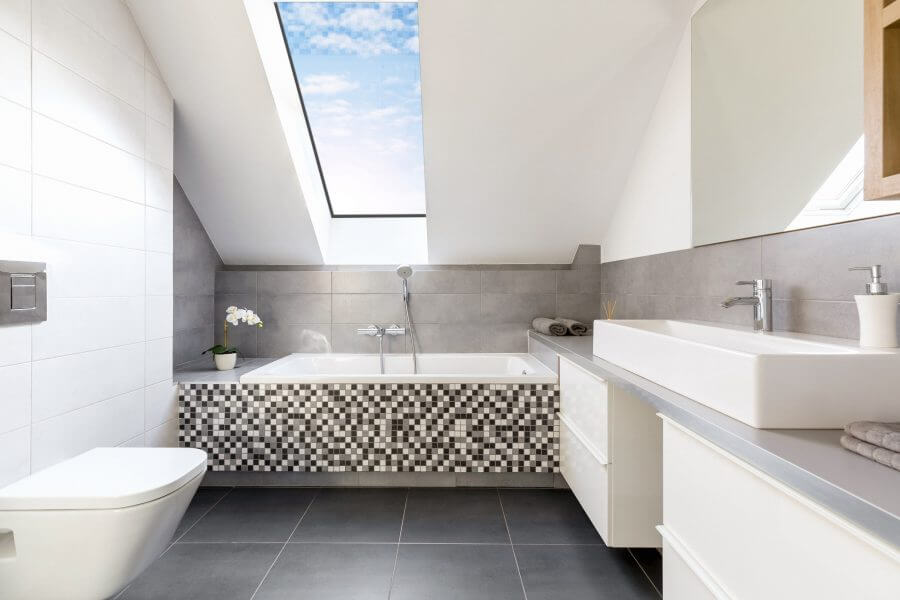 10 Tips for Planning the Perfect Bathroom Design
Few rooms in your house are as important for making the most of your precious downtime as your bathroom. This private space is one where you can relax in the bath after a long day at work with zero distractions.
But beginning a bathroom project can be daunting, particularly if you've never undertaken one before. Don't worry though, we've got you covered.
Whether you are looking to give an existing bathroom a new lease of life, or wanting to create a new bathroom from scratch, our list of 10 top tips for planning the perfect bathroom below will help ensure you hit the ground running.
1. Define a budget
First and foremost, start by defining a budget for your forthcoming bathroom rejuvenation. While it's a rather sensible and slightly boring aspect to focus on first, it is inevitably a factor that will determine the rest of your entire project.
A definitive, carefully considered budget will enable you to prioritise both where to spend and where to save.
Nobody is saying that your budget has to be set in stone, but it is a very good indicator of what your total project can realistically run to. Moreover, there's no reason why you can't splurge on a few luxuries, like a massive bathtub, providing you can make savings elsewhere.
2. Weigh up what you really want vs. what you really need
With your budget set, the next step is to figure out your main priorities. If the bathroom you are
planning will be the main family bathroom in your home, chances are it's going to need a bath, a shower, a sink and ample storage. But if it's a much more modest en-suite bathroom, maybe you can get away with just a shower cubicle and a loo.
The bottom line is that while there will be components you really want (that enormous bathtub, for example), you should really prioritise the elements you really need instead.
3. Seek inspiration
Maybe you're not really sure what you want/need and need some creative inspiration. There's nothing wrong with that! We often don't know what design styles we like until we see them in the flesh.
This is where showrooms, glossy magazines and even your friends' bathrooms come in. Don't decide on a layout or style until you're 100% happy (or as close to 100% as you're going to get).
It may be that your taste doesn't draw you to a particular style and you simply pick and mix ideas you like to create the perfect bathroom for you. Regardless, you'll likely still need that creative inspiration to get your imaginary juices flowing.
4. Be realistic
This point kind of touches on the preceding three in that you can only achieve what your space, budget and imagination will let you. If you pine for features that you cannot have because they are out of your price range or simply won't fit, you'll end up feeling hard done by – even if your finished bathroom is absolutely gorgeous.
That's why you need to be realistic and appreciate that there are things you won't be able to have from the start.
Sure, you can try and cram stuff in, but you will probably live to regret it further down the line when you are bumping your head on the sink because you don't even have adequate room to dry yourself.
5. Nail your layout/plan
With your budget defined, list of requirements compiled and suitable inspiration drawn from a number of sources, it's time to begin laying out the basics.
If you are renovating an existing bathroom, ask yourself if you really need to move the bath/shower, sink and toilet. If you do, be aware that it will incur additional costs as you'll need to also move the corresponding water/waste pipes too.
If you are building a bathroom from scratch, consider what it's going to be like to use once it is finished. For example, picture yourself laying in the bath (if you're going to have one). Will the toilet bowl be right next to you? It might be if you're cramming in too much.
Measure everything to ensure your proposed layout fits together. The last thing you want is your bathroom door banging against your toilet bowl every time it's opened.
A great tip here is to utilise the expertise of the experts. Pop down to your local bathroom showroom and have a chat with one of the designers. They will be able to create a layout that maximises the space and minimises the chances of any mistakes occurring.
6. Remember, ventilation is very important
If you overlook the ventilation in your bathroom, you'll regret it later. That's because poor ventilation in a room that contains a lot of moisture is a recipe for disaster. Not only will you likely experience a build-up of mould on your walls, you'll also have the headache of constant condensation on your windows, mirrors and shower cubicles.
One of the simplest and most cost-effective ways to ensure your bathroom has adequate ventilation is by installing an opening rooflight.
Steam from hot baths and showers rises, which is why rooflights are so good when it comes to bathroom ventilation. Also, unlike may exhaust fans, they are completely silent while they are removing all that unwanted moisture.
If your bathroom has a sloping roof, a design favourite is to have two rooflights that face each other and meet at the apex of the roof. An opening pitched roof window would be perfect for this.
Working with a flat roof instead? No Problem! Both hinged opening flat rooflights or a vented roof lantern would be just the ticket for creating adequate ventilation in your bathroom.
7. So is lighting
Some people like dimly lit bathrooms where they can enjoy all the rejuvenating qualities afforded by a long soak in the bath by candlelight. Others prefer a much more enlightening experience. Your preference will determine both the number and type of lights you install.
Don't forget that as well as ventilating a bathroom, an opening rooflight also lets in more natural light. That means you might not need as many electric lights as you first thought, which makes installing a rooflight a win-win all round.
8. And so is storage
A tiny glass shelf above your sink covered in toothbrushes, tubes of toothpaste and shampoo bottles never looks good. Nor does storing all these items at the end of your bath or in your shower cubicle. That's why storage is such an important consideration for any bathroom.
Even if it's just a cupboard, set of shelves or wooden rack, adequate storage is something you need to factor in; otherwise you'll be constantly knocking toiletries over and searching for somewhere to house your razor.
9. Create the right mood with colour
In the same way that lighting helps create a certain ambience in a bathroom, so too does the colour you choose for your walls. If you're aiming to create a relaxing spa-esque atmosphere, consider using warm colours like reds, purples and browns.
If you're looking for something a lot fresher that leaves you feeling energised before a long day at work, consider crisp white décor, pale blues or yellows.
Remember that it's not just your walls that will add colour. Bathroom suites, wooden cabinets and tiles all add their own colour splashes.
10. Consider your flooring options
Whatever kind of floor you choose to lay in your bathroom, it will need to be impervious to water, slip-resistant and match your overall feel/colour scheme. It's why many people opt for tiles and complement them with a soft bathmat to absorb most of the excess water to prevent accidents.
Nevertheless, there is a wide array of different materials you can use for your bathroom floor, including vinyl, natural stone, engineered wood or laminate. Your choice will all come down to your personal taste and available budget.
Got your heart set on underfloor heating? While it's a lovely feature to have, it could destroy your budget and requires your bathroom to undergo some major surgery.
Are you considering buying a rooflight or roof lantern for your home? If you are, call Roof Maker on 0116 269 6297. Our rooflight experts will help you to choose the right solution for your needs. Alternatively, get a quote online.