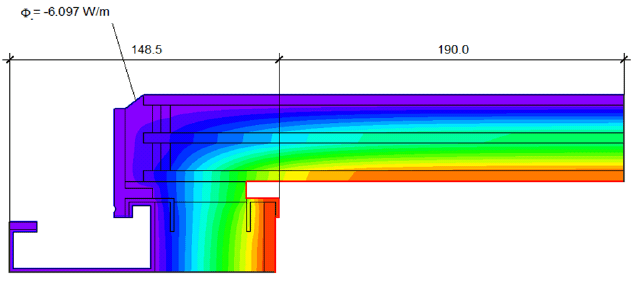 Triple Glazing and Ug-values – Keep Warm In The Winter
A products Ug-value is the measure of its thermal conductivity i.e. how good it is at preventing heat loss, so the lower the Ug-value, the better the insulation. Better insulating products, like a triple glazed rooflight, not only save you energy and thus money on your heating bills but more importantly keep you physically warmer in winter.
As temperatures drop during the winter months (especially at night) so can comfort levels if the correct performing glass is not used to prevent cold spots.
Improving comfort levels is even more important when you consider adding large amounts of glazing to a room. A room with floor to ceiling Bifolding doors and possibly one or two large rooflights should include triple glazing as an absolute minimum to improve comfort levels on colder days and nights. When you consider just how much more heat is lost with conventional double glazing, triple glazing becomes the sensible choice.
In our opinion triple glazing should be the standard when you consider how good your walls and ceilings are at keeping heat in.
Our triple glazed rooflight range features a Ug Value as low as 0.6W/m2k this is up to 60% better at reducing heat loss than the very best A rated double glazing, insuring your room stays warm and preventing cold spots near the doors or under rooflights.
When you consider just how much heat can be lost through high performance A-rated double glazed doors and rooflights the decision to go Triple is easy! Standing near double glazing you can still feel the cold spot as heat is still being lost through the glazing. Condensation is also a risk on cold nights when you turn up the heating but with triple glazing this is eliminated. Our ThermFold® and Fixed Flat rooflight products come with Triple glazing as standard giving you great thermal performance.
It makes no sense at all to super insulate roofs and walls but leave large expanses of glass as the weak link for heat to escape, especially overhead glazing where heat energy rises with convection currents and goes straight out of the rooflight with double glazing. April the 6th 2014 saw the introduction of Part L building Regulations with new improved insulation Ug-values for buildings. Your roof must have insulation that gives a Ug-value of 0.13 with walls being 0.18 which is pretty good but why then fit double glazed Doors with Ug-values of 1.6?!! It makes no sense at all when the glass technology is now available to get Bifolds down to 1.0 around 40% better as is standard with our ThermFold® Bifold doors!
Roof-Maker uses Reflex® Easy Clean glass coating protection as standard in our product range. Reflex® 0.6 Ug-value glazing featuring Argon or Krypton gas filling (dependant on unit thickness for either Flat or Pyramid rooflights) manufactured in house for glazing in both our ThermFold® Bifolds and market leading rooflight systems. We also glaze our opening rooflight products as standard with Kite Marked, Heat-Mirror glass units featuring a Ug-value of 0.6W/m2k, that's market leading thermal performance!
We don't charge any extra for a triple glazed rooflight, in fact it is standard on many of our products because we consider this a necessity when you consider how good your walls and ceilings are at keeping heat in.