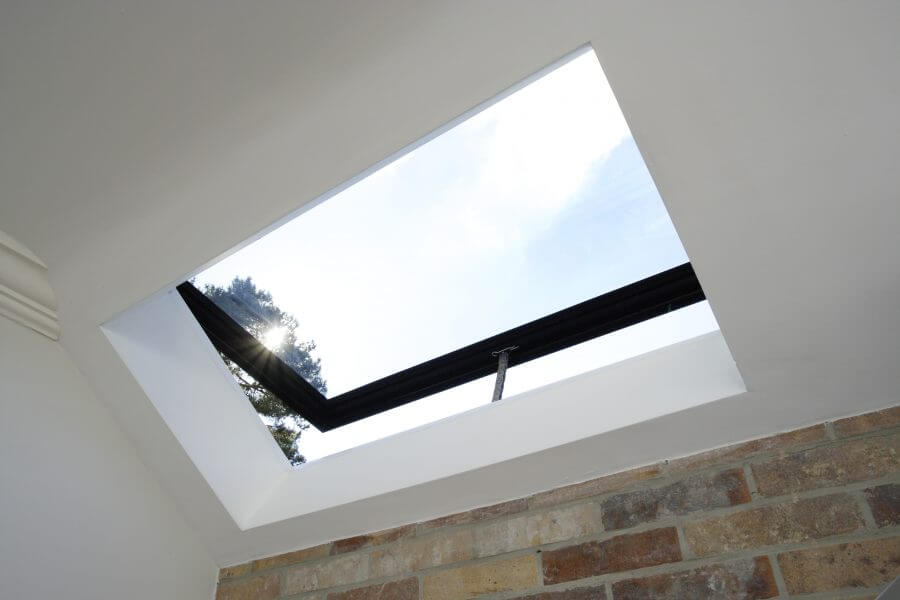 What Are Ug-values And Why Are They Important?
Everyone wants their homes to be more energy efficient. Not only is it good for the environment because it helps save precious natural resources and reduce pollution, but it's also good for your wallet too.
But what does being 'energy efficient' actually mean? In a nutshell, it means using less energy to achieve the same desired result. For example, while traditional incandescent light bulbs do a great job of illuminating a room, LED light bulbs are now a very viable alternative, using significantly less electricity (energy) and boasting a much longer lifetime.
Another way to use less energy (be more energy efficient) is by ensuring your home is sufficiently insulated, so that it stays cool during the summer and warm during the winter. In fact, when it comes to making your home more energy efficient, insulation is widely considered to be the most practical and cost-effective way.
And that brings us to the focus of this post: Ug-values.
What are Ug-values?
A Ug-value is a measure of how quickly heat transfers through a building material or element of a house e.g. a wall, a window, a roof. In other words, a Ug-value expresses how good an insulator something is, with the rule of thumb being the lower the Ug-value, the better i.e. the best insulators have the lowest Ug-values.
Measured in watts per m² Kelvin (W/m²K), Ug-values actually need to meet certain standards to comply with building regulations in England.
The table below, taken from Approved Document L1A (link above), shows the minimum energy efficiency standards required in new dwellings: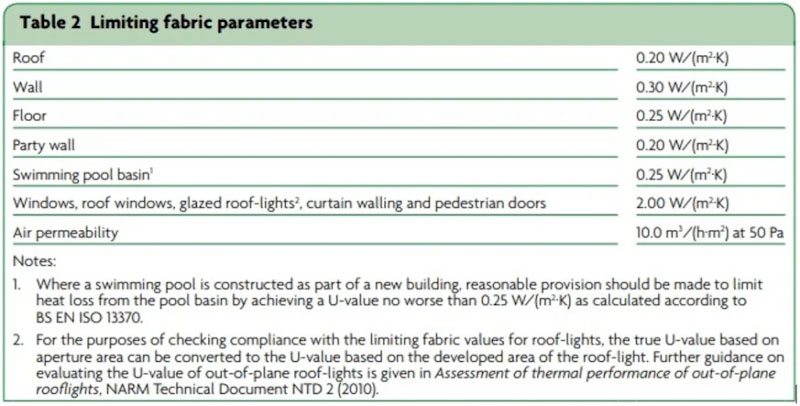 Image credit: UK government [Approved Document L1A]
However, it should be noted that the values shown above are the maximum permitted for each element and the standards for the notional domestic building are considerably higher i.e. the Ug-values are much lower: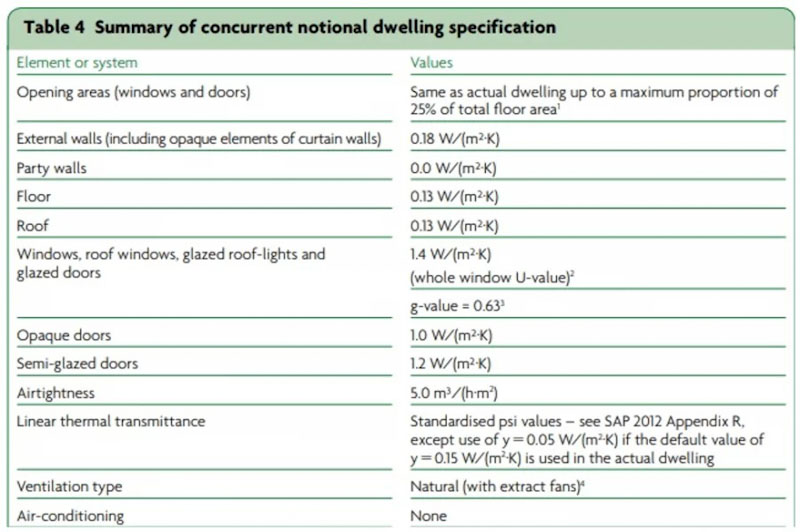 Image credit: UK government [Approved Document L1A]
Why are Ug-values important?
Ug-values are important because they provide a quick indication of how good an insulator something is. So, for example, they allow consumers to compare products and make an informed purchasing decision.
Moreover, because building regulations stipulate the maximum Ug-values allowed for various elements of a house, homeowners can afford total peace of mind that they are adhering with current regulations.
How do Roof Maker products compare?
We are extremely proud of the very low Ug-values of our products. Take, for example, our fixed flat rooflights. These high-performance, non-opening skylights are triple glazed as standard, boasting Ug-values from 0.6 w/m2k.
However, opt for our specialist Reflex solar control glass and you can expect Ug-values as low as 0.5 w/m2k.
And it's much the same with our Luxlite™ pitched roof windows. The wide selection of glazing options allows you to keep Ug-values as low as possible.
Furthermore, because we make all our glass in-house, you can be sure that whatever glazing option you choose will come with the Roof Maker stamp of quality.
At the end of the day, you wouldn't leave an upstairs window open during the winter when it's freezing outside, so why would you purchase a rooflight that does not boast a good (low) Ug-value?
Are you considering buying a rooflight or roof lantern for your home? If you are, call Roof Maker on 0116 269 6297. Our rooflight experts will help you to choose the right solution for your needs. Alternatively, get a quote online.