Before Suzi and Gareth bought their 1960s property, they had no plans to move. They were living in another house in the same village and had just been granted planning permission for an extension there.
But then Gareth's mum told them about another house that had come onto the market. This house had land and views of nearby beauty spot, Bradgate Park. So they decided to visit the property and take a look.
Describing the property, Suzi says, "It didn't have a lot of character or integrity. I mean, it was a fairly good build in terms of quality and it had a slate roof, but it was a whole hodge-podge mish-mash of different styles and random extensions through the time."
There wasn't much about the existing build that appealed to them. But, as an architect, Suzi could see the potential — so they decided to buy it and transform it.
Their plans for the property were ambitious and extensive. And although they'd undertaken refurbishments before, they were mainly cosmetic. This would be their first structural renovation project.
Suzi's professional experience as an architect was a big advantage. She explains, "Given the nature of what I do, I get to see first-hand how clients have to contend with all different kinds of constraints during this process. And so… I should know thoroughly what to expect and any curveballs that might come."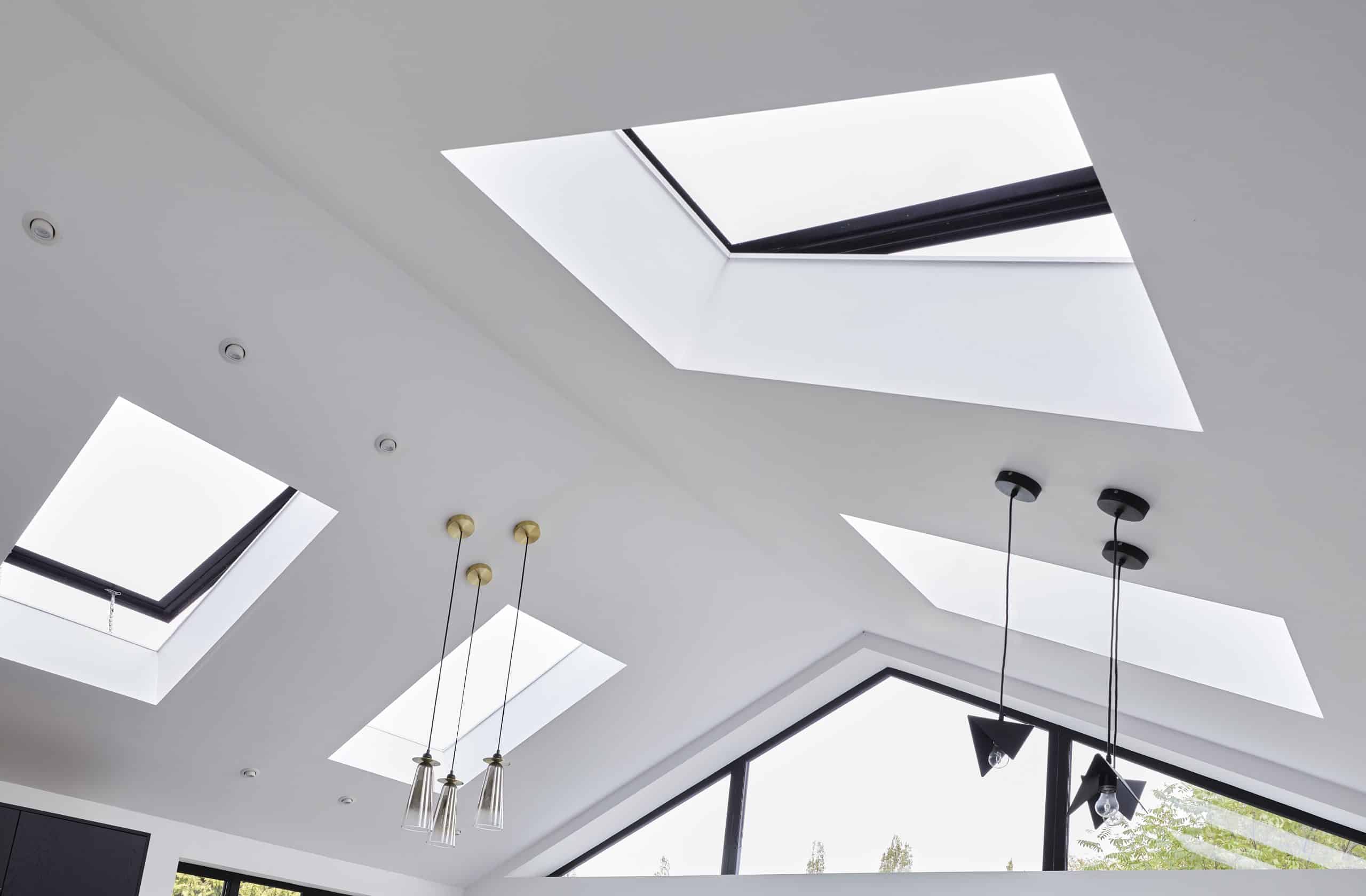 One of the rooms they wanted to look at was the north-east facing flat-roof extension, which was originally the lounge. Suzi says, "It was a flat-roof construction, old-school bitumen type with no rooflights. And although they had large format windows for the panoramic views, it felt very dark and enclosed as a space."
The couple wanted to transform this lounge into a kitchen and entertaining space. They knew it was paramount to maximise the amount of glass letting light into the room and were particularly interested in overhead lighting.
They considered the option of adding lanterns to the flat roof, which would have left them the option to build a second storey.
Suzi says, "I did toy with the flat roof and popping in a lantern or two and seeing that space visually in 3D, but it just didn't feel right for what we were trying to achieve."
They eventually decided on a vaulted roof with a gable and pitched rooflights.
Through her work as an architect, Suzi already knew which rooflight manufacturer she wanted to work with.
She says, "We've specified lots of different rooflight manufacturers in the past and Roof Maker — through from customer service, to the actual final product and installation, — were just above the rest.
"They'd recently done a project of mine in Nuneaton in a similar format. And seeing that in situ and how great that looked, made me automatically realise… there was no other contender."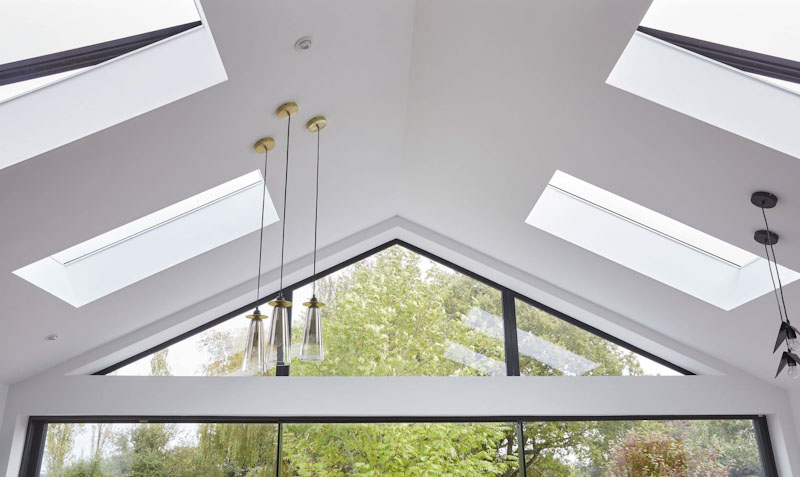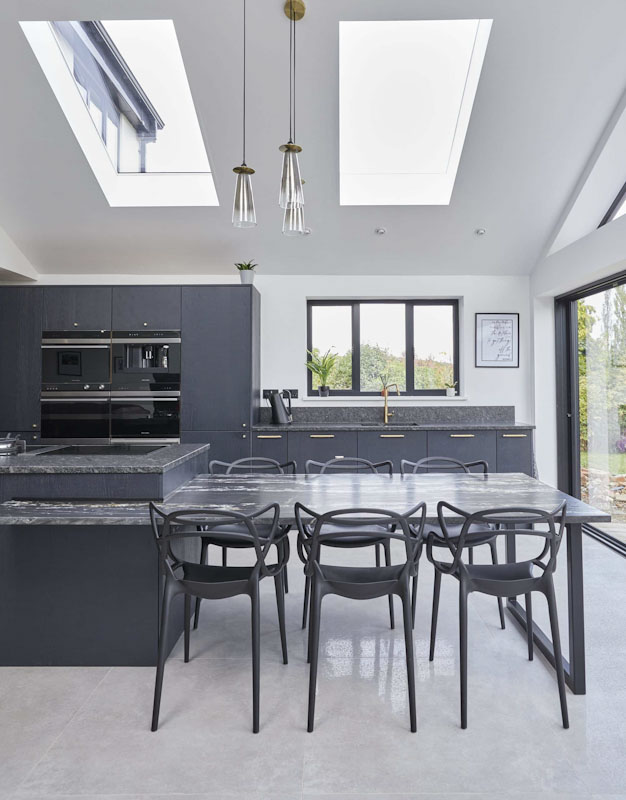 INSTALLATION
Suzi and Gareth's renovation would incorporate four large pitched rooflights: two fixed and two with an electric hinged opening for ventilation. This would maximise the amount of overhead glass, but still leave enough ceiling to install artificial lighting.
The rooflights were handcrafted on site at Roof Maker and delivered direct to the couple's home for installation.
Roof Maker's detailed instructions and drawings meant that with careful planning and suitable lifting equipment, the installation itself was quick, clean and easy.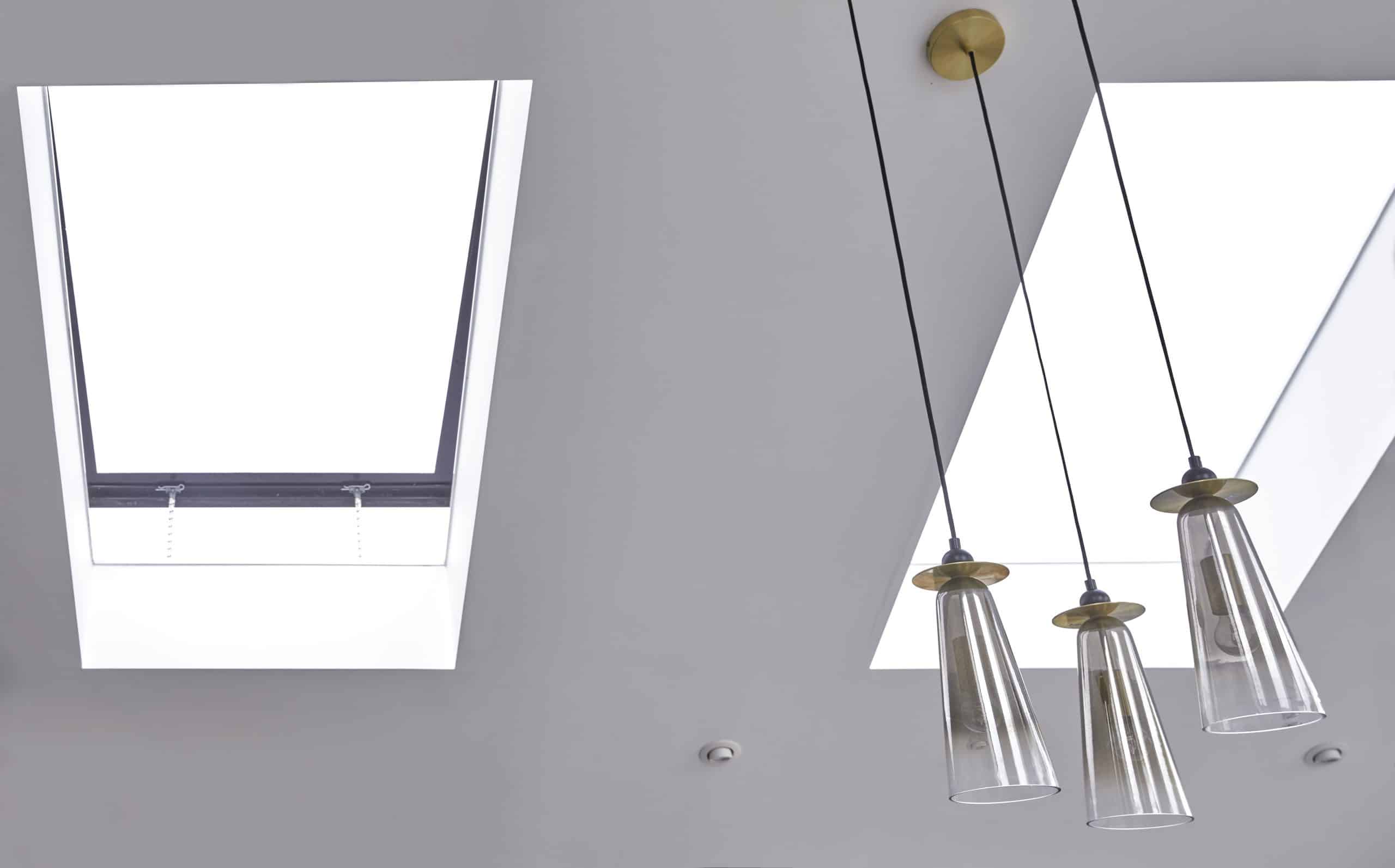 THE RESULT
Suzi and Gareth have transformed their dark lounge into a bright airy kitchen, with space for entertaining.
The vaulted ceiling has given the room height and the addition of rooflights has flooded the space with natural daylight.
Speaking about the difference the vaulted ceiling has made, Suzi says, "Although it's a deep space and a large space, having the upward space just adds to the grandeur of the environment."
And talking about the room, Gareth says, "This is where we spend most of our time and where we love being. You can socialise, you can cook and you can look after the little one at the same time. Everything happens in this space."
The room is quite a departure from the couple's normal eclectic style. Their previous home had a rustic cottage feel. But for this development, they decided to go for something classically contemporary, because they felt that was better for the design of the property.
Suzi explains, "It's quite timeless, which was key for us. We didn't want to do something that would date quickly."
Speaking about the Roof Maker rooflights, Gareth says, "I think when you see these in comparison to others, they're frameless, essentially… so they just look better."
Suzi and Gareth say they found their renovation project challenging, interesting and enjoyable.
When asked if they had any advice for other people embarking on similar projects, Suzi says, "Do your research. Be open-minded and pragmatic. And don't be too fixated on the price or what you think are going to be anticipated timescales. Try to enjoy the process, because it is stressful… But remember you've made this decision for a reason and you want to improve a space and make it unique to yourself."
WHAT YOU NEED TO KNOW
✅ Made to measure in our factory in Leicestershire
✅ Constructed using double or triple glazed insulated glass units, with superior thermal efficiency and an outstanding Ug-value as low as 0.6w/m2k
✅ Available in Black RAL 9005 or Anthracite Grey RAL 7016
✅ Available with a variety of glass types and tints
✅ We deliver anywhere in the UK mainland