Rooflight: Two Portrait Fixed Luxlites
Colour: Black RAL 9005/Black RAL 9005
Glass: Triple glazed Solar clear
Size: 1000mm x 750mm
Alison wanted to create a bright and welcoming social space between her bungalow's separate kitchen and living room. After sending drawings to Roof Maker and talking with our experts, she decided on two Luxlite™ rooflights. Alison has been amazed by how much light the windows let in and how they've transformed the space.
Planning
Alison and her husband had moved into their small bungalow with ambitious plans to extend and remodel it.
As a draftsperson with her own drawing company, Alison had been able to create drawings showing exactly how she wanted the remodelled bungalow to look. She had included a number of rooflights in her design.
This particular project would create a social area between the kitchen and living room. The space would give people a place to sit that was next to the kitchen, so Alison could be more present when she was cooking.
In other areas of the property they had classic Velux rooflights, but this space was different. Building regulations meant that the rooflights had to be small — and Alison was concerned that the thick frames would be intrusive and block out the light.
This is when she discovered Roof Maker rooflights.
She says, "I was interested in the concept of the rooflight windows simply because the frame is completely on the outside. So when you look up through the roof, all you see is glass and it looks like a hole in the roof."
Alison sent her drawings to Roof Maker to discuss her options. Following conversations with the experts at Roof Maker and her builder, she decided on two pitched rooflights at opposite ends of the room.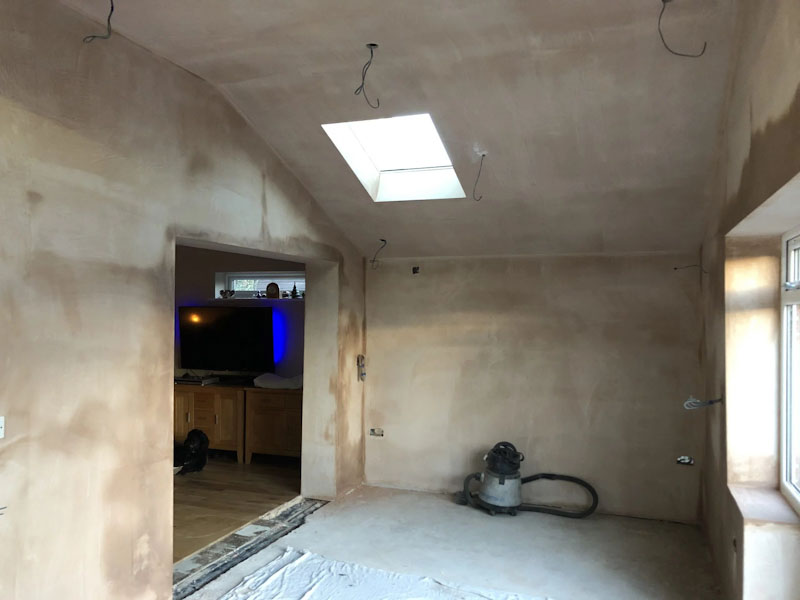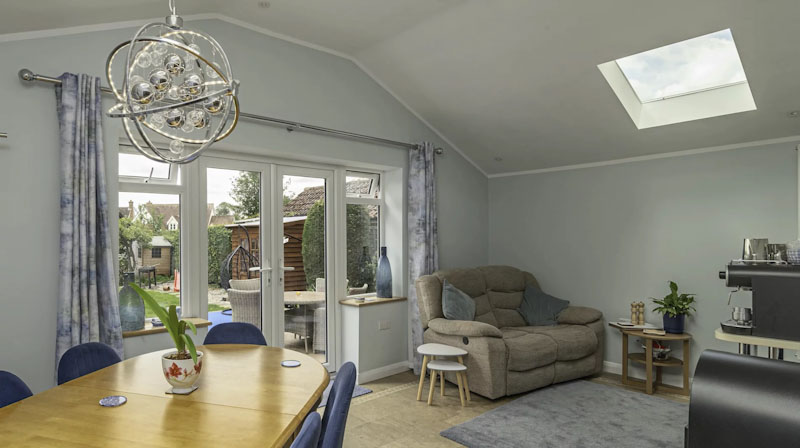 Installation
Alison's rooflights were handcrafted on-site at Roof Maker and delivered directly to the bungalow for her builder to install.
The installation itself was quick, clean and easy. Roof Maker's detailed instructions and drawings mean installation can be achieved in as little as 10 minutes, with careful planning and suitable lifting equipment.
The Result
From the outset, Alison had been concerned that the rooflights might not be big enough or let in enough light. But after the installation, she was amazed by the difference they made.
She said "The only thing that did surprise me was exactly how much light I was going to get from these Roof Maker windows. I was very pleasantly surprised by the light that comes in."
With the frames on the outside, the Roof Maker rooflights offer a cleaner and more streamlined finish. The glass maximises the natural light flowing in to create a lighter brighter living space.
Alison opted for triple glazed solar rooflights, which help to regulate the temperature in her room. The triple glazing offers exceptional insulation, which prevents heat from escaping and keeps her room warm in cold weather. The solar glass has a reflective coating, which keeps her room cool and comfortable in the summer.
What you need to know
✅ Made to measure in our factory in Leicestershire
✅ Constructed using double or triple glazed insulated glass units, with superior thermal efficiency and an outstanding Ug-value as low as 0.6w/m2k
✅ Available in Black RAL 9005 or Anthracite Grey RAL 7016
✅ Available with a variety of glass types and tints
✅ We deliver anywhere in the UK mainland.