This unique one-bedroom duplex penthouse was converted from a disused water tank space in a rapidly changing area of East London.
Rooflights:
This conversion of a former water tank space is based at the very top of the 16-storey Keeling House, the Grade II* listed brutalist block of flats designed by Sir Denys Lasdun in 1959. The building is located 500m from Bethnal Green underground station, just off Hackney Road.
The heavily glazed flat offers incredible views across central London, with sunrises from the bedroom, sunsets from the bathroom and star-gazing from the rooflight.
The concrete structure has been insulated internally with the walls, floors and ceiling all being upgraded thermally. Architect, Brian Heron, wanted to keep the space feeling raw and honest, with references to its former use as an enclosure for water tanks.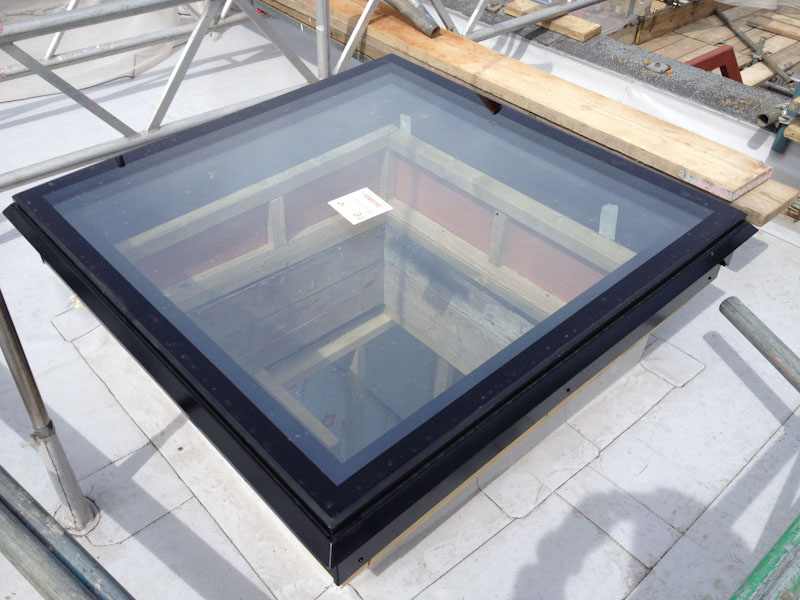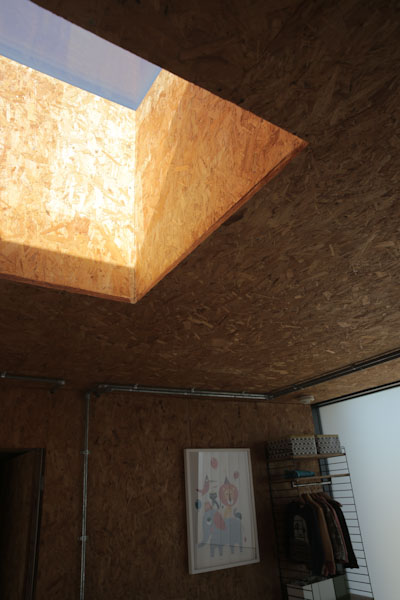 The walls and ceiling are lined with orientated strand board which provides a visual warmth but is also robust and hard-wearing. The choice of material is also very practical in that the homeowners are able to easily hang things on the walls and put up shelves wherever needed. An essential convenience in any 1-bedroom property.
It took Brian and his wife Ayesha just over 2 years to convert the empty concrete shell with plywood sides into the industrial style penthouse it is today. All in all, the project cost £420,000 – which was £170,000 more than initially budgeted. Costs quickly rocketed due to complications that come with building on top of a tower block, such as needing 18 floors of scaffolding and having to close the road below multiple times.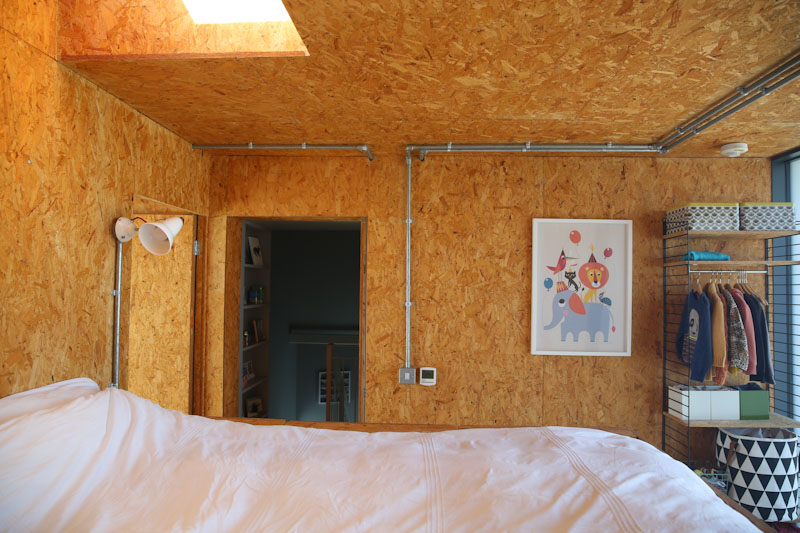 Introducing natural light to a former concrete shell
Brian wanted to fit an opening flat rooflight directly above the bed, to help bring additional natural light and ventilation into the bedroom. Triple glazing was also a must to help with thermal regulation. After searching online, he decided on the 1m x 1m flat electric sliding unit by Roof Maker. It was the only triple glazed, opening rooflight that Brian could find, plus lead times were good and the price was competitive.
Brian commented "the rooflight is the crowning glory of the bedroom. We designed a raised bed and the rooflight is directly above it so we can lie in bed at night and look up at the stars. It's beautiful".
"There is a lovely play of light over the bed during the day as the sun passes overhead. As the rooflight is an electric slider, it can open to provide additional ventilation and access to the roof for maintenance, or just to take in the amazing 360-degree views of the London skyline."
The project was awarded Best Historic Intervention at the New London Architecture 'Don't Move, Improve 2018' Awards.
Find out more about the flat slide opening rooflight on our website. Alternatively, call the Roof Maker team on 0116 269 6297 to find out how a rooflight could be best used in your project.