PLANNING
Alice and her partner had a dark kitchen they wanted to remodel. They had plans to extend their property, creating a space that would accommodate a kitchen diner, utility room and downstairs shower.
This was the first major building project they had undertaken. It turned out to be a steep learning curve, involving lots of planning and lots of different tradespeople. They knew they were asking for a lot and decided to work with an architect from the offset, who could help them realise their vision.
The couple wanted something that would be architecturally interesting and give their space more height. Alice found Instagram was a key place for finding inspiration and talking to others who'd created those designs in their own homes.
They decided on a pitched roof extension with exposed rafters, after seeing something similar on Pinterest. They knew it would also need rooflights, because the previous kitchen was so dark. And they'd already chosen a pivot door, so they needed the rest of their new glazing to complement that.
Alice clicked on one of Roof Maker's ads when she was searching on Google. She found the website handy and loved that she could get an instant quote.
She says, "When were in that early planning stage, we spent a lot of time worrying about whether our budget would cover everything we wanted, so it was really helpful to be able to get an online quote."
Other suppliers she'd found had been reluctant to give prices until they had drawings and until several phone calls had taken place.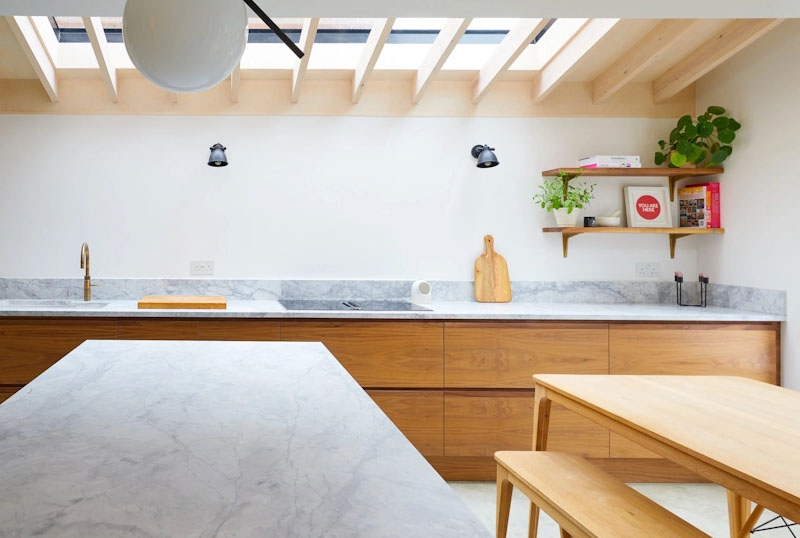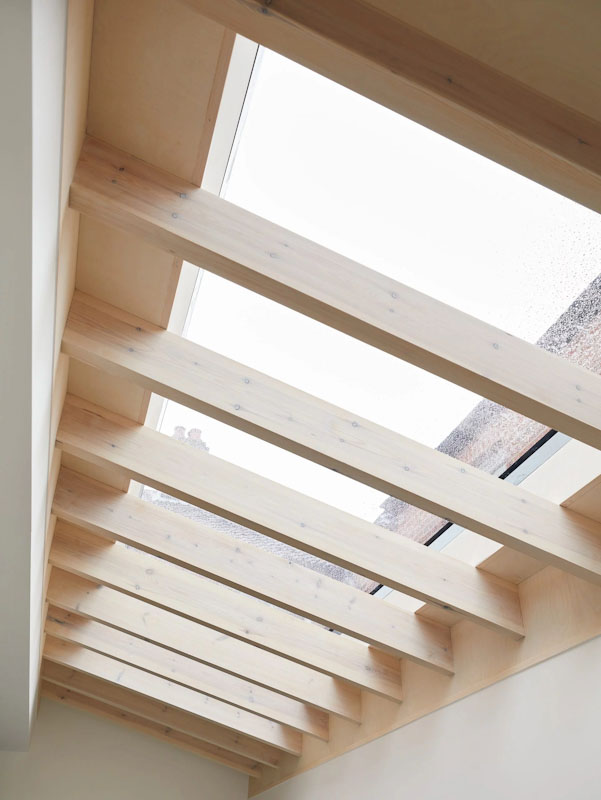 INSTALLATION
Roof Maker's Luxlite™ rooflights gave the couple just what they needed. A high-quality rooflight with a wide range of colour options they could match to their pivot door.
As the pivot door could only open at a 90-degree angle, it was important to have an alternative means of ventilating the kitchen. The hinged-opening version of the Luxlite was ideal for this.
The minimal design of the rooflights also complemented the clean lines of their modern Scandinavian-style kitchen.
Alice knew she wanted natural wood for the cupboards, but wasn't sure which wood to choose. And she'd been inspired by many of the other things she'd seen on Instagram and Pinterest.
To help narrow down her options and make those important decisions, she approached an interior designer she found on Instagram. During their Zoom calls, the designer presented Alice with a series of material samples and colour palettes, so she could see what worked well together.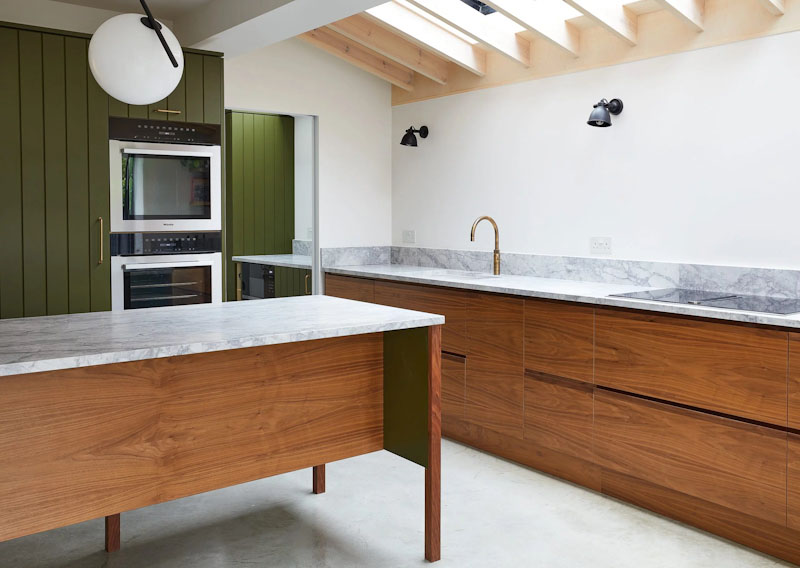 THE RESULT
Alice and her partner now have a bright, welcoming kitchen with lots of natural light and storage space.
It's a room they like to spend time in. From enjoying breakfast together every morning to cooking proper meals in the evenings.
The new kitchen has inspired Alice to explore her love of food, cooking, and baking. And it's made the couple more sociable — they're now excited to have people over and use the space for entertaining.
The extension cost the couple more than they thought and they know they should have paid more attention to their budget. It also took longer than they expected — especially with all the different tradespeople involved.
But the space turned out exactly as they hoped and includes everything they planned for, which has made it all worthwhile.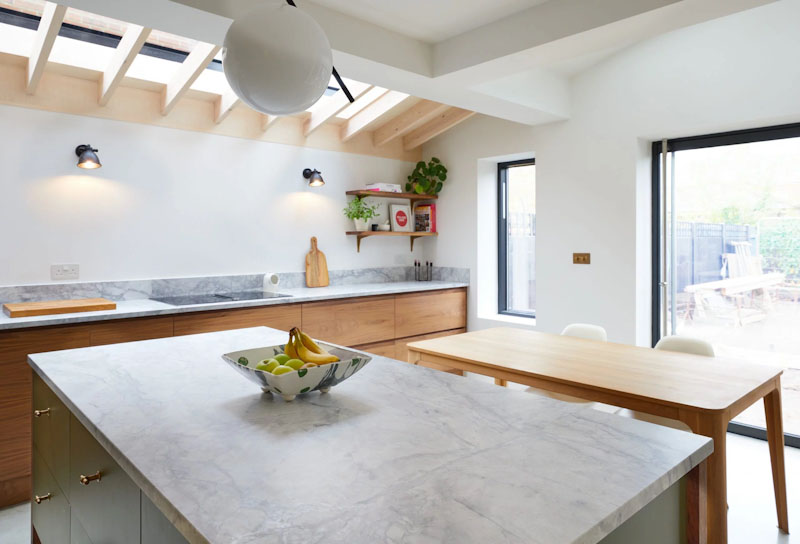 WHAT YOU NEED TO KNOW
✅ Made to measure in our factory in Leicestershire
✅ Constructed using double or triple glazed insulated glass units, with superior thermal efficiency and an outstanding Ug-value as low as 0.6w/m2k
✅ Available in Black RAL 9005 or Anthracite Grey RAL 7016
✅ Available with a variety of glass types and tints
✅ We deliver anywhere in the UK mainland