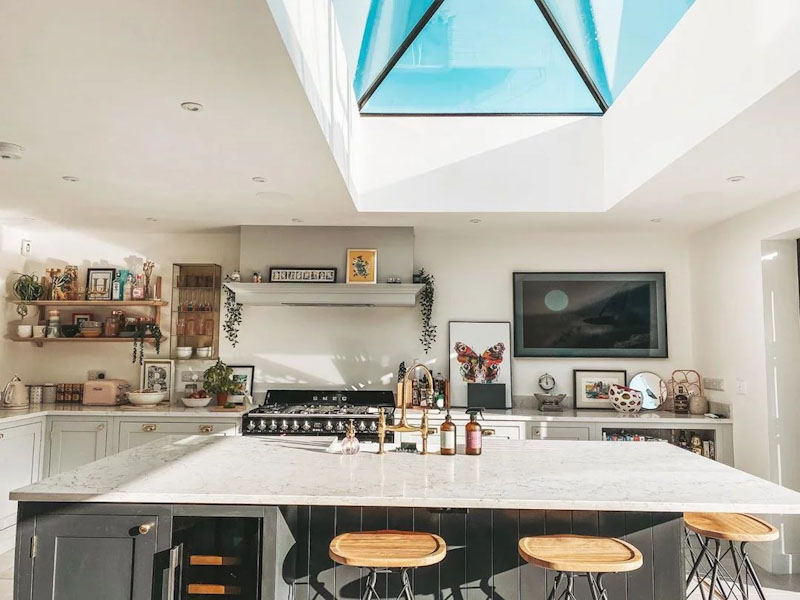 Milton Keynes, Buckinghamshire
A bright and light place for the whole family and space to dine and entertain was at the top of Geri and Andy's list for their new home. After lots of planning and research, Geri and Andy chose a Roof Maker Slimline® roof lantern which exceeded all their expectations for their new kitchen.
Rooflight: Slimline® Lantern
Colour: Black RAL 9005/Black RAL 9005
Glass: Triple glazed energy clear
Size: 3800mm x 1800mm
Extras: Electric opening vent + onsite assembly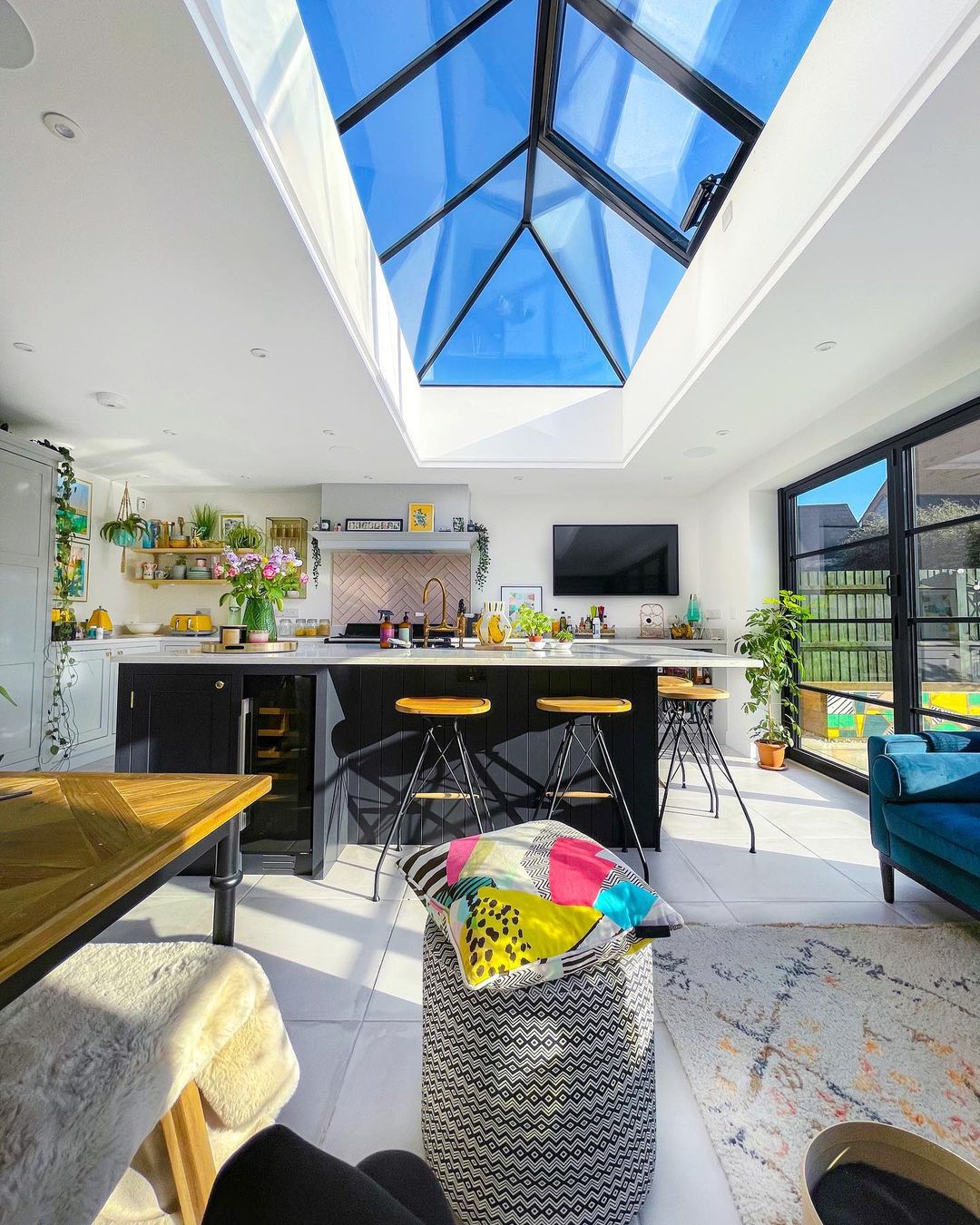 Planning
After asking their architect to include a roof lantern in their kitchen extension, Geri and Andy wanted their lantern to be as large as possible to bring in as much light as possible.
This meant they needed a lantern that could be made to measure, according to their individual specification. They went online and immediately found Roof Maker, who were able manufacture what they were looking for.
They looked at a number of different suppliers, but using Roof Maker's online quote tool for the Slimline® roof lantern meant they could 'play' with different specifications and sizes and build their lantern exactly how they wanted it.  In Geri and Andy's case including an electrically operated opening vent and triple-glazed glass. As someone involved in engineering and manufacturing Andy also did plenty of research on ug-values and thermal performance to ensure that they didn't have to compromise on their statement piece.
The design was also incredibly important for the new kitchen extension. Having chosen Crittal-style bi-fold doors, they wanted a lantern that would fit in with the aesthetic of the room. The Slimline® with its ultra-slim bars were the perfect choice as they have one of the lowest profiles on the market.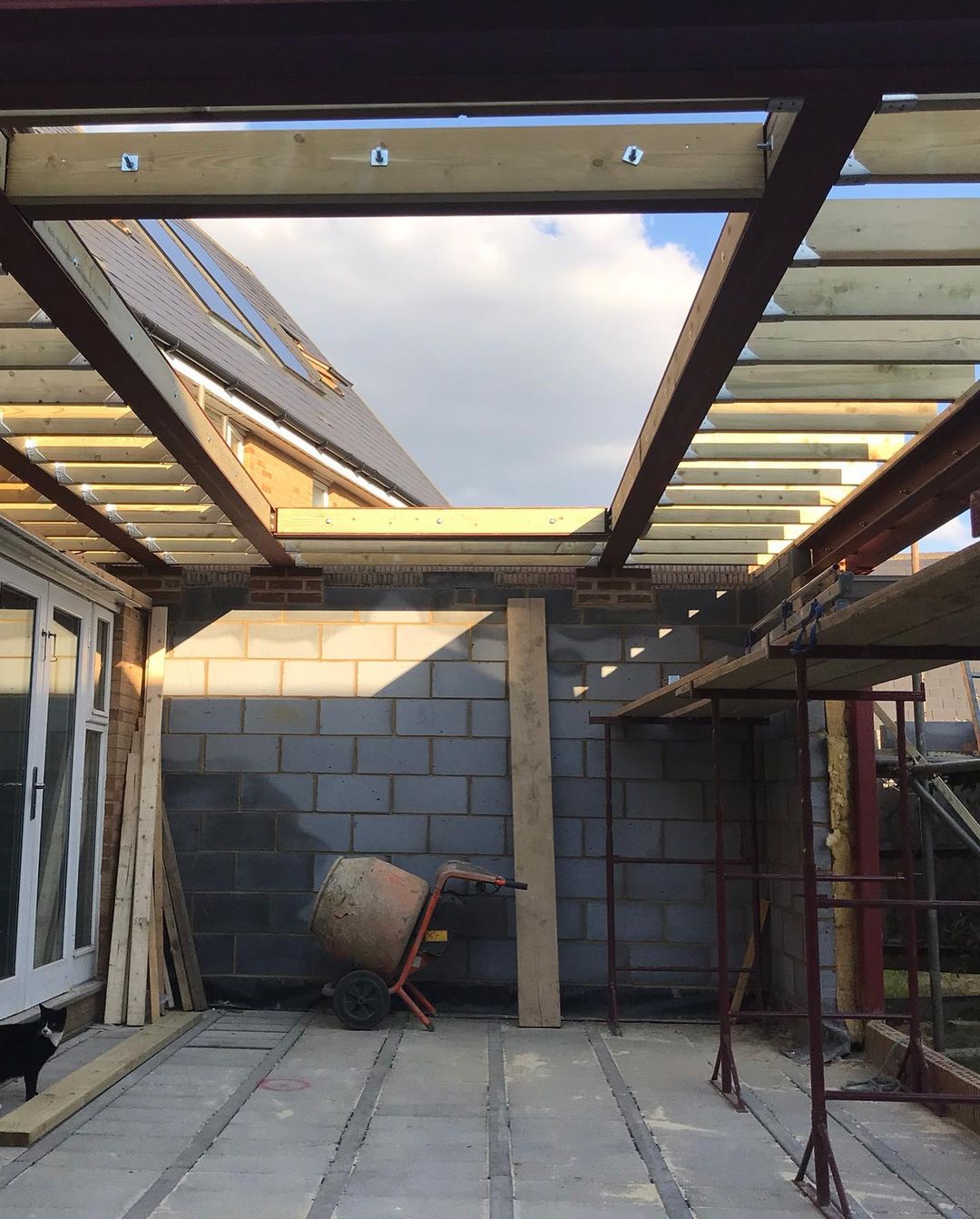 Installation
Geri and Andy also noted that Roof Maker offers delivery and installation on Slimline® roof lanterns and didn't hesitate to choose that option, giving them peace of mind that it would be in the best hands and assembled by Roof Maker's expert team.
Roof Maker gave them a date of installation and a call in the morning for an estimated window of delivery to be installed. In a few hours, the installation was complete and Geri and Andy were left with a Slimline® lantern ready for them to enjoy and carry on with the rest of their project.
Geri added, "That was one of the most straightforward and easiest parts of the build. Because Roof Maker just installed it and put it in, once it was done, I couldn't believe it. It was so simple and easy."
Once the lantern was installed it meant Geri and Andy could start on the design and aesthetics of the extension, modelling the room around the lantern as a focal centre piece, relishing the abundance of light it has brought to the area.

The Result
With a keen eye for detail and lots of inspiration from her home Instagram account, Geri wanted to create a contemporary style that differed from the rest of their home which is bursting with colour and beautiful patterns.
The kitchen was always going to be a more neutral haven for Geri and with lots of neutral tones through the extension, the Slimline® lantern spreads light right across the room. Even on a dull day, the kitchen is always bright and airy and on a clear night, the family turn the lights down and just take time out to simply stare at the stars.
Geri and Andy have created a jaw-dropping kitchen and living space worthy of any magazine front cover. The roof lantern adds height and volume to the room and a striking feature that guests can't keep their eyes off.
"For me' says Geri,  'It's exceeded all expectations, seeing the lantern and doors in, it just went from something in your head to something better than I could imagine."
Often featured on Geri's very successful Instagram account @overatno18, her inspirational photos are very popular with her growing community as they gather ideas for their projects.
What you need to know
✅ Made to measure in our factory in Leicestershire
✅ Constructed using double or triple glazed insulated glass units, with superior thermal efficiency and an outstanding Ug-value as low as 0.8w/m2k
✅ Available in 1635 different RAL colours
✅ Available in flat packed, kit form or assembled on site
✅ Available with a variety of glass types and tints
✅ We deliver anywhere in the UK mainland
Thanks to @overatno18 for the use of photos in this blog. All photo credit goes to @overatno18.