Rooflights:
Colour: Black RAL 9005
Planning
Baani and Sat bought their Edwardian home as renovation project. They had plans to remodel the property, which included replacing the existing rear extension and adding an extension to the loft.
Baani says, "We had an Edwardian house and we wanted to respect that, but we also wanted to make it more modern, light, airy and spacious."
When they bought it, the house was dark with few windows. The rooms were closed off and it felt cold. The couple wanted to open up the layout and create a lighter, warmer and more welcoming space.
Part of the project involved replacing the rear extension, which would become the kitchen and dining room. The original extension had lots of natural light light, but it was a lean-to. It was too cold to use in winter and too warm in summer.
Baani and Sat wanted to keep the natural light, but create a more permanent structure that would blend seamlessly into the main house and could be used throughout the year.
The existing loft conversion would also be extended to accommodate a new bathroom.
The couple wanted to rewild as much of their space as they could and had opted for a green roof, which would be planted with sedum.
Planning started on Instagram and Pinterest. The couple collected images to show the architect their ideas. They were particularly inspired by light, airy and neutral spaces, like museums and galleries. And they thought about how they would be using the room — for yoga, exercising and entertaining.
When it came to the rooflights, Roof Maker had been mentioned by a couple of the architects and builders the couple had talked to. It was also one of the options proposed by the architect they eventually chose to work with.
When Baani and Sat researched Roof Maker for themselves, they liked the modern aesthetic of the rooflights and the price was within their budget. The choice of different rooflight styles was also a plus allowing them to purchase all of their rooflights from a single company.
They compared a few companies but ultimately decided to call Roof Maker. They discussed their needs with an expert member of the sales team and went through the different options, such as tints, sizes, double glazing and triple glazing.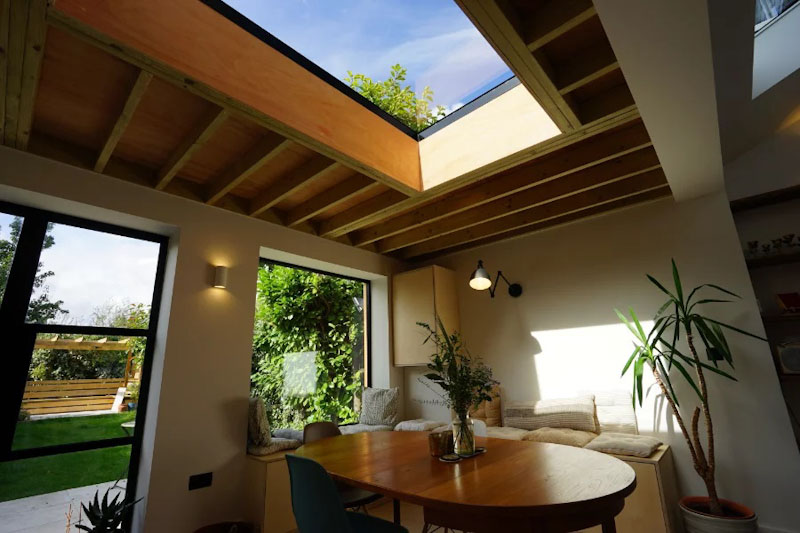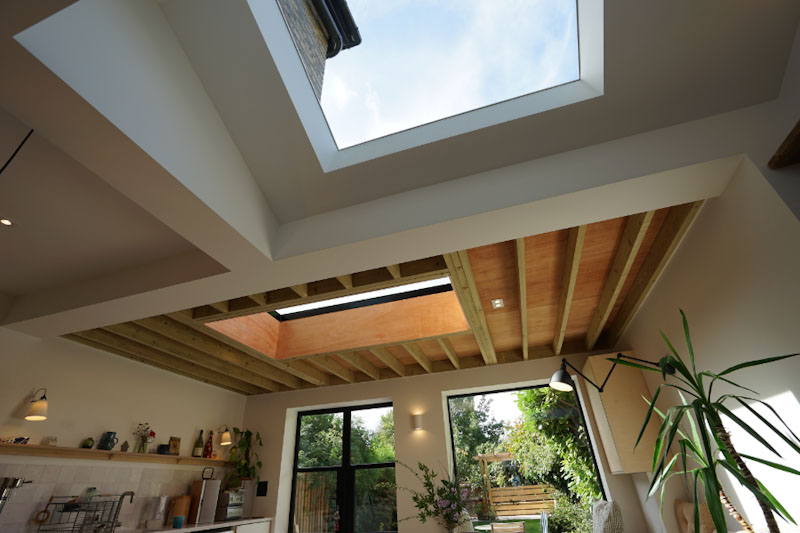 INSTALLATION
Baani and Sat chose four different rooflights for their property. One each for the kitchen, dining area, bathroom and upstairs landing.
A Fixed Flat Rooflight was installed in the green roof above the dining area. This was suggested by one of the first architects they spoke to.
An Opening Luxlite Rooflight was added to the pitched roof above the kitchen, providing both light and ventilation. This was particularly useful here, as there was no other space for an opening window to ventilate kitchen smells.
Upstairs, a Hinged Flat rooflight was installed in the bathroom. This rooflight positioned over the bath, draws in natural light and opens up to expel steam and moisture as their picture window was only available as fixed.
Finally, also in the loft extension, a fixed flat rooflight was added to introduce natural light onto the stairs and landing area as there is no space for a window.
All four rooflights were coated with a black marine-grade powder coating for a consistent and contemporary finish that fits in with all their other glazing.
Baani and Sat opted for delivery of their rooflights by Roof Maker's own delivery team. They arranged for delivery of their rooflights a few weeks in advance of their builder needing them to ensure that they were ready as soon as required.
Roof Maker's detailed instructions and drawings make installing the rooflights quick, clean and easy. With careful planning and suitable lifting equipment, each installation is no problem for any professional.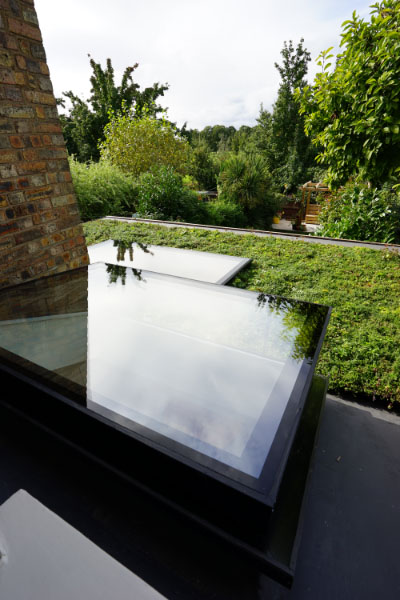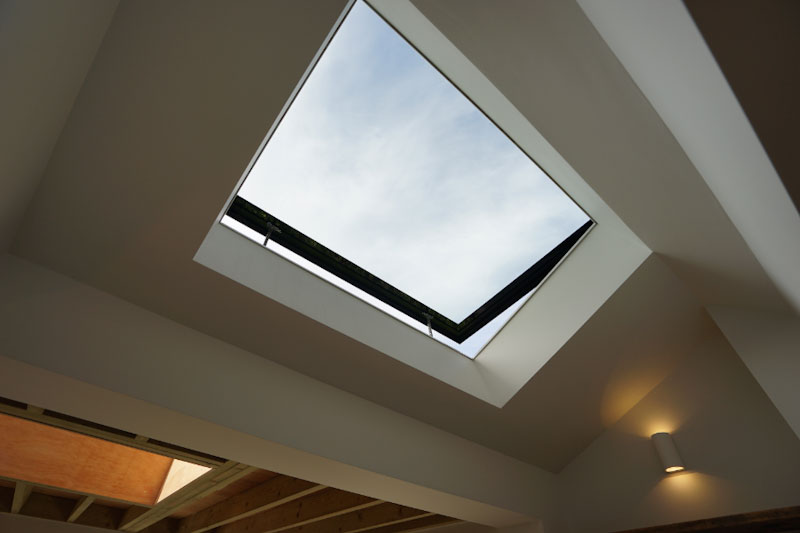 THE RESULT
The rooflights have helped transform Baani and Sat's property into the light and airy home they were hoping for.
Introducing more natural light has made the dining area a multifunctional space for eating, working, entertaining and exercise.
Baani says, "Now that we're working from home four days a week, having the light is much better for our mood. I did yoga here this morning with the sun just peeking through the rooflight, which was really nice.
The rooflights have also transformed the loft extension bringing in daylight and giving beautiful views of the ever-changing sky.
Baani says, "The bath upstairs with the rooflight over it, I mean that's just wonderful, looking at the stars while you're in the bath, that is amazing!
"And it's not just about the light, it's also seeing the sky and the clouds."
WHAT YOU NEED TO KNOW
✅ Made to measure in our factory in Leicestershire
✅ Constructed using double or triple glazed insulated glass units, with superior thermal efficiency and an outstanding Ug-value as low as 0.6w/m2k
✅ Available in Black RAL 9005 or Anthracite Grey RAL 7016
✅ Available with a variety of glass types and tints
✅ We deliver anywhere in the UK mainland