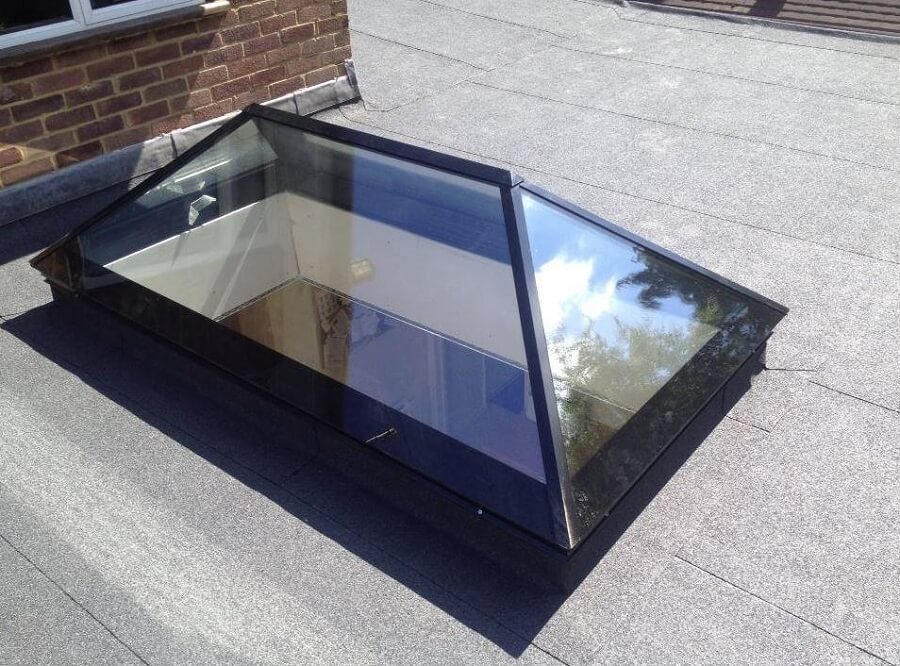 September 12, 2017
Can I install rooflights myself?
Yes, you can either fit our rooflights yourself or get them fitted by a builder.
If you choose to install them yourself, you'll need to ensure that the hole in your roof has been prepped so that the rooflight can slot securely into place. You can do this by applying silicon to your timber upstand, before fixing the aluminium cap down to the roof.
Once that has been done, these are the steps you'll need to follow:
Assemble the frame
Start by bolting all glazing bars to the ridge ends, using an Allen key to tighten if needed.
Remove the yellow backing film from the security glazing tape on the central ridge and hip, then glaze with a toughened glass unit. Be careful not to break this – you can use the 1mm packers provided to protect the edge from touching the aluminium.
Use structural silicon to fill the gaps at the top and base of the ridge, followed by 100mm up and down the sides of the glass unit. You'll need to ensure there are no gaps, otherwise
water can leak through. The silicon sets quickly, so make sure you've clicked the thermal breaks into place in time. This can be done by either hand or mallet.
Now you can screw the frame together at the bottom of the hip caps, making sure not to screw too tightly.
Slide the aluminium covers into place from above, followed by the ridge covers and hips. You can apply more silicon to the ridge end to fill in the gaps between the aluminium – this should ensure that the ridge and covers are fixed firmly into place.Finally, apply structural silicon to the underside edge, filling the cavity under the corners. Screw the hip glazing bar and cages into place, then flash the rooflight to help it with weatherproofing.
Join the glass
Once the frame has been assembled, you can join the glass. Start with the h-section as you place it onto the frame. Once that's been aligned, you can glaze the remaining panels, before applying structural silicon along the h-section and vent (if you have one).
Apply the gasket onto the h-section cover strip and fix into place. You can use a mallet to fix this firmly into place, but you may need some additional support on the other side of the glass.
Now you just need to remove any leftover tape and clean the rooflight, then it's ready to be fitted into your roof.
Rooflight Installation Videos
We have a selection of installation videos on our YouTube channel, including slimline installation and flat roof installation guides.
For more information, talk to our experts
If you're still wondering 'can I install rooflights myself?' or if you have further questions about anything you have read here, Roof Maker's expert team will be happy to advise you. Just call us on 0116 269 6297.