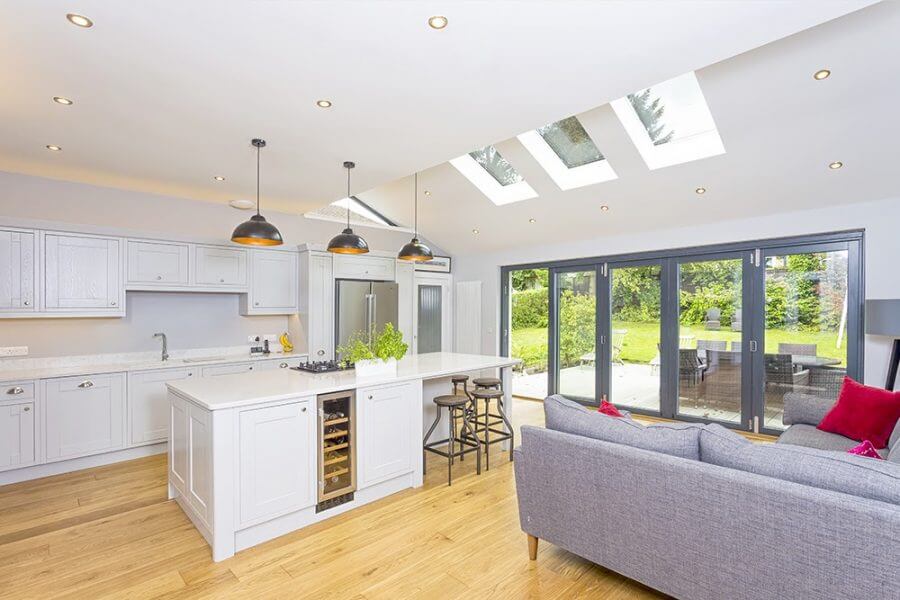 7 Ways To Add A Touch Of Scandinavian Style To Your Home
Mention Scandinavian home design and people are likely to shout "Ikea!" But while the Swedish-founded furniture retailer's seemingly single-handed flat-pack revolution is definitely something that's had a big influence on many homes in recent years, there is far more to so-called Scandi-style than meets the eye.
In a nutshell, "Scandinavian style is characterised by three key components — functionality, simplicity and beauty," says Ikea's Communication and Interior Design Manager, Craig Ritchie.
Bright neutral walls, simple yet stylish furniture and pops of colour accompanied by an appreciation for natural materials, with an overall emphasis on wellbeing and making the most of natural light – that's what Scandinavian home design is all about.
1. De-clutter
Scandinavian home design is all about a minimalist, clean look and feel. That's why de-cluttering your home should be your first area of focus.
Be brutal. Consider selling, giving away or recycling anything that you can live without or that doesn't serve a definitive purpose. Your home will feel far more organised as a result and you may even make enough money to buy a new Scandi-style piece of furniture.
2. Keep walls white, bright & neutral
The colder climate and shorter winter days in Scandinavia mean that people want their homes to appear as light and bright as possible. One of the easiest ways to achieve this is by using lots of white throughout – walls, furniture, bed linen, etc.
If you're not a huge fan of white, consider using a soft pale grey to afford a similar effect.
3. Wood floors and rugs
Wood flooring is a staple of Scandinavian home design and it's no surprise when you consider how many trees there are in Scandinavia. Long, wide planks of light-coloured wood with a liberal covering of mixed rugs are the perfect way to make your home feel that bit more Scandinavian.
You never know, you might remove your existing carpets and discover some beautiful, rustic floorboards underneath, which can be rejuvenated and become the focal point of your room.
4. Add bold splashes of colour
If the thought of lots of white and wood doesn't fill you with excitement, the fact Scandinavian design also includes bold splashes of colour hopefully will.
A minimalist room with pale wood floors and a light-coloured sofa can be transformed by simply adding some bright, vibrant, colourful cushions. Yellow, in particular, works well against a grey backdrop. Colour can also be introduced internally and externally by using choosing a custom RAL colour for windows or rooflights.
5. Think multi-functional
Scandinavian home design masterfully combines form with function. So if you want to be complimented for your Scandinavia-esque rooms, look to introduce items that are both stylish and serve more than one purpose.
For example, coffee tables with built-in drawers and sofas that double as beds are both prime examples of what someone in Scandinavia would buy.
6. Make the most of natural light
As we've already mentioned, Scandinavian home design loves to make the most of natural light, and what better way to do that than with a frameless rooflight. Some parts of Scandinavia are cast into darkness for months at a time, which is why natural light is so cherished. Choosing a frameless rooflight over a rooflight with a traditional wooden frame will help to maximise the amount of light in your room.
A rooflight can be installed with little or no disruption and introduces far more natural light to the interior than standard windows. Roof lanterns and flat rooflights are suitable for those with flat roofs, whereas roof windows are also available for pitched roofs.
7. Go back to nature
Scandinavia has some of the most breathtaking scenery and natural beauty in the world. Therefore, it stands to reason that design concepts from this region would include plenty of natural design cues. Look to bring the outdoors inside by adding green plants to tables and placing small trees in the corners of your rooms.
Large panels of glazing will also help to bring the outside in and help your room to better connect with stunning views and the outside world. Bifold doors and large modular rooflights can make an impressive impact when used for this purpose.
Are you considering buying a rooflight or roof lantern for your home? If you are, call Roof Maker on 0116 269 6297. Our rooflight experts will help you to choose the right solution for your needs.