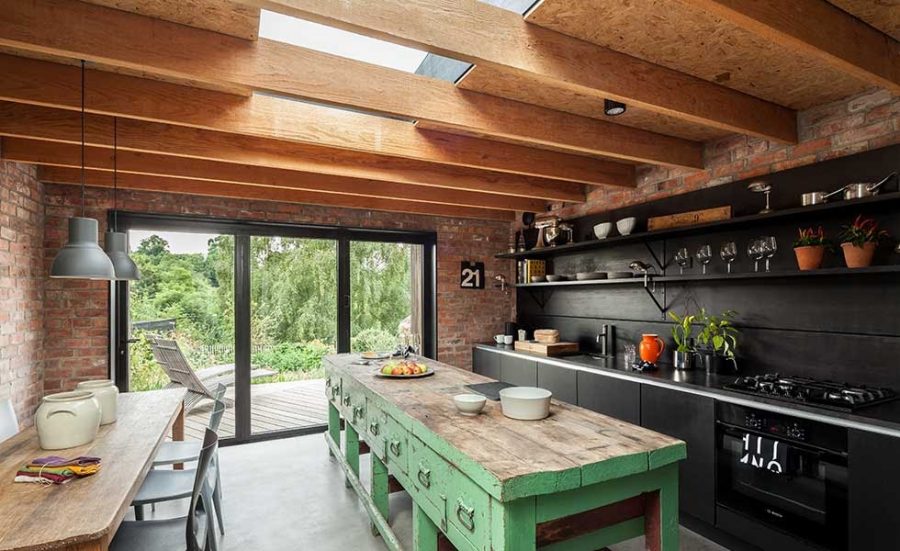 Top Tips For Pulling Off The Dark Kitchen Design Trend
Whether you're building a completely new kitchen or just looking to give your existing one a new lease of life, there's a good chance you'll come across dark kitchen design trends when you start your research.
But why has a room that's traditionally filled with so-called 'white goods' and been stereotypically white and bright become a home for all things dark?
Dark worktops, dark (navy, green or grey) cabinets, dark tiles, dark walls, the list goes on… and people are using one or more to make a definitive statement in their kitchens.
Whether you agree that it adds a touch of mystery or makes a kitchen look that little bit more luxurious/designer, the trend is clear: when it comes to kitchens in 2019, people are straying to the dark side (okay, so we missed May 4th but the Star Wars pun is still relevant).
With dark kitchens at the forefront of interior design right now, how can you pull one off in your home?
Here are some things to consider:
Dark kitchens can be difficult to pull off
First and foremost, dark kitchen themes require a lot more expertise than light ones simply because of the intensity and depth of colours involved. So, if you're seriously considering a dark kitchen, be aware that you need to plan carefully and do your research to pull it off successfully.
If you have doubt when it comes to your mix and matching abilities, please seek advice from a kitchen design professional or interior decorating expert. When matched inappropriately, dark kitchen elements can become imposing and ominous. But when matched correctly, they can create a stunning luxe look that will be a frequent subject of discussion in your home.
Don't limit yourself to grey or navy
There's a tendency to immediately think of dark grey or navy cabinets and features when someone mentions a dark kitchen. But the truth is you don't have to limit yourself to just these two colours.
A dark kitchen can be achieved with dark shades of many popular colours (with the exception of white, of course). So, don't rule out dark red, dark green, dark purple, dark orange, etc. See what colours take your fancy and then consult your designer to see how you can make them work together.
Don't go too dark
One of the key things with dark kitchens is to balance the dark shades with lighter and metallic colours. Go too heavy with the dark colours and you'll end up with a kitchen that's moody and downright depressing. Remember, your kitchen still needs to provide you with culinary inspiration and an overload of darkness probably isn't the best way to afford that.
Balance out any darker shades you're considering with some lighter hues of the same or a different colour. Navy and copper go well together, as do dark grey and ashy lighter colours, so why not have some dark cabinets complimented with a brick slip wall or an accented backsplash. Throwing in some metallic handles, ornaments and utensils is also a great way to balance out the theme.
But dare to go dark enough
Okay, so this point is pretty much in direct contrast to the previous one, but it's still very valid nonetheless.
When designing a dark kitchen, don't be half-hearted. Whilst you don't want everything to be dark, you do need to go dark enough or the whole effect won't work (we didn't say it was easy, right).
For example, if you simply stick some medium-grey coloured cabinets in an otherwise light kitchen, there won't be enough of a contrast to experience the dark factor.
Be brave and consider the darkest hues. Also consider dark flooring, a dark countertop or a dark accent wall to help bring everything together and show that your kitchen is obviously dark and not just half-heartedly trying to be.
Don't neglect natural light
Finally, don't neglect the importance of light in a dark kitchen (say what!?). That's because whilst you want to achieve a stylish, luxe look, you don't want your space to feel small and depressing. To avoid this, you need to ensure your kitchen lighting is up to scratch and that means plenty of natural light during the day and enough lighting at night to keep the place sufficiently illuminated.
What's the best way to allow an abundance of natural light into your dark kitchen? With a roof light – that's how! And it just so happens that we know a thing or two about rooflights.
Perhaps the obvious choice of roof light would be one that opens and also ventilates your kitchen, to allow kitchen smells and steam from cooking to escape. Something like our Luxlite pitched skylight (if you've got a pitched roof), or one of our electric hinged or sliding opening rooflights (if you've got a flat roof). You could even opt for a vented or slide opening roof lantern, to really bring the wow factor to your kitchen.
Not quite sure what's best for your particular application? Call Roof Maker on 0116 269 6297. Our rooflight experts will help you to choose the right roof light solution for your needs. Alternatively, visit our showroom or get a quote online.