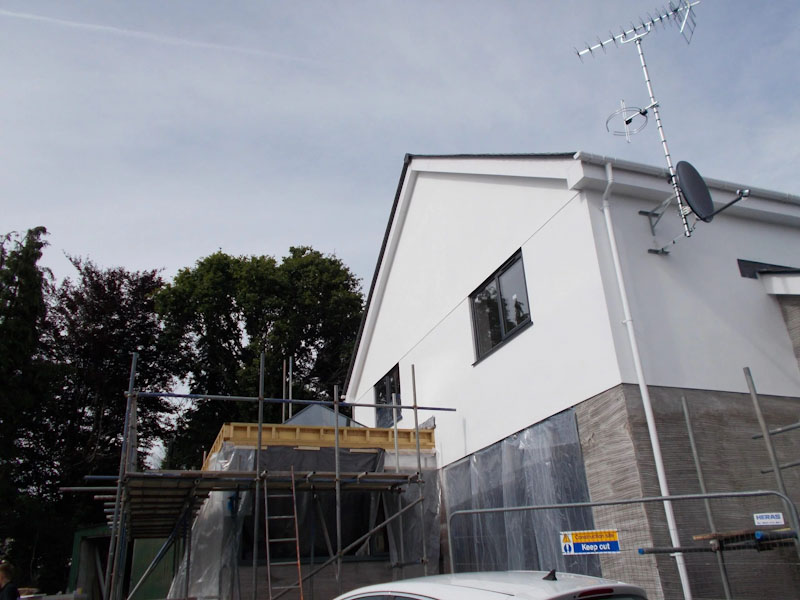 5 Cost-Effective Ways To Add Value To Your Home
More and more people are choosing to improve their homes rather than move. Indeed, according to the 2018 Barclays Home Improvement Report, homeowners stay in their homes for 19 years (on average). During this time, they make regular improvements to their properties to increase both the value and their quality of life.
But like most things, home improvement projects vary greatly in terms of how much they cost, how easy they are to do and how much value they will add. It goes without saying that the best home improvement projects are affordable, relatively easy to undertake and add a nice chunk of value to your property.
With that in mind, we decided that it would be good to go over some common home improvement projects that tick all the boxes we've just mentioned.
1. Open up your space by knocking through
You don't always need to add an expensive extension to improve an existing living space or add value to your home. By removing an interior wall and knocking through to the next room, you can significantly improve your home's overall layout.
Knocking through can open up a living room to create a living-dining room or open up a kitchen to create a kitchen-dining room. Done correctly, an interior layout rework can add a significant amount to the value of your home. But be sure to seek professional advice before you start knocking down walls or you could end up with a huge repair bill on your hands.
2. Add a utility room
Having just advocated knocking down interior walls to open up your space, we're now about to say why you should add some too.
By adding a small utility room, you'll get your noisy appliances away from your living space and create a bit more room as a result. The best part is that stud walls are extremely cost-effective and can perfectly partition a space. So you can create a small utility room for your appliances, laundry and cleaning equipment.
Whilst it's nice to have a utility room with an outside door, you don't have to. All you need to ensure is that the space has ample ventilation.
3. Replace your windows
If you've got old, single-glazed windows that have seen better days, consider replacing them with double- or even triple-glazed modern alternatives. New windows not only look better, they also help keep your energy bills down. Keeping your home warmer in the winter because of their superior insulating abilities.
Plus, if you opt for triple-glazed windows, you'll notice a significant reduction in the amount of outside noise you hear. Then there are the benefits that come with having more natural light and fresh air entering your home. Something that we are very fond of here at Roof Maker.
Some estimates place the cost of replacing the windows in your home at around £25,000 but the value added can be as much as £60,000 when (if) you come to sell.
4. Add a rooflight or two
If your budget won't quite stretch to new windows throughout your home, but you'd still like to benefit from more natural light and fresh air, look no further than some high-quality rooflights.
Designed to be installed in either flat or pitched roofs, rooflights allow natural light to flood your home and if you plump for ones that open, you can also benefit from some nice fresh air too.
Whether you're looking for flat rooflights, pitched rooflights or slightly more extravagant roof lanterns, Roof Maker has got you covered. Plus many of our rooflights come triple glazed with easy clean glass as standard. The best part is you often don't need planning permission to install a rooflight either, but do check before you begin your project (just to be on the safe side).
5. Convert your loft
Loft conversions are a great, cost effective way to add an extra bedroom, a home office or playroom. They are reported to add up to 20% to the value of your home. A loft conversion is one of the most cost-effective ways to add both value and space to your home. Particularly if you choose to go for a simple room-in-roof loft conversion, without adding any dormers and using pitched rooflights instead.
[Related reading: 5 Reasons Why A Rooflight Loft Conversion Is Better Than A Dormer]
Again, consult a professional before you start any work because there are many aspects to consider when undertaking a loft conversion. One of the most crucial is where you are going to put the stairs leading up to it. Their footprint will encroach into your space, so it's worth thoroughly planning ahead of time to maximize the amount of room you have left.
Are you planning on adding rooflights or roof lanterns to your home? If you are, call Roof Maker on 0116 269 6297. Our rooflight experts will help you to choose the right solution for your needs. Alternatively, get a quote online.