But what if your home doesn't get a lot of natural light? What if you have dark rooms, halls or corners that aren't so pleasant to be in?
The good news is, there are plenty of things you can do to maximise the light coming into your home. From innovative tricks and quick fixes to more extensive and effective solutions.
In this guide, we'll show you 10 ways to improve the flow of natural daylight and brighten up your home.
How to lighten dark rooms and spaces
1. Keep your windows clean*
A build-up of dirt, dust and grease on the glass can dull your windows and reduce the amount of light coming through.
If you're looking for the perfect streak-free shine, take a look at these expert-recommended products.
And if you want longer-lasting results, you could try using this diluted fabric softener hack, which helps to repel dirt so your windows stay cleaner for longer.
If you find the dirt is between the panes of glass and can't be cleaned, you'll need to have your windows repaired or replaced (see point 8).
*Please note, this advice is for regular windows only. Roof Maker skylights have an easy clean coating that could be affected by harsh cleaning products.
Learn more about caring for your Roof Maker skylights.
2. Clear the area around the window
To maximise the light coming into your home, make sure there's nothing covering or obstructing your windows.
Outside your home, trim trees and bushes that are encroaching over your window or blocking out the sun.
Inside, move large furniture away from the window and clear large items, such as plants, ornaments and books from your window sill.
Open curtains can cover the glass at each side of the window and block the light from coming through.
You can fix this by getting a longer curtain pole, so your open curtains will sit against the wall rather than the window. Or by replacing heavy curtains with a more sheer fabric the light can shine through.
Alternatively, you could consider swapping your curtains for a blind, which will sit above the window and won't encroach on the glass.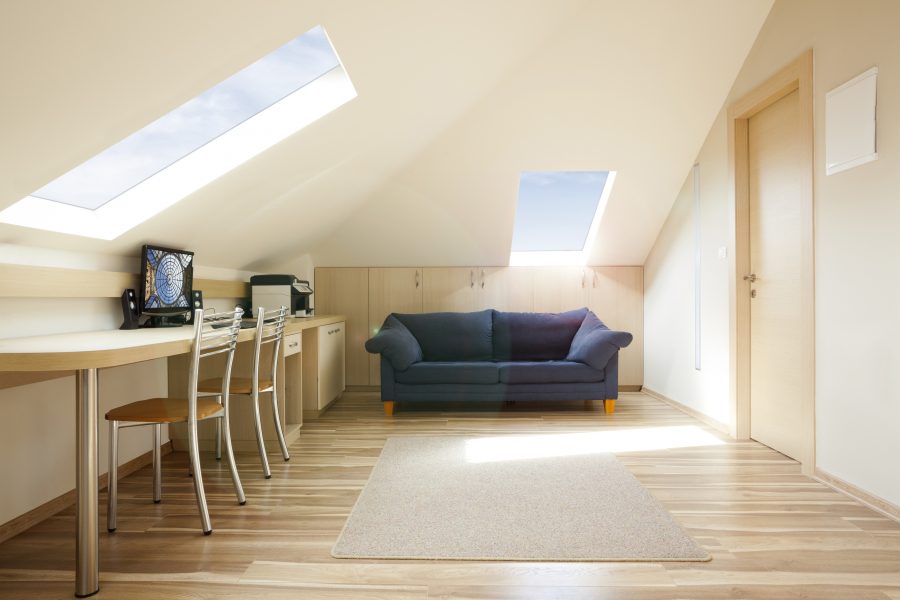 3. Decorate with light colours
Light colours help reflect the light and can really brighten up a room.
If you're redecorating, think about pastel coloured walls and wallpapers. And if you're replacing your flooring, consider pale wood, shiny tiles or neutral carpets.
Painting your ceiling a shade or two lighter than your walls will make your room feel larger and taller.
And gloss painting the wooden accents in your room — such as skirtings, door frames, window sills, rails and bannisters — will create more light-reflecting surfaces.
You can accessorise with similarly neutral colours to create a muted calming space, or go bold and bright to add depth and contrast.
4. Update your furnishings
If you're buying new furniture, look for shiny or polished surfaces comprising glass, metal, chrome, mirrors or light wood. And choose light-coloured soft furnishings that will lift and brighten the space.
You can give old worn furniture a facelift with pastel chalk paint and a wax finish. Add shiny handles, trims and decorative details to reflect the light
As a quick fix, cover dark sofas and chairs with pale coloured throws and cushions. And use light rugs to brighten dark floors.
5. Introduce more mirrors and reflective surfaces
Some well-placed mirrors will bounce sunlight from your window back into your room. This will help to brighten dark corners and make your room feel more spacious.
Accessorise with shiny ornaments, like silver picture frames, glass light fittings, metallic ornaments and glazed pottery.
Introduce fabrics with a sheen that will catch and reflect the light. Look for silks, satins, metallic threads and sparkles. Or decorations like sequins, shiny buttons and tiny mirrors.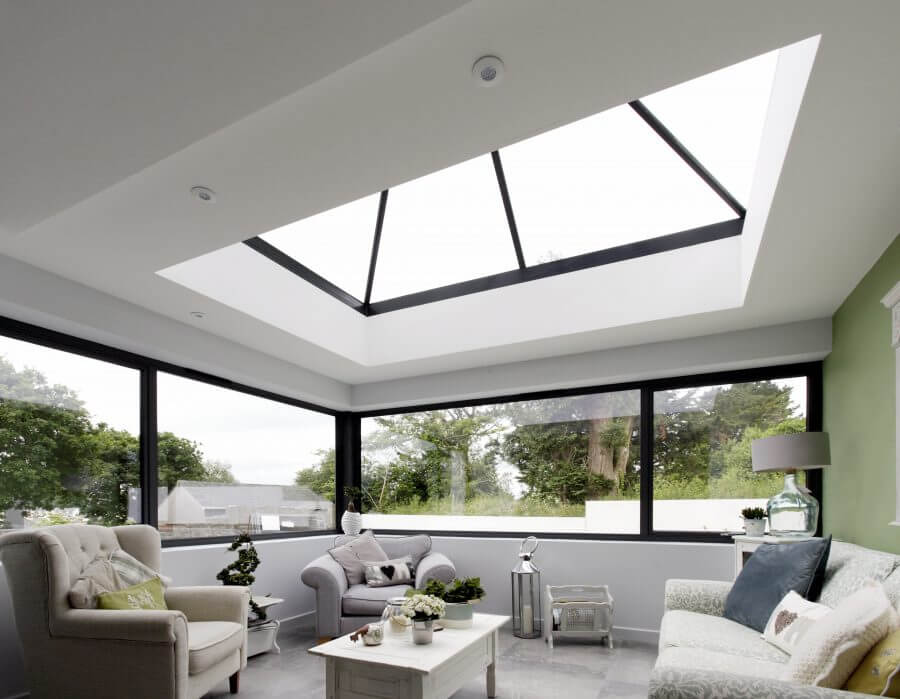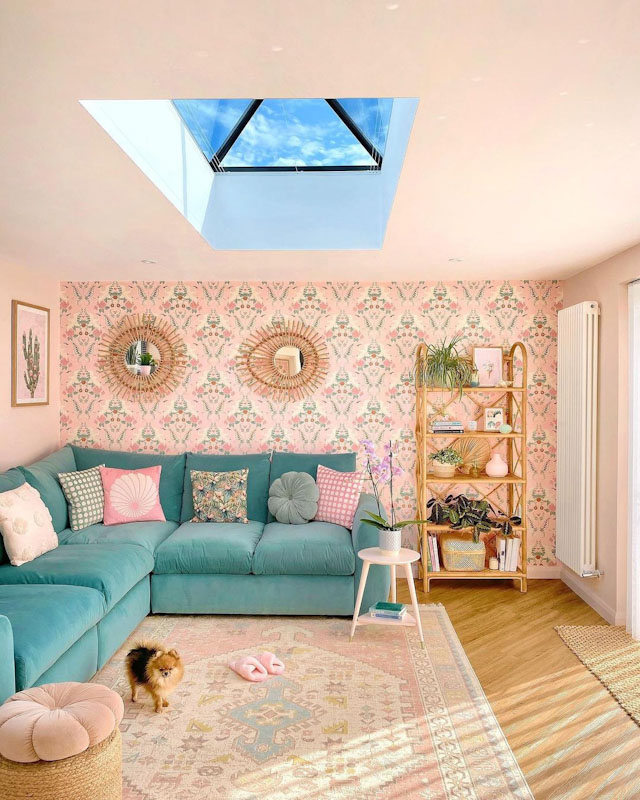 6. Use glass internal doors
Changing solid internal doors for doors with glass panels allows more light to flow through your home. Rooms that get lots of light can help illuminate dark hallways. And brighter halls can bring light to darker rooms.
For rooms that need more privacy, you could choose translucent, textured or frosted glass. Or, if your rooms have enough height, you may be able to install transom windows above your doorways.
7. Open up your layout
Changing the layout of your home and opening up the space can be one of the most effective ways to improve the flow of light.
Knocking down non-supporting walls can merge small dark rooms into larger open-plan spaces, with access to more windows and more light.
Extending your property could improve light flow further, giving you the opportunity to add more windows and skylights.
8. Replace your windows
If your home needs new windows, think about getting replacements that will let in more light.
For example, depending on your property, you could change your existing windows for larger ones.
If you have old-fashioned leaded windows, you could replace these with plain glass to give clearer views and maximise light transmission.
And if you have older PVC windows with obtrusive chunky frames, you could look at more minimalist modern alternatives with thinner frames and larger glass panels.
If you've extended your house to the rear, you could think about having full length sliding or bi-folding doors in place of windows. These will improve light flow and give you seamless access to your garden.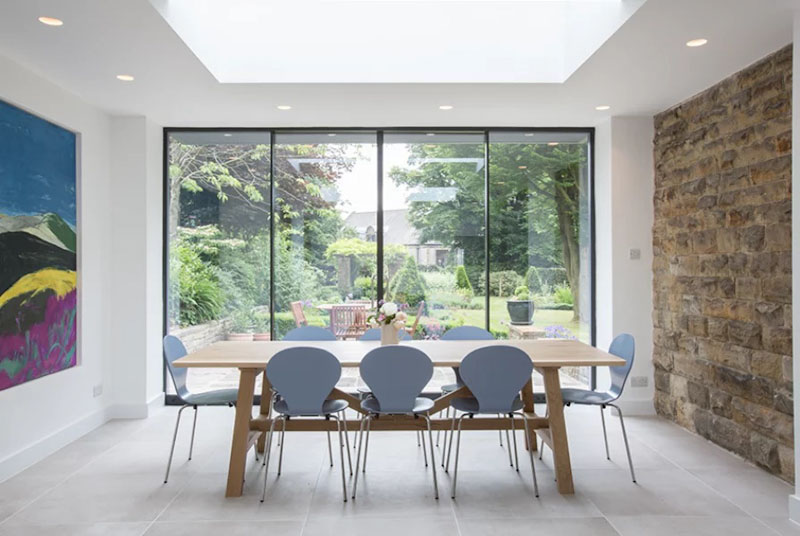 9. Add a rooflight
Some of the most enviable spaces on Pinterest and Instagram are the bright modern home extensions, flooded with natural light. This effect is usually achieved by adding rooflights.
A rooflight is typically a flat panel of glass that's installed in a roof. It may be a flat rooflight for a flat-roof extension — or a pitched rooflight for a pitched roof extension or loft conversion. The rooflight allows sunlight to pour in from above, which creates a real wow-factor in your room.
While rooflights are highly desirable, they can also be practical, because it's not always possible to add more windows to a room.
Wall abutment rooflights are designed to bring light into dark inner rooms. They're particularly effective in period or heritage properties, where the brickwork is rough and it would ordinarily be difficult to get a perfect installation.
Roof Maker rooflights have a minimal design that appears frameless from inside your space — like a hole in the roof. This ensures you get the maximum amount of light with no frame or glazing bars getting in the way.
10. Add a roof lantern
Where a rooflight is flat, a roof lantern has a three-dimensional shape, like an elongated pyramid. This creates a stunning architectural feature that adds light and height to your flat roof.
The design is both beautiful and functional. Its angular shape catches sunlight throughout the day and directs it down into your space. This is particularly helpful if you have a north or east-facing room, which doesn't get so much direct sunlight through the day.
Roof Maker's slimline roof lanterns are made with ultra-slim glazing bars for maximal natural light.
Does your home need a rooflight or roof lantern?
If you want to introduce more natural daylight into your existing, or future, home extension, Roof Maker has just what you need.
Our industry leading rooflights and roof lanterns have a contemporary minimalist design to give you maximal light flow and brighten up your space.
Each product is precision-manufactured with bespoke sizing, a variety of glazing options and a choice of frame colours to suit your property.
If you'd like to find out more, you can browse our products online or talk to our team for expert advice.
Call us on 0116 629 6297 or email [email protected] and we'll be happy to answer any questions or provide a quotation.