Learning how to care for your rooflights will keep them in good condition, so they always look their best and last for as long as possible.
6 Rooflight cleaning and maintenance tips
As with any outdoor home feature, it's important to keep your rooflight clean and well-maintained.
Here are six cleaning and maintenance tips we always recommend.
1. Regular inspections and maintenance
Your rooflights should have a routine inspection every year. And it's a good idea to check your roof and rooflights after any severe weather.
An inspection should check for:
Signs of deterioration, damage or breakage
Evidence of water pooling on your roof, near the rooflight
Loose, broken or missing roof tiles
Damaged or perished flashing around the rooflight
Large pieces of debris, such as leaves, twigs and moss.
If problems are found, arrange to have them fixed as soon as possible to prevent any further damage.
2. Removing debris
If you have a rooflight, a clear water drainage system is essential.
But, over time, debris, such as leaves, twigs and moss can build up on the roof and around the rooflight. The rain will wash this debris into your gutters and downpipes, which may cause blockages.
When your gutters or downpipes are blocked, rain and melted snow can't drain away safely, which can result in pools of water forming on the roof.
To avoid any problems, you need to remove this debris from your roof, rooflight, gutters and downpipes twice a year.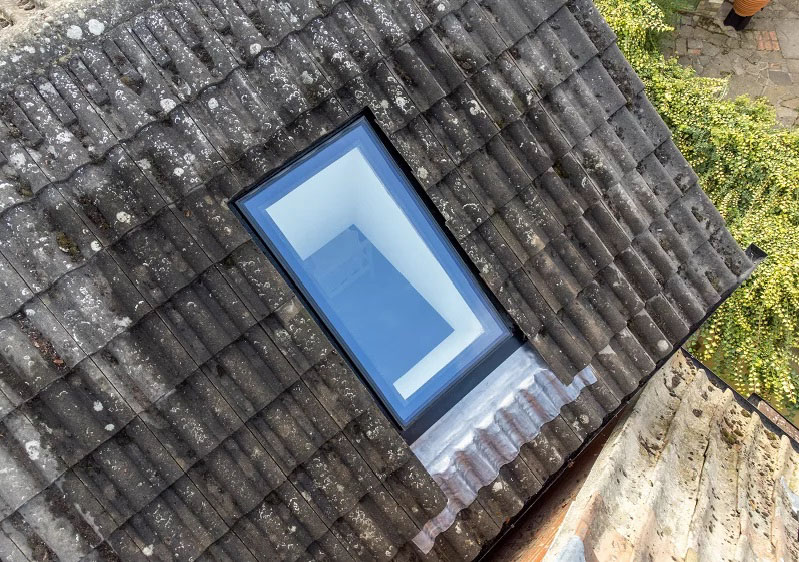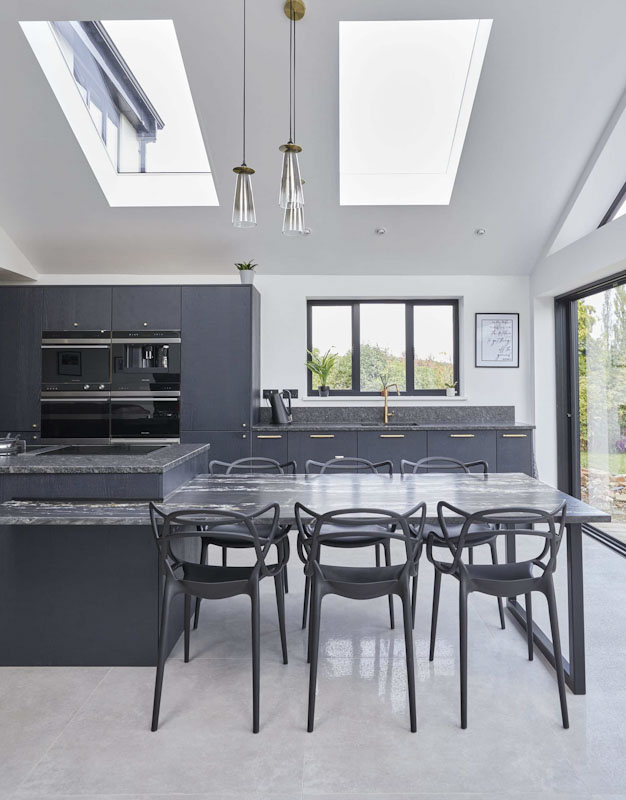 3. Routine rooflight cleaning
All Roof Maker rooflights come with an easy-clean coating as standard. This coating uses sunlight to break down dirt on the surface of the glass, so the rain can wash it away.
This helps to reduce the need for manual cleaning, but doesn't eliminate it completely.
Every six months, you'll need to manually clean your rooflight, inside and out. You can do this the same way you clean your windows.
Use clean non-abrasive cloths/sponges and mild non-abrasive detergents that won't scratch or damage the glass.
Cleaning your rooflight glass (inside)
Clear the area directly underneath the rooflight and spread out some plastic sheeting to catch any dirt and water splashes
Use a soft clean duster to remove any cobwebs and dust
Apply soapy water or glass cleaner to the glass with a soft cloth or sponge
Go over the glass with a squeegee followed by a dry, lint-free cloth for a gleaming streak-free finish.
Cleaning your rooflight (outside)
Add mild detergent to a bucket and carry the bucket up to the roof before filling it with warm water using a hosepipe
Use a specialist roof ladder to access the rooflight safely and never stand on or lean on the rooflight during cleaning
Clean the rooflight, frame and fixings using the diluted detergent
Go over the glass with a squeegee to remove any soap suds and wipe with a clean, lint-free cloth for a streak-free finish.
For your safety:
Always use ladders correctly and safely
Hire a professional if you're not confident working at height.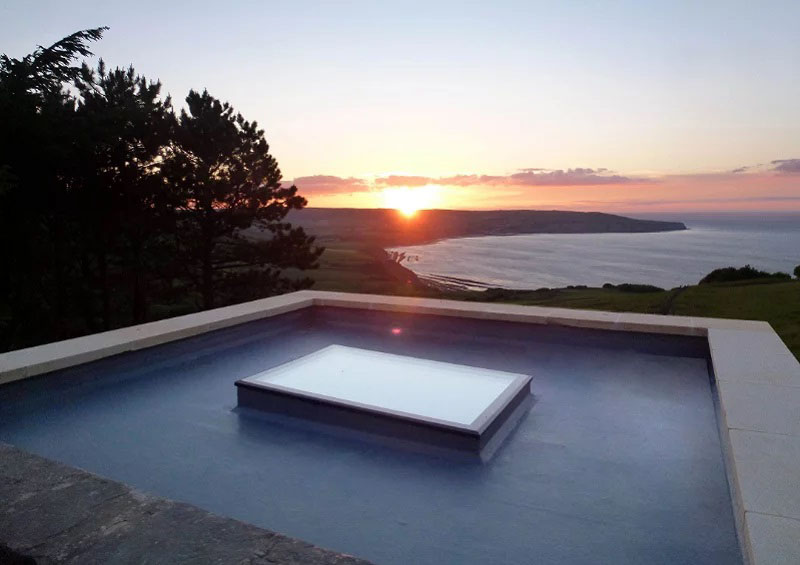 4. Being alert for leaks
If you have a leak, you'll usually notice it after rainfall.
Most leaks are caused by problems on the roof. For example, it might be due to old or damaged roof tiles.
Any problem with your roof will need to be fixed by a professional roofer.
But before you make the call, be sure it's a genuine leak and not just condensation.
5. Preventing condensation
Condensation on the inside of your rooflight can be caused by excess moisture in the air, or by big differences in the temperatures inside and outside.
When the indoor air hits the rooflight glass, it turns to water droplets. These collect on the surface of the glass and then drip down into your space.
To prevent a build-up of condensation:
Release any steam from your kitchen or bathroom using your extractor fan — or open your rooflight, if you can
Avoid drying your washing indoors where possible
Use a dehumidifier or moisture eliminator in the room.
6. Maintaining the opening mechanism
Openable rooflights are ideal for ventilation and help to release steam and excess moisture from your kitchen or bathroom.
Roof Maker's hinged-opening rooflights have a concealed chain mechanism, which is operated either by a remote control or a switch on the wall.
These rooflights are also fitted with a rain sensor that closes the window automatically if it rains.
To keep your openable rooflight operating smoothly and reliably, these mechanisms should be maintained twice a year as follows:
1. Check the rain sensor is clean and clear of any debris that might stop it working
2. With the window fully opened and the chains extended, apply a dry PTFE lubricant to the chain and hinges.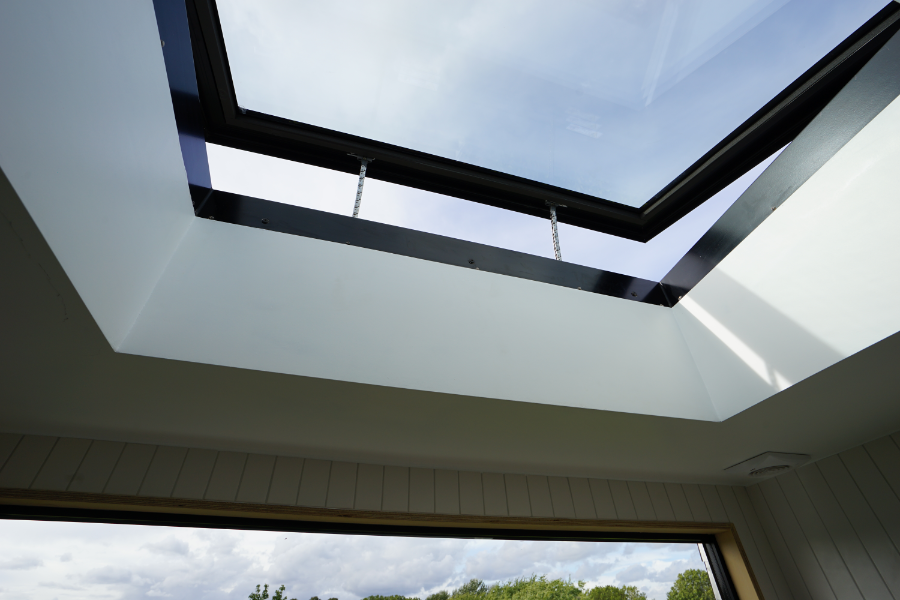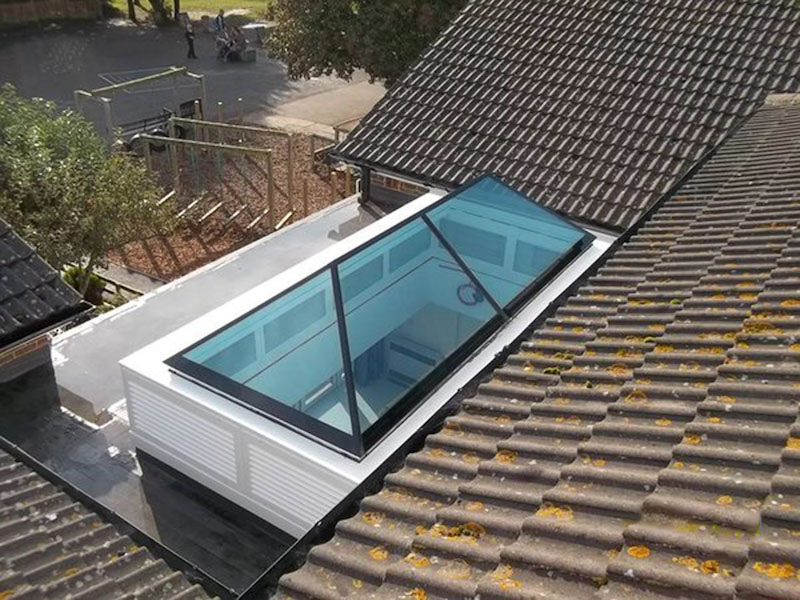 Need aftercare support?
If you're a Roof Maker customer and you need advice or support with your product, please call our customer services team on 0116 497 1276 or email [email protected]
Looking for premium rooflights or roof lanterns?
Roof Maker's unique selection of world class products features contemporary design, advanced innovation and industry-leading quality and durability.
Find inspiration, information and answers on our blog
Or contact the team for expert advice by calling 0116 269 6297 or emailing [email protected]