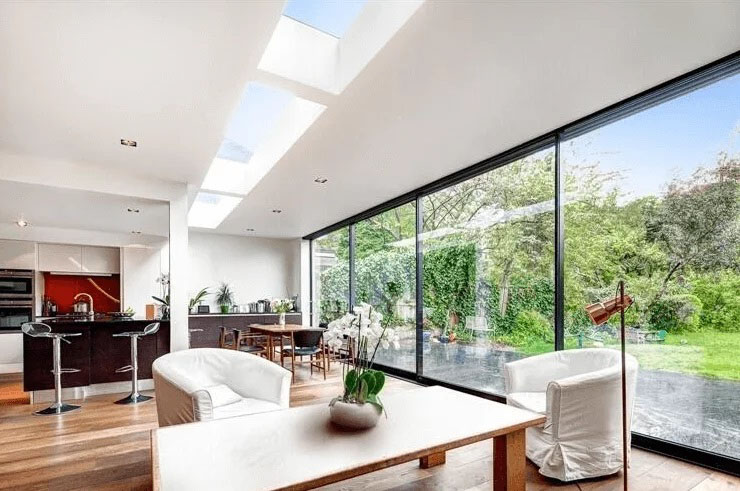 How To Maximise Daylight Without Scrimping On Design
Natural light not only makes a home feel lighter and brighter, but also bigger and more welcoming. Then there are the health benefits that are afforded by more natural light. Improved mood, improved sleep, boosted vitamin D storage and healthier eye development are all plus points associated with being exposed (within reason) to more natural light.
It's no wonder, then, that homeowners are often keen to allow more natural light to flood their properties – especially now the days are shorter and the nights are longer.
Related reading: Winter blues? More natural light could be the answer to beating them
With all this in mind, we decided to run through some tips for how to maximise daylight in your home, without scrimping on design.
Add a rooflight or two or three
One of the best, most cost-effective and elegant ways to maximise the daylight in your home is with a rooflight. Available in a variety of shapes, sizes and styles, rooflights are unparalleled in their ability to afford more natural light. That's because the higher the source of light, the brighter the room will be.
Moreover, rooflights can be installed in both pitched and flat roofs, which makes them pretty versatile. If you want something a little more contemporary, maybe a roof lantern is more your cup of tea.
Whatever type of rooflight you opt for, you can rest assured that it will allow natural light to flood your home all throughout the day.
Add new windows or make existing ones bigger
If for some reason you can't or don't want to install a rooflight, adding some more windows is the next best way to maximise daylight in your home. Just be aware that adding a new vertical window or two will cost considerably more than an equivalent rooflight and will involve some pretty major surgery on your home.
Nevertheless, it is, of course, very much still an option that's open to you.
Just be sure to check whether you need any planning permission and understand that due to privacy issues, your new windows may need to be obscure glazed if they look out over your neighbours' properties.
Add large glazed doors
If you've currently got an external door that leads out to a patio area or your garden, you could get more natural light into your home if you replace it with larger glazed doors.
Whether you choose bi-fold, sliding or more traditional French doors, the end result will be more daylight penetration. Plus, you can open the doors in the same way as windows and rooflights to allow better air circulation.
Glazed doors with slim frames will afford the most light. But again, the associated costs may be a bit too heavy for some budgets.
Install a glass staircase
An expensive, but extremely classy option is to install a glass staircase. Whilst you'll almost certainly need an architect to make such an addition become a reality, the finished article will inevitably be one of the most talked about features in your home.
Obviously, a glass staircase will only help maximise light in rooms that are already reasonably well-lit as they allow light to pass through them and reach other areas.
A cheaper alternative to a completely glass staircase is to install an open-tread one. Again, this allows light to pass through it and only really works well in rooms that are otherwise well-lit.
Add mirrors
The cheapest option in our list so far is to add more mirrors in the rooms you want to appear brighter.
Mirrors reflect light and allow it to penetrate deeper into the nooks and crannies of a room, which makes it appear larger. It goes without saying that larger mirrors reflect more light and so achieve better results, but don't go too big as it could overwhelm the whole feel of your room.
For an even greater optical illusion, hang two mirrors opposite one another to create an infinity effect.
Lighten your colour palette
It stands to reason that dark walls aren't great for making a room feel lighter and brighter. They absorb a lot of the light that enters a room and should only be used in spaces where you want to create an atmosphere that aids relaxation, such as in a bedroom.
Swap those dark colours for pure whites and pale yellows if you want to maximise the daylight in your home. Like mirrors, lighter walls reflect more light and that gives the impression that a room is bigger than it actually is.
If you really want to maximise light reflection then opt for glossy or satin paint rather than matte.
Lighten your fabrics
In the same way that dark-coloured walls absorb light and make a room appear less bright, so too do dark fabrics.
Sofas that are adorned with lighter linens and cottons will brighten up your living room. The best part is you can look to have existing furniture reupholstered to give it a new lease of life. It's a practical and cost-effective solution that will maximise the daylight in your home.
Be smart with your furniture placement
In addition to choosing lighter-coloured furniture, where you place it (the furniture) also has an impact on the amount of natural light your room will get.
It goes without saying that large sofas placed in front of windows will block out some daylight – especially when people are sat on them. That's why it's best, if you want more light in your room, to place large pieces of furniture against walls and in corners where possible.
Even your favourite ornaments (dare we call them clutter?) placed in a window sill will block some light. Consider moving them to a better home.
Remove outside obstacles
To achieve even brighter rooms, go out into your garden and get busy. That's because overgrown hedges and trees will prevent a significant amount of natural light from entering your home, particularly if they are near your windows.
It's also important to consider which direction your property faces. A south-facing garden will get more sunlight later into the day, which means more light will enter the rear rooms of your home during the summer, providing your windows are not obstructed by overgrown foliage.
You can simply keep an eye on the path of the Sun throughout the day and decide what outside obstacles should be removed or trimmed (in the case of hedges and trees) to allow more light to enter the various rooms of your home.
Keep everything clean
Finally, another hugely important factor that helps or hinders the amount of natural light in your home is how clean your windows, glazed doors, rooflights and mirrors are. Dirty glass doesn't allow light to enter as easily as clean glass, so it's essential to clean your windows, doors, rooflights, etc. as often as possible.
In the winter, especially, you will notice the impact that dirty glass has on the overall brightness of your home. A little bit of time spent cleaning your windows can be enough to not have to switch your inside lights on in the afternoons, which also positively affects your electricity bill. Opting for easy clean glass in windows and rooflights will help to reduce the manual cleaning effort and make this easier.
Are you considering buying a rooflight or roof lantern for your home? If you are, call Roof Maker on 0116 269 6297. Our rooflight experts will help you to choose the right solution for your needs. Alternatively, visit our showroom or get a quote online.