There'll be a move away from cold colours and hard edges to embrace warmer tones and a softer, more rounded aesthetic.
And there'll be a greater focus on wellbeing, comfort and creating a sense of calm.
Here are 11 of the key interior design trends that will shape the way we style and improve our homes in 2023.
1. Japandi
Japandi is an interior design aesthetic that centres around contentment and wellbeing. The style blends the Japanese philosophy of wabi-sabi with the Scandinavian practice of Hygge.
Wabi-sabi is about enjoying a slower pace of life and appreciating the beauty in simple and imperfect things. Hygge is about the contentment you get from being comfortable and cosy. Together, they translate into an interior design style that blends Japanese functionality and elegance with Scandinavian minimalism and clean lines.
In a Japandi interior, everything is soft and rounded. All the pieces should be harmonious with no items clashing or commanding the space.
The style typically has a neutral colour palette, with warm shades of beige and cream. These are complemented by richer colours like black and charcoal. If this feels too bland, you can introduce a pale Scandinavian colour, like blue, pink or green.
Furniture and accessories are made from natural and sustainable materials such as wood, paper, cotton, bamboo, wicker and hemp. And plants are used to improve the air quality and create a sense of nature indoors.
The look is completed with exquisite and tactile fabrics — including rugs, throws, cushions and curtains — all in beautiful patterns.
2. Biophilic interior design
Biophilia refers to our natural human urge to connect with nature. And biophilic interior design is about bringing elements of nature into our interiors.
Like Japandi, biophilic interior design introduces plants to enhance the air quality and create a sense of the outdoors. Furnishings and accessories are also created using natural and sustainable materials.
But biophilic interior design goes a step further by introducing more sunlight and fresh air from outside.
Exposure to natural sunlight and fresh air is good for us and helps to regulate our sleep/wake cycle. Together, these natural elements create a tranquil and calming environment that promotes good health and wellbeing.
One of the best ways to achieve the look is to install an opening rooflight or roof lantern in your room. These installations channel sunlight from above to immerse your space in natural daylight. Opening panels or sections draw in fresh air for natural ventilation.
According to Country Living, the best air purifying plants for the home include the Barberton Daisy, English Ivy, Snake plant, Chrysanthemum and Spider plant.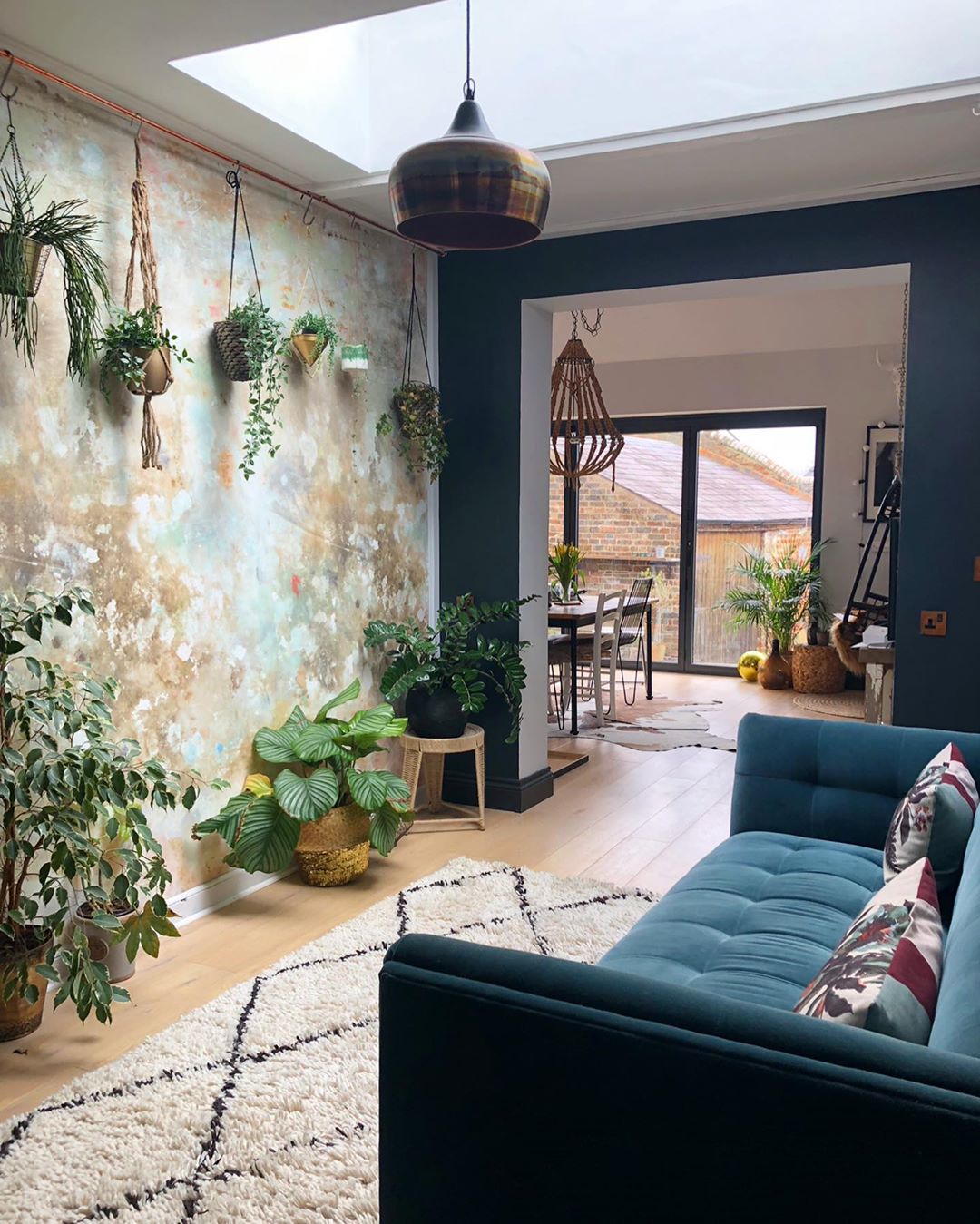 3. Curves
In 2023, organic curves, flowing lines and rounded edges will dominate. Think curved and rounded furniture, spherical shapes and snaking metal accents.
This is feel-good design in the sense that it feels good to the touch. And it's also linked to wellbeing.
The aim is to create a softer, more organic and free-flowing space. A space that's inviting, welcoming and relaxing to be in.
4. Warm colours
According to the experts, bright whites and steely greys are out. The new year will be about creating cosy spaces and keeping it natural, with beige neutrals, warm wood tones and earthy colour palettes.
Stay light and neutral with beige, sand, taupe or oatmeal. Take it a shade darker with browns, caramels or terracotta. Or add a brighter dimension with sunset hues, like raspberry or lavender.
Bolder colours should be rich and elegant, like ultramarine blue, mustard, spicy red, deep plum or coral.
Accessories should be warmer too, with gold accents taking the place of brushed steel and chrome.
Deeper wall colours work especially well in bright sunlit rooms, where their richness can radiate rather than darken the space. Using reflective surfaces or adding a rooflight to your room can improve the flow of light and brighten up the space.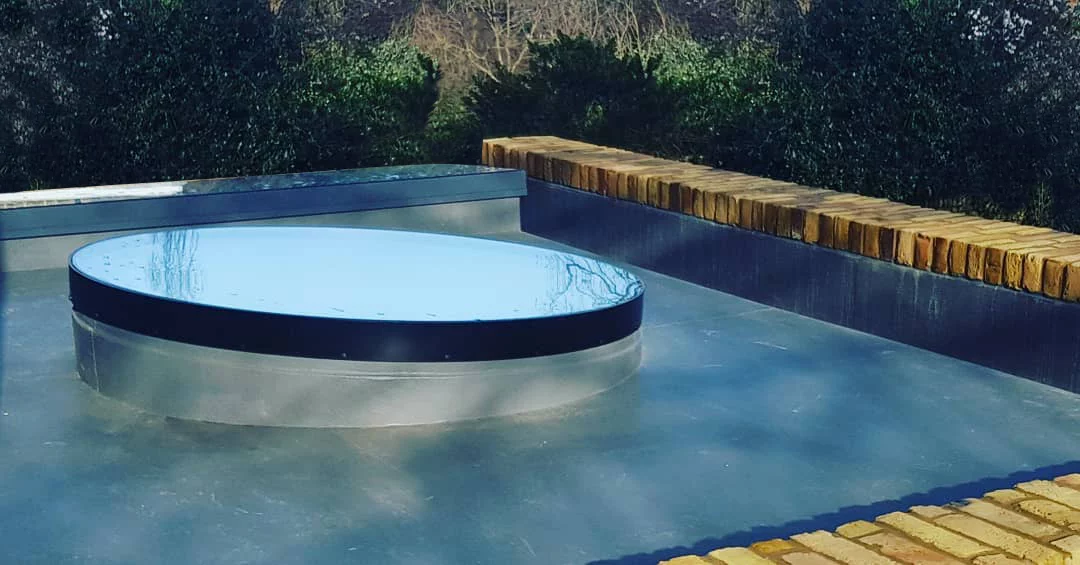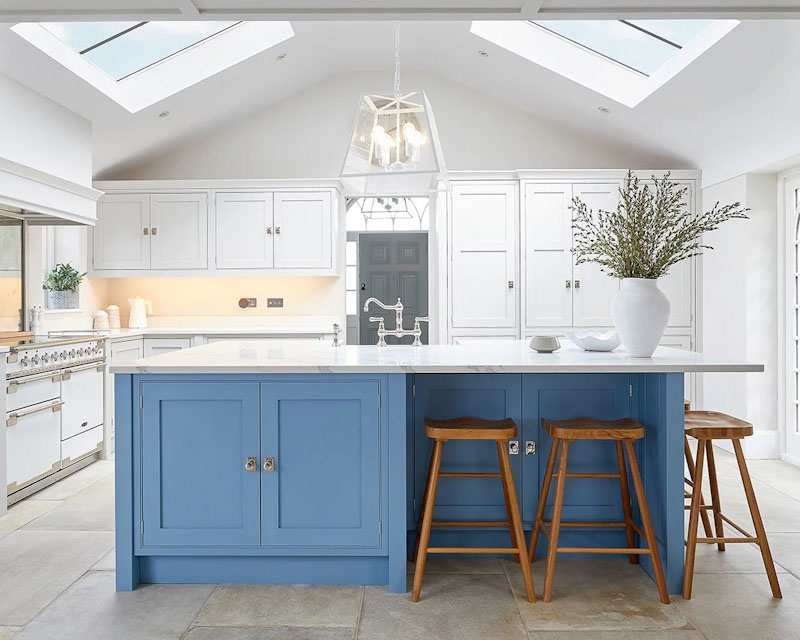 5. Polished surfaces
In 2023, the trend for high-gloss furniture and shimmery finishes is set to continue.
Think highly polished wood, glass surfaces and glossy lacquered finishes. All with a mirror-like gleam that's designed to catch the light and reflect it around your space.
Polished furniture is ideal for maximising light circulation — especially in rooms that don't get so much daylight.
6. Modern but homely kitchens
We'll see a trend for softer, cosier and more homely contemporary spaces — especially in the kitchen. The look will be achieved by layering warm elements and using visual and textural contrast.
Think high-gloss kitchen cabinets, softened with natural wood worktops. Straight edges, softened with curves. And colours at the cooler end of the spectrum, switched for a warmer and more welcoming palette.
The homely feel will be complemented by elements that encourage a more informal lifestyle. Like large kitchen islands made for casual dining and socialising.
7. The unexpected and unusual
There'll be a shift away from traditional co-ordinated furniture and accessories, like matching lamps and sofa sets.
Instead, we'll create more engaging and exciting interior spaces by mixing things up and putting a variety of different and more meaningful pieces together.
Overall, we'll have fewer items and a more minimal aesthetic. But more of those items will be standout pieces, which are of special interest or have sentimental value.
This trend for the unusual can also extend to your rooflights. For example, in some cases, you could consider having a grey, blue or bronze tint. Tints soften the light coming into your room, which might be welcome if your room gets a lot of direct sun. They also remove harsh UV rays from the sunlight to protect your wallpapers, carpets and soft furnishings from fading.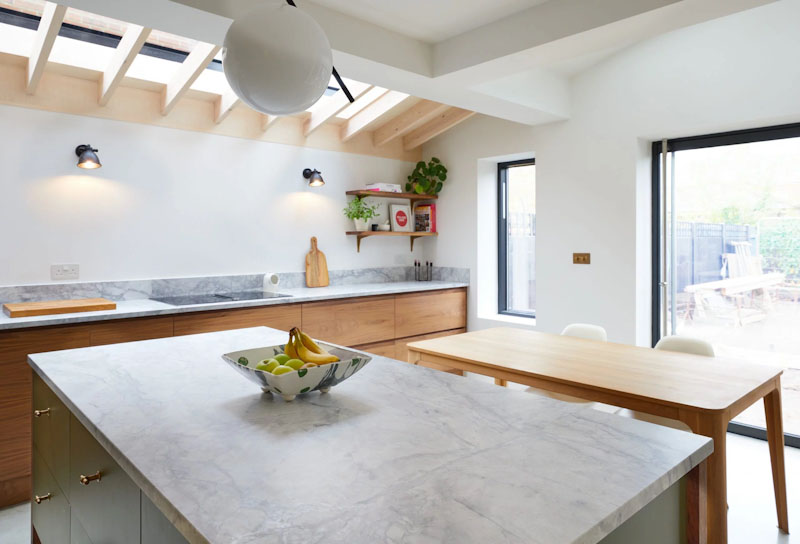 8. Hidden kitchen storage
The trend for minimalism is set to continue in 2023. In the kitchen, this means keeping the majority of your kitchen supplies and worktop appliances out of sight.
Traditional walk-in pantries have already made a comeback as a separate storage area for food and cooking equipment.
And breakfast cupboards have become popular for storing, using and hiding worktop appliances, like your kettle, toaster and coffee machine.
9. Home offices
During the Covid lockdowns, many homes were transformed into workspaces, with varying success. While 28% of respondents in this ONS study actually had a study, 1% claimed to have set up a workspace their bathroom!
But having proved that home working can work, many workers have made it a more regular arrangement. In fact, the TUC reports that home working has tripled since Covid.
With this in mind, it's not surprising that dedicated home offices have been growing in popularity. And, in 2023, they're going to be big.
You can create a home office wherever you have space. It can be anything from a tiny nook or converted cupboard, to a dedicated room with a centrally positioned power desk and statement furniture.
Whatever space you have, it's yours to personalise, which is exactly what home workers have been doing. Emerging home office decorating trends point to deep rich colours, bold patterned wallpapers and monochromatic schemes.
The ideal home office has lots of natural light, which is best for your wellbeing and productivity. Finding a bright space next to a window or under a rooflight can make all the difference.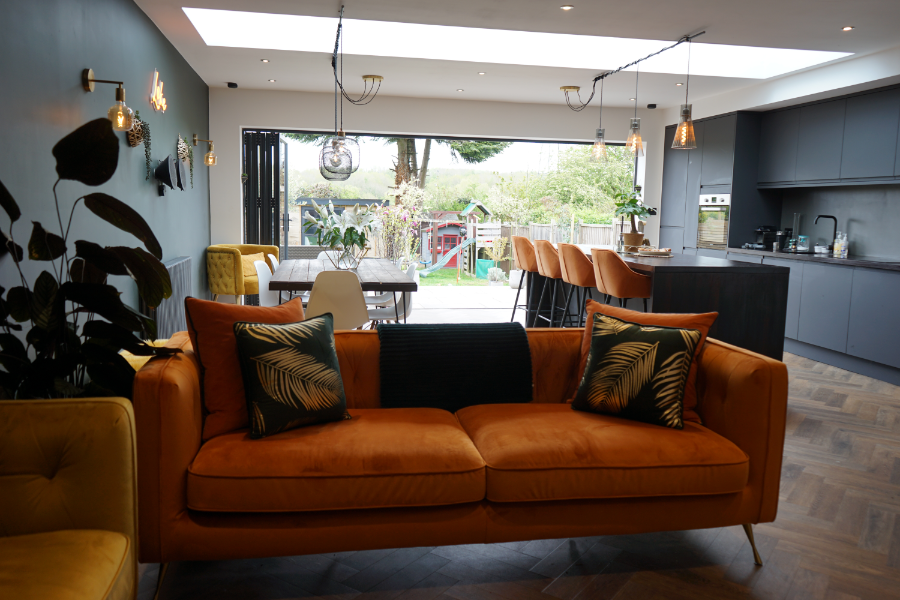 10. Energy efficiency
The rising cost of energy has prompted many of us to look for new ways to save money. And, in 2023, this will continue to be a priority for many.
One of the key areas for saving energy is making sure your home is properly insulated to prevent heat loss. Within this area, there are several things you might consider.
Loft insulation
According to the Centre for Sustainable Energy, the recommended depth for loft insulation is 270mm.
If your current loft insulation is below 150mm, topping it up to 270mm will give you the best energy savings.
Replacement windows
Replacing your windows can be expensive, but the long-term energy savings will make it worthwhile.
The best windows are insulated with argon gas between the panes. These windows offer exceptional thermal insulation to keep your home warm during the cold weather. And the windows can also be made with a solar control coating to keep your home cooler during the summer months.
Replacement rooflights
Rooflight replacements may also be advisable in some cases. For example, if you have a wooden-framed rooflight that's rotten or leaking. Or if your current rooflight isn't insulated as well as it could be and is causing heat to escape.
If you're replacing a pitched rooflight, Roof Maker's Luxlite LP might be worth considering. This premium aluminium rooflight is lightweight, which means it could replace an older wooden rooflight without any structural reinforcement.
Luxlite LP is triple-glazed as standard, for the most effective thermal insulation. And, as the rooflight appears frameless from the inside, you'll get the most light possible for the size of the hole in your roof.
Triple-glazed rooflights
If you're considering adding rooflights to your property, triple glazing will offer you the best possible thermal insulation.
Triple-glazed rooflights comprise three layers of glass. They're more effective than double glazing in preventing heat escaping from your home — and this will save you money on your energy costs in the long term. The extra layer of glass also helps to reduce outside noise, for a quieter and more peaceful home.
Aluminium rooflights with thermal breaks
The most lightweight, durable and technically advanced rooflights have aluminium frames. But aluminium alone won't stop heat loss. To provide heat insulation, aluminium frames need to include what's known as a thermal break.
A thermal break is created by adding insulating material inside the aluminium frame. But not all thermal breaks are created equal and some manufacturers only provide the bare minimum.
Roof Maker's aluminium frames contain an extensive thermal break that's designed to provide exceptional thermal insulation.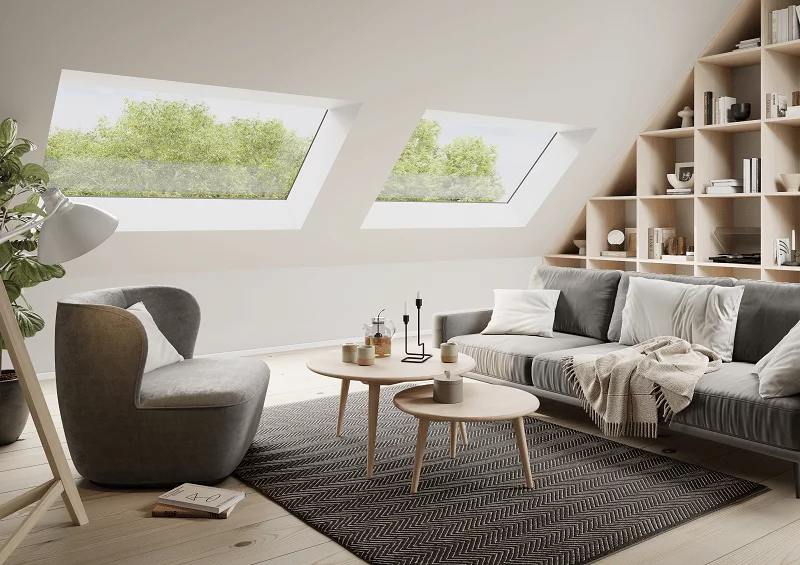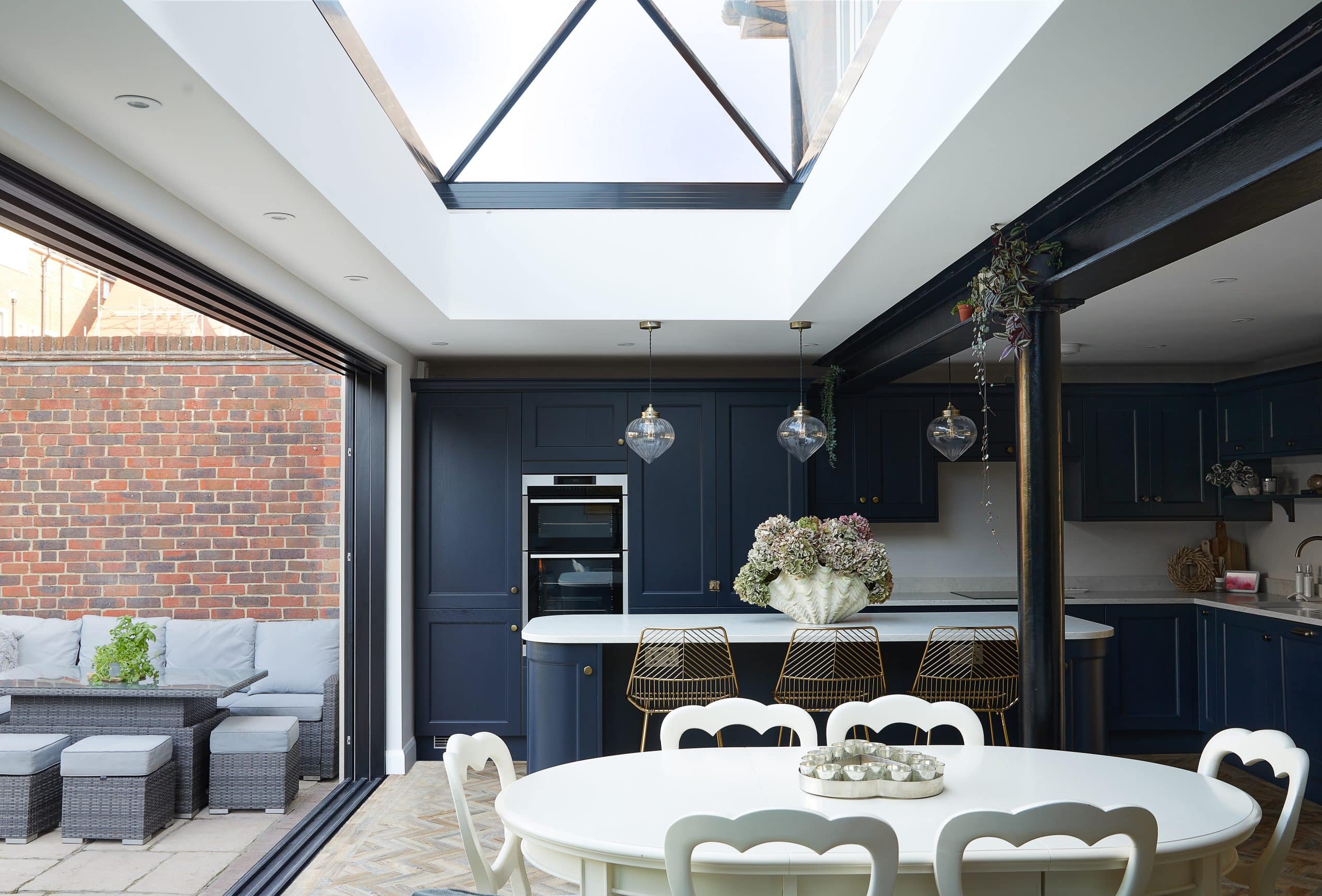 11. Necessary rather than optional renovations
As inflation and costs continue to climb in 2023, it's expected that people will be more cautious with their home renovations.
People will be most focused on making their homes more comfortable and functional. And they'll be undertaking necessary updates and repairs rather than making more optional changes to the structure and aesthetic.
Does your home need more natural light?
If you're looking to improve your wellbeing at home, introducing more natural daylight could be a healthy and positive change.
And if adding windows isn't an option you could consider a flat rooflight, pitched rooflight or roof lantern from Roof Maker's world-class range.
Rooflights let in up to three times more light than ordinary windows, so they can really brighten up your space.
Do you need a replacement rooflight?
If you have an old rooflight that's leaking or is starting to feel draughty, Roof Maker could help you find a suitable replacement.
We supply premium quality aluminium rooflights for both flat and pitched roofs. Our rooflights offer exceptional thermal insulation and come with a market-leading 20-year unit seal warranty. Plus, they can be manufactured to bespoke sizes if you need a like-for-like replacement.
To see what we could do for you, browse our full range of products or call our friendly team on 0116 269 6297 for more information and expert advice.