Most of these homes were old, dark and in need of modernisation. Roof Maker's rooflights and roof lanterns helped update the properties, creating radiant contemporary spaces, filled with beautiful natural light.
Building bright kitchen diners
Older properties tend to have formal layouts with separate rooms for cooking and eating. But these layouts don't support the informal way we live today.
Many Roof Maker customers have opened up their layouts, creating open-plan spaces, designed for modern living. These bright social spaces are ideal for spending time with family and entertaining friends.
A social space in Essex
Alison and her husband had remodelled a small bungalow in Dunmow.
The couple enjoyed entertaining, but, with Alison in the kitchen and her guests in the dining room, it was hard for her to keep up with the conversation.
To solve the problem, they created a social space next to the kitchen and installed pitched rooflights to make it brighter and more welcoming.
Building regulations dictated that the rooflights in the space needed to be small, so they needed to give maximum daylight.
They chose two fixed Luxlites — one for each end of the room. These rooflights appear frameless from inside, giving you the most daylight possible for the size of the hole in the roof.
The new space is much more sociable and means Alison can be with her guests while she's cooking.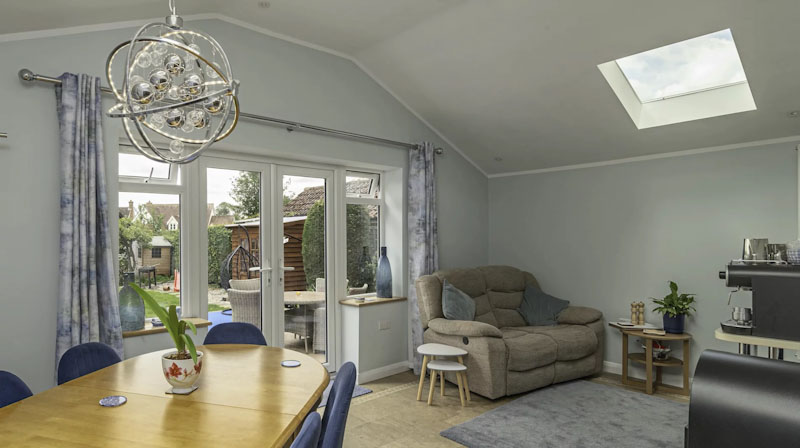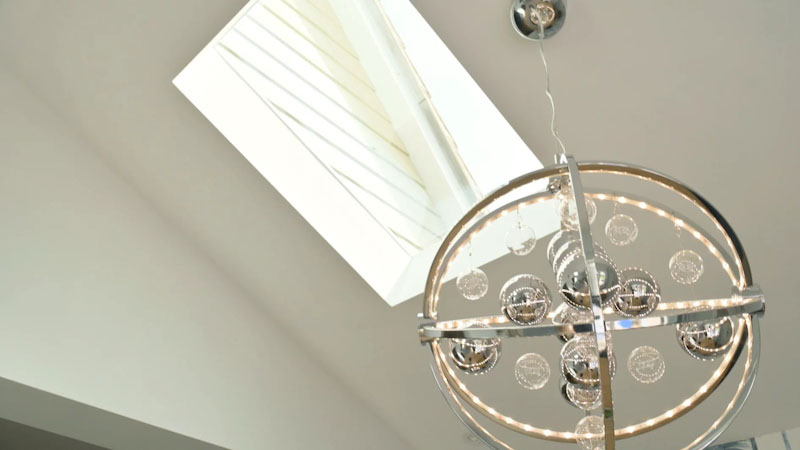 A classically contemporary kitchen diner in Leicestershire
Suzi and Gareth had undertaken an extensive remodelling of a 1960s property in Anstey.
Part of their ambitious project included a pitched roof extension with a gable. The couple transformed this space into a large kitchen diner, with timeless style and space for entertaining.
The room is brightened by four Luxlite rooflights — two fixed and two with a hinged opening for ventilation.
The new kitchen has become the heart of their home and is the place where everything happens.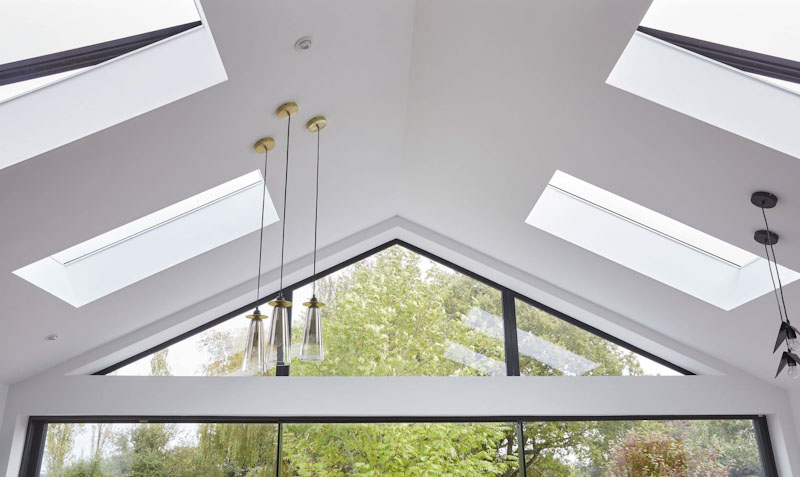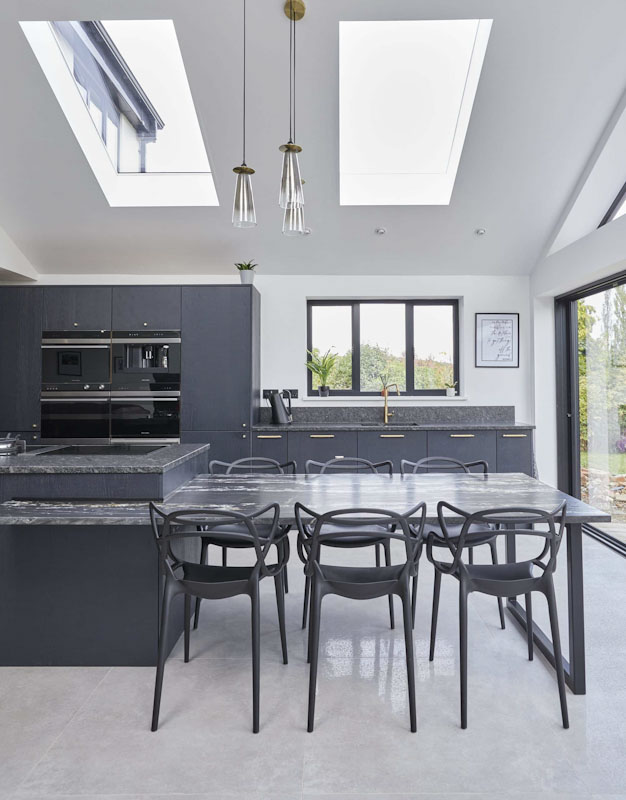 An impressive family space in Hampshire
In Portsmouth, Charlotte and her husband had transformed their former conservatory into a proper built extension. This created a large open-plan kitchen, dining and living area with access to the garden.
The conservatory was a light and airy space, but it was too cold to use in winter and too hot to use in summer. They needed something they could use all year round.
But the couple were concerned that they would lose the light by having an extension. And that they wouldn't get enough ceiling height due to building regulations.
An exceptionally large Slimline Roof Lantern solved all their issues. Its 3D shape has added height, while the angled glass channels sunlight from all directions to fill the room with natural light. And thermal insulation helps maintain a comfortable temperature, whatever the weather outside.
The result is a bright, modern space where Charlotte and her family can enjoy spending time together throughout the year.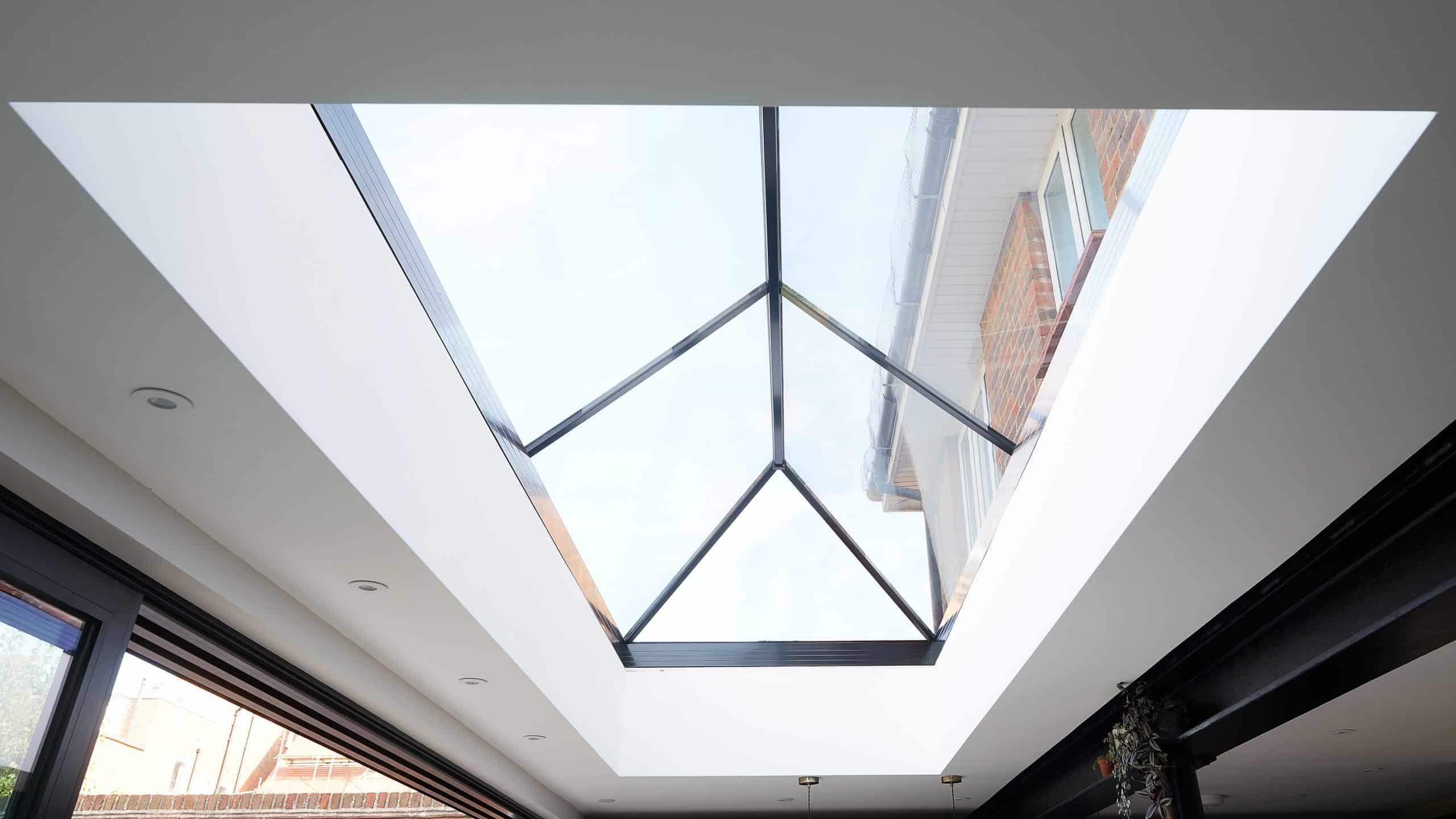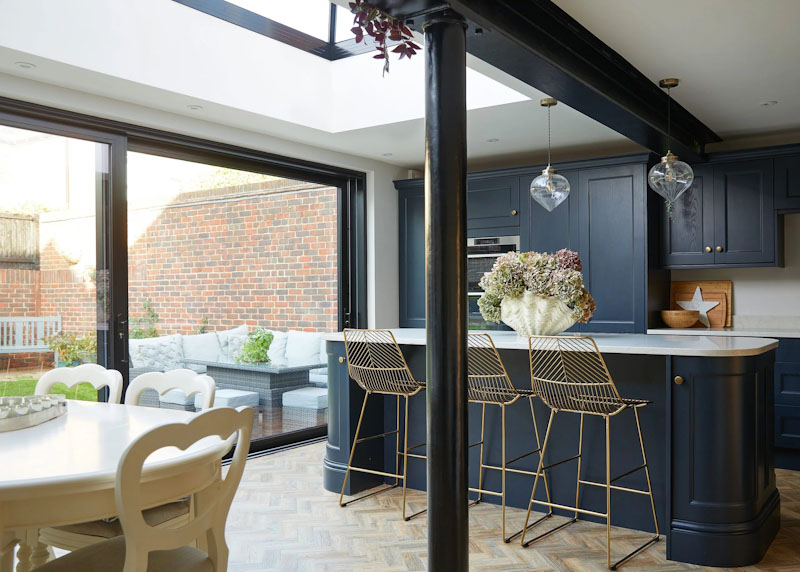 A New-York-loft-style kitchen in London
Munah and her husband had undertaken several home renovations, but their property in Richmond was their largest and most ambitious. Part of the project involved building a rear extension, to create an expansive open-plan kitchen diner for them and their young family.
The room is inspired by the industrial style of New York loft apartments, with copious natural light shining on exposed red bricks and steelwork.
The light comes from several rooflights, including a Roof Maker made-to-measure fixed flat rooflight above the dining area.
This stylish renovation feels spacious, has beautiful views of the garden and is an ideal space for the family and their friends.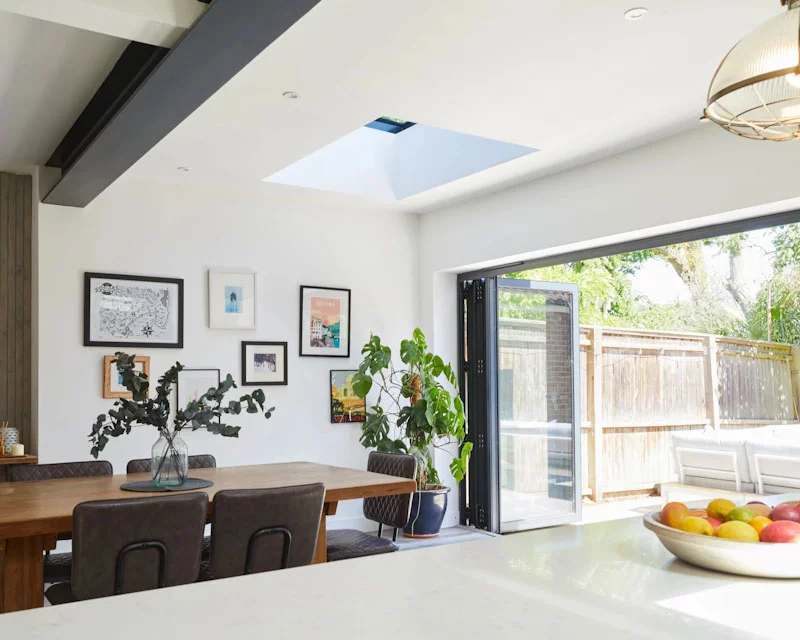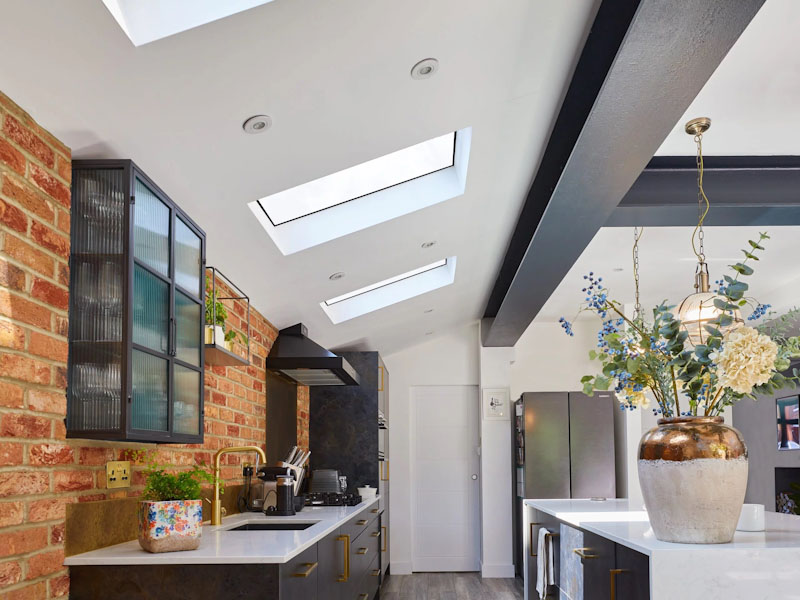 A Scandi-inspired multifunctional space in Norfolk
Pinterest provided the inspiration for this pitched roof extension project in Norwich.
Alice and her partner had remodelled the rear of their home, building a major extension for a kitchen diner, utility room and downstairs shower.
The focus of the extension is the Scandinavian-style kitchen. Clean lines and natural wood give the room a modern and minimal aesthetic, while exposed rafters create an interesting architectural feature.
A Roof Maker triple-glazed Luxlite with a hinged opening sits above the exposed rafters. This brightens the kitchen with natural daylight and ventilates the kitchen.
The new space has made a huge difference to the couple's home. And it's allowed Alice to explore her passions for food, cooking and entertaining.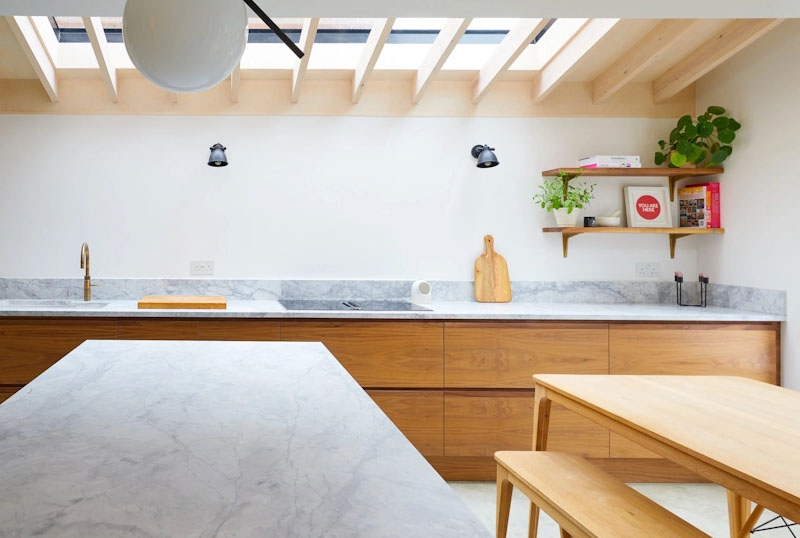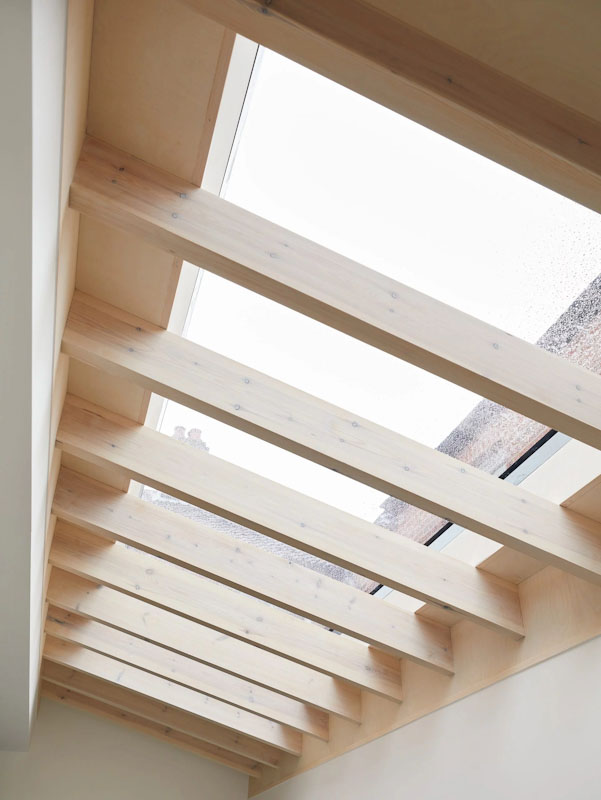 Bringing light to period properties
Many older properties have small windows — partly because the glass at the time was so expensive. But today, we recognise that brighter spaces, with lots of natural light, are better and healthier for us.
Rooflights can be a viable option in darker period properties, where it may not be possible to add more windows or increase the size of the existing windows.
An Edwardian renovation in London
Baani and Sat had renovated an Edwardian property in Walthamstow.
Their project had included a replacement rear extension, featuring a green roof to encourage biodiversity. And they had extended their existing loft conversion to add a new bathroom.
The couple had been inspired by the interiors of galleries and museums, wanting something calming and neutral with lots of natural light.
To brighten their spaces, they chose four Roof Maker rooflights:
Their kitchen diner is a bright neutral space, with accents of natural wood and views of the garden. The landing rooflight illuminates the stairs to the loft, while the new bathroom enjoys lots of natural light and views of the surrounding area.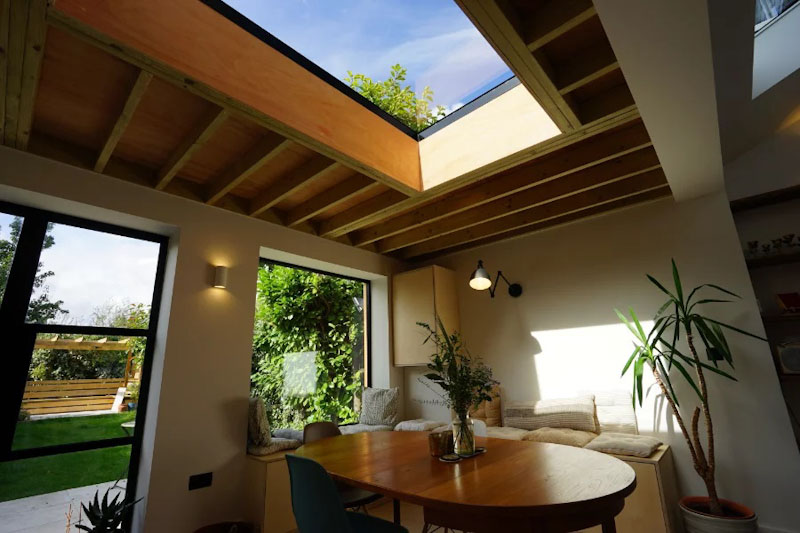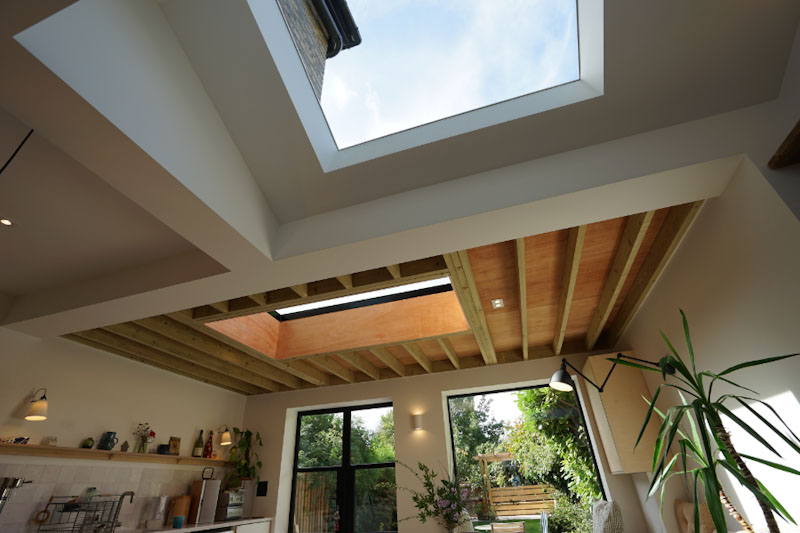 A kitchen extension for a listed property in Wales
Ben and Laura had modernised their new home in Wrexham, while maintaining its original character and keeping many of its period features.
The property was a Grade II listed building in a conservation area, which made it doubly difficult to get the pitched roof extension they were hoping for. But after three years of liaising with their local authority and the conservation and heritage departments, they were finally granted planning permission.
The couple knew they wanted rooflights — and that the rooflights they chose would need to be compliant.
Roof Maker's Conservation Luxlites gave Ben and Laura exactly what they needed in a made-to-measure size. And the size, style and design made it easy for the conservation and heritage departments to approve them.
The new extension is bright, spacious and has created a beautiful room that will continue to meet their needs as their children grow.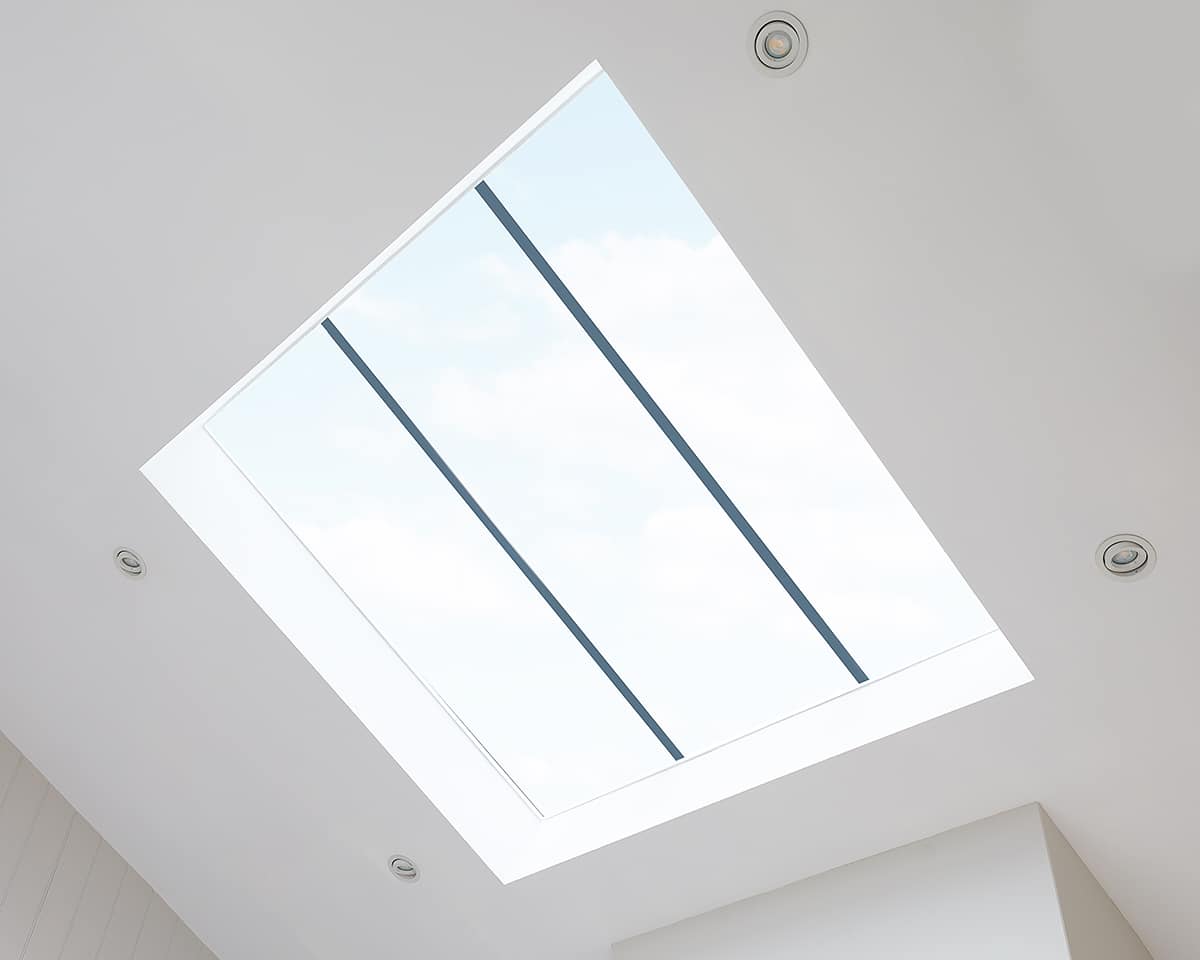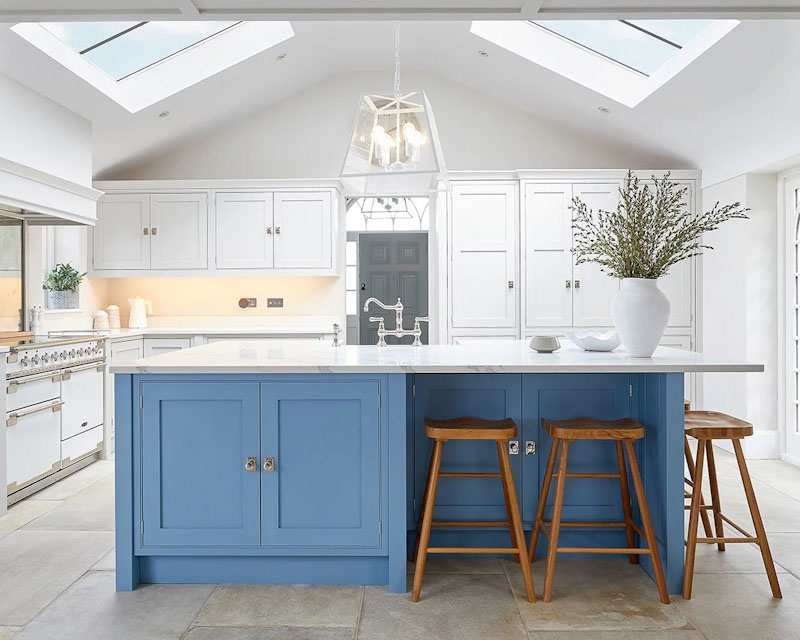 A brighter cottage bedroom in Cambridge
Jess and Antoine had renovated a 200-year-old Edwardian cottage in Little Abington, turning it from an uninhabitable former rental property into a charming modern home.
One of the issues they'd had to resolve was the leaking wooden rooflight in the bedroom. They'd wanted to replace it with something more resilient and with triple-glazing for better insulation, but most options were too heavy for the existing roof.
The only other option would have been to remove the rooflight completely and replace the roof. But this would have left them with a dark room that needed lights on even during the day.
Roof Maker's Luxlite LP solved the problem. The lightweight triple-glazed rooflight was manufactured to the exact size of the existing hole in the roof.
Their bedroom now gets the natural light it needs, with added heat and sound insulation for a warmer and quieter night's sleep.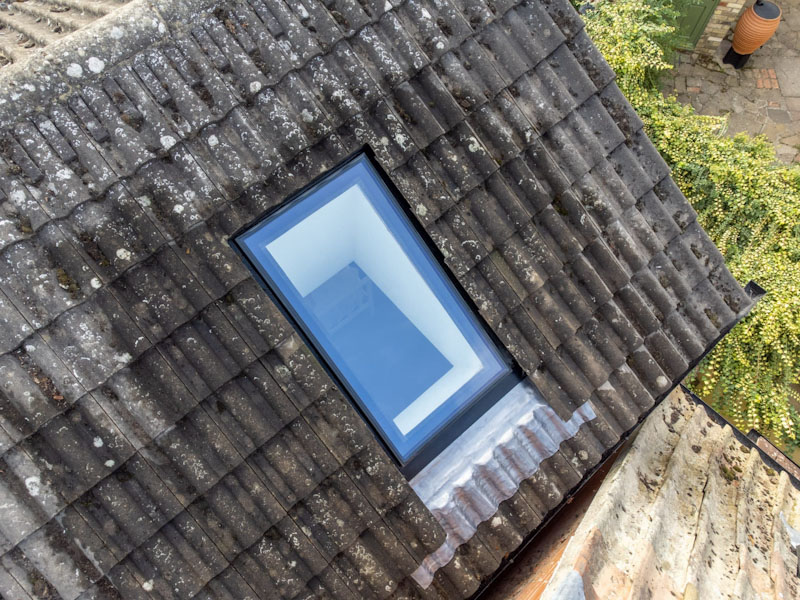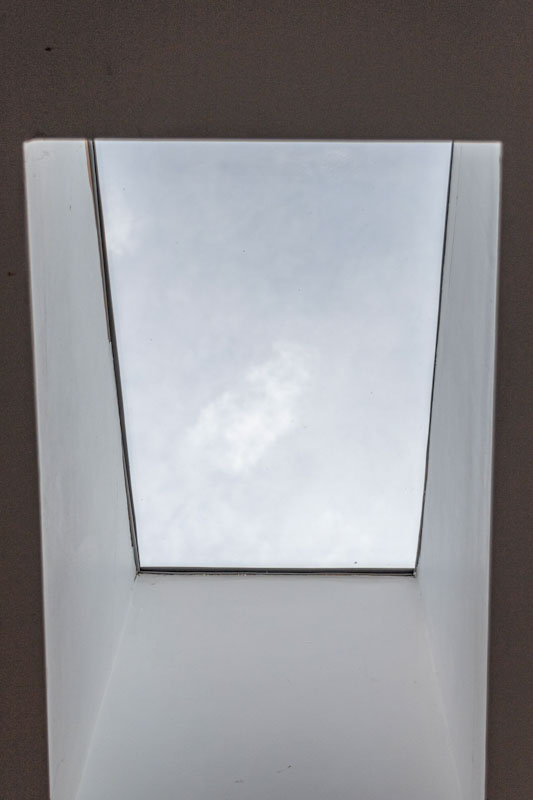 Looking to build a brighter home in 2023?
If you've been inspired by our case study transformations and want to incorporate rooflights into your own extension or loft conversion, we can help you achieve the result you're looking for.
Our expertly crafted rooflights combine contemporary design with exceptional thermal performance and outstanding durability.
And if your needs are complex or challenging, we'll work with you to find a suitable solution.
For more information, advice or a quotation, call the team on 0116 629 6297 or email [email protected].