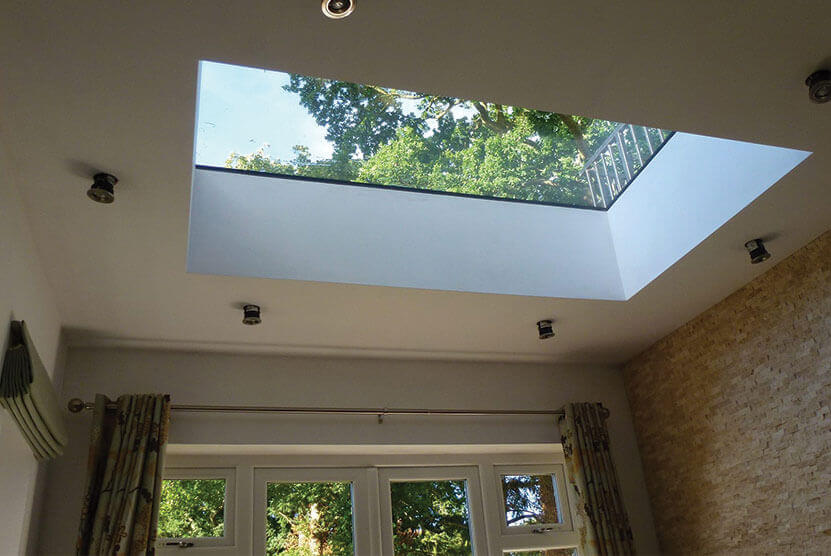 What is the largest size skylight you could make for me?
If you're looking for the biggest skylights, you've come to the right place. Roof Maker are known across the industry for producing a very wide range of sizes, shapes and types of rooflight.
For example, if you're looking for a pyramid or stretched pyramid rooflight, our slimline roof lanterns can go up to 2000mm in width with a corresponding length of 4000mm.
To give your rooflight or skylight tremendous thermal and noise control performance, we use triple or double glazed glass. To support the weight of this high quality product, if you need a lantern between 4000mm and 6000mm, the maximum width is 1600mm. Similarly, for rooflight units more than 6000mm in length, the maximum width is 1200mm.
Our circular rooflights make a real statement in a contemporary property, and give an instant 'wow' factor. That's why we can make a Roof Maker O-lite round rooflight with an impressive 1500mm diameter.
If you're looking for a simple flat rooflight, but want to create a 'sky roof' effect with multiple panes of glass letting light flood in, you don't need to order multiple rooflights and have them installed in close proximity to each other. Instead, we also offer our fixed flat rooflight as a modular skylight. In other words, a single frame with glazing bars to support separate panes of glass. We can do this rooflight up to some incredible sizes, so why not phone our sales team on 0116 214 5839 for advice on the maximum sizes.
Please note, larger roof lanterns require additional glazing bars.
For more information about the biggest skylights we offer, talk to our experts
If you have further questions about anything you have read here, try our product selector or pick up the phone. Roof Maker's expert team will be happy to advise you. Just call us on 0116 269 6297.