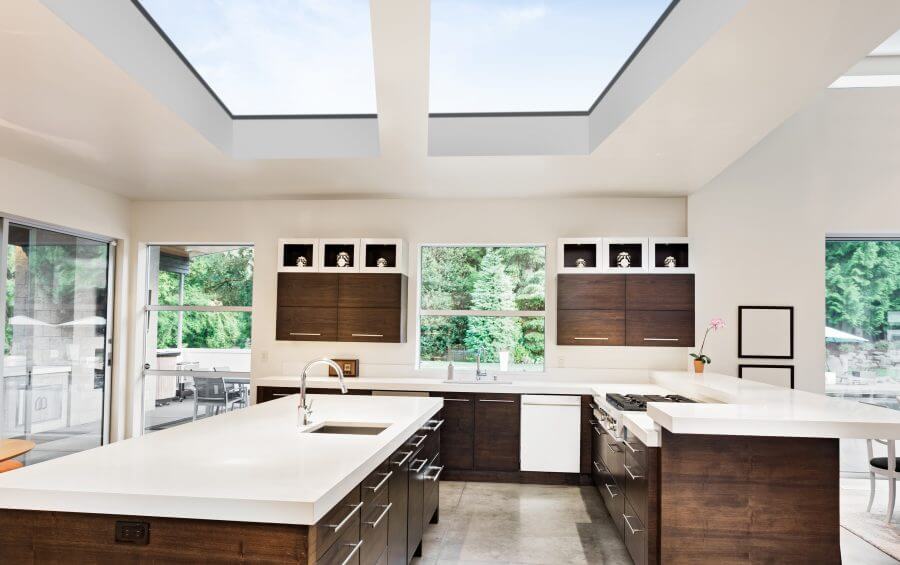 5 Kitchen Design Hacks
The once humble kitchen has undergone quite a transformation over the years and has firmly established itself as the epicentre of every home. It's the place where you make culinary magic happen and often serves as the central gathering point whenever you have friends and/or family over.
But what if your kitchen has seen better days? After all, it's supposed to be the heart of your home, so at the very least you should be proud to welcome people into it, instead of consciously closing the door every time you walk by.
The good news is that you can give your faithful kitchen a new lease of life without breaking the bank.
Here are 5 kitchen design hacks to give you some food for thought:
1. Functionality first
First and foremost, when rejuvenating a kitchen or creating a brand new one, functionality has to come first. At the end of the day, your kitchen is a working room, so it has to lend itself as perfectly as possible to the tasks you're going to undertake in it.
Now, despite having tons of potential layouts at your disposal, the trusty working triangle approach is still – even today – considered the best.
The working triangle concept states that the kitchen's three main working areas – the sink, the cooker and the fridge – should be laid out in a triangle formation. But the concept goes a little further than that, stipulating that each side of the triangle should be between four and nine feet, and the total sum of all sides should not exceed 26 feet.
Sound a bit too regimented? In a nutshell, just plan to have your sink, cooker and fridge in a triangle formation that's neither too big nor too compact. The bottom line is aim for functionality first, aesthetics second.
2. Light it up and ventilate
Sticking with the functionality first theme, this next hack relates to the lighting and ventilation in your kitchen.
Unlike your bedroom, where lighting is used to create an atmosphere, your kitchen lighting should be all about practicality to ensure you have light where you will need it most. Your kitchen should also have an exceptional level of ventilation to keep the air fresh, even in the midst of fry up. Quite often, overhead lights and extractor fans are simply not enough.
However, nothing beats having an abundance of natural light in your kitchen. And whilst adding more windows is something that's often a non-starter due to the work, cost and wall space involved, there is another way to fill your kitchen with more natural light (and fresh air): by installing a rooflight.
Whether you require a flat rooflight, a pitched rooflight or even a lantern rooflight. If you're choosing a rooflight for your kitchen, opt for one with manual or electric opening vents, or a rooflight that opens up completely,  to keep the air fresh and easily disperse of any cooking smells.
3. Keep appliances in the same place
Our next kitchen design hack is one that will save you a significant amount of money when rejuvenating an existing kitchen. You see, whilst it can be tempting to want to move your appliances around, doing so will cost you a chunk of cash.
Moving the utilities your appliances rely on will require you to hire a professional and put your kitchen through some serious surgery, which will inevitably include cutting the floor/walls. That's why, if you can, try and leave your main appliances where they are when you are undertaking a kitchen redesign.
There's no reason you can't replace old appliances with new ones and give your kitchen a facelift, but really do consider the cost implications of moving them.
4. Consider refreshing old cabinets
If your existing kitchen cabinets and cupboards have seen better days, don't immediately decide you need new ones. A lot of the time, old cabinets and cupboards can be restored to their former glory simply by replacing handles and applying a fresh coat of paint or varnish.
For a small investment, you can benefit from cabinets and cupboards that look good as new. Moreover, the money you've saved can be splurged on some of the little kitchen luxuries you want.
5. Don't ignore your floor
Whilst it might not seem like a big decision, your choice of kitchen flooring is actually very important because it has safety, functionality and cost implications. That's why we've decided to focus on kitchen flooring for our final design hack.
Your kitchen is a high foot traffic area – especially by your sink, cooker and fridge – so durability is a big factor. Then there's the fact that water spills often occur in kitchens, which makes the floor slippery, creating a greater accident risk. You'll also want flooring that can be easily swept and/or wiped clean if something gets spilt on it.
In other words, you want a kitchen floor that is durable, non-slip, low maintenance and easy to clean.
Everything depends on your budget and personal preferences. Natural stone looks good and is hard wearing, but can be expensive. Ceramic tiles are a cheaper option and whilst they are easily cleaned, they can be slippery when wet. Wooden floors also look the part, but like ceramic they can get slippery if water is spilt on them. Furthermore, wooden floors require ongoing maintenance to keep them durable and looking good.
If you have a basement or another room located beneath your kitchen, adding a walk on rooflight with a non-slip textured coating into your flooring will really help to introduce the wow factor. It comes with a touch a practicality too, as it will help to channel natural light through to the room below.
Are you considering buying a rooflight or roof lantern for your home? If you are, call Roof Maker on 0116 269 6297. Our rooflight experts will help you to choose the right solution for your needs.