Roof lantern blinds are the perfect complement to your roof lantern and give you more control over your space in terms of light, heat and privacy.
What do your roof lantern blinds look like?
Our roof lantern blinds are made from pleated fabric in a choice of neutral colours.
The blind is installed in the recess in your ceiling, just below the roof lantern. When you close the blind, it extends horizontally across the recess, passing underneath the roof lantern.
The blinds are supported by a three-cord system that keeps them taut and prevents any movement or sagging.
What are the benefits of roof lantern blinds?
With their three-dimensional shape and angled glass, roof lanterns catch the sun from any direction. This channels sunlight down into your space all through the day. And, at times, you may find the glare and heat from the sun gets too much.
Roof lantern blinds give you the option to dim or block out the sunlight, to reduce glare and keep your space cooler. They also minimise noise from outside for a quieter and more peaceful space.
The motorised blind can be closed, fully or partially, at the touch of a button, so you can control the amount of light coming in. This also gives you instant privacy if your roof lantern is overlooked.
On colder days, closing the blind can help to retain the heat in the room, which will help you save on your energy bills.
How much shade do roof lantern blinds give?
The blinds can be made in a choice of fabrics, which offer two different levels of shading.
Choose from Dim-out, which dims and softens the light coming into your room, or Blackout, which blocks it completely.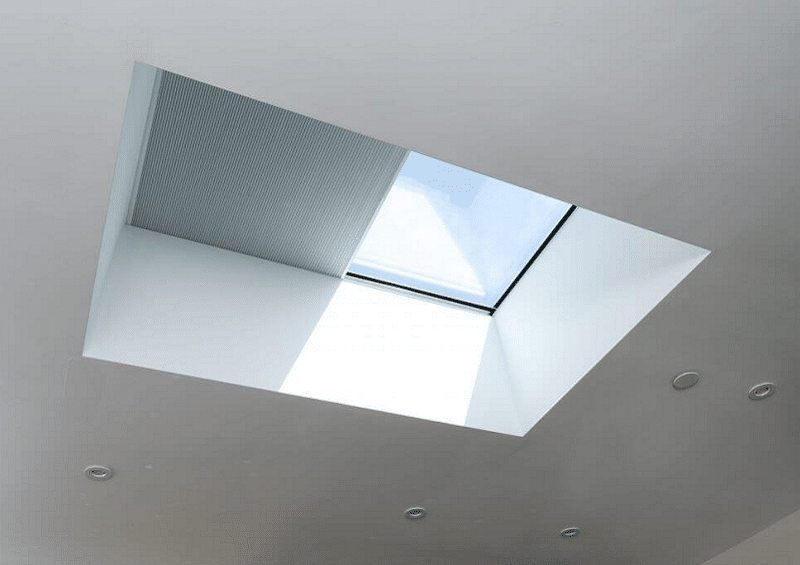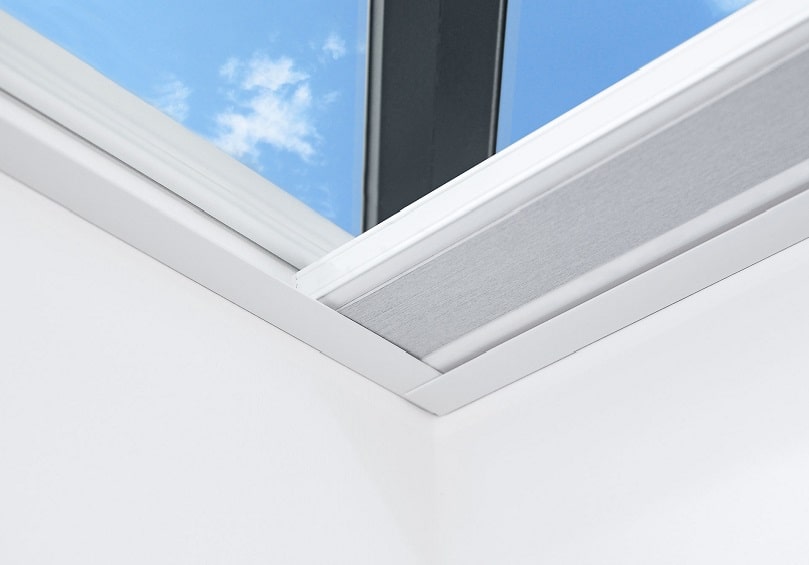 What sizes do your roof lantern blinds come in?
Our roof lantern blinds are made to order and can be made to whatever size you need.
That applies whether you're ordering new roof lantern from us,or would like a blind for your existing roof lantern.
The blind you need will be the same size as the dimensions of the recess in your ceiling, underneath the roof lantern.
What colour choices are there?
Our roof lantern blinds are available in a choice of neutral colours that will complement the colour scheme in your room.
Choose from:

How do your roof lantern blinds open and close?
Our electric roof lantern blinds extend and retract using a three-cord system. This guides the fabric, keeping it taut and holding it firmly in place.
They're operated with the touch of a button, which gives you total control. You can extend the blind fully or partially depending on how much of the roof lantern you want to cover.
There are three power options to choose from:
Battery-operated remote control
Solar-power with back-up battery
Mains power with a wall-mounted switch.
Are your blinds suitable for any roof lantern?
Our blinds can be retrofitted under any of our roof lanterns.
To make your blind, we'll need the dimensions of the recess in your ceiling, underneath your rooflight. It's important to measure this accurately to ensure your blind gives full coverage.
You'll also need to choose the level of shading you want, from Dim-out or Blackout; the colour of the fabric; and how you want your blind to be powered.
For retrofit blinds, we offer a retrofitting service. If you would like more details, call our friendly team on 0116 269 6297.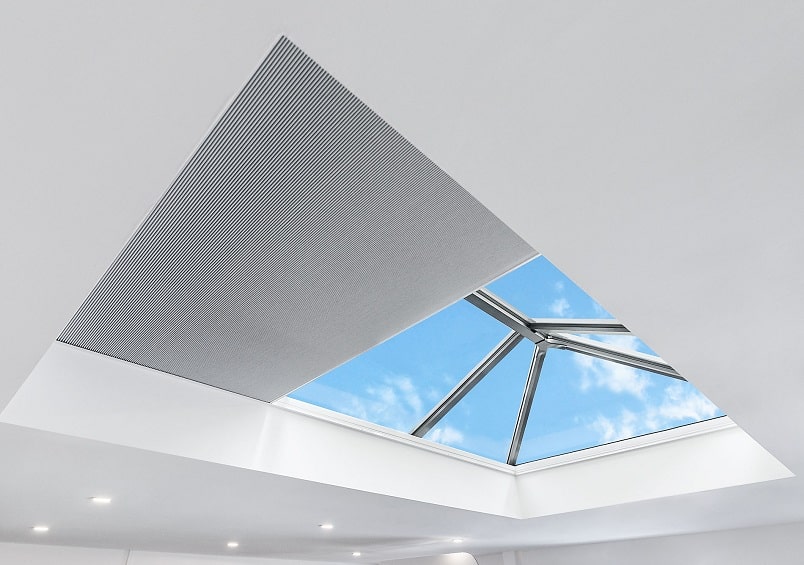 How much do electric roof lantern blinds cost?
The cost of our electric roof lantern blinds is variable, but it's easy to get a quote when you've decided what you need.
First, you'll need to:
Measure the size of the recess in your ceiling and record the dimensions
Choose your blind fabric (Dim-out or Blackout)
Choose your colour (Snow, Latte, Oyster, Ash)
Choose your power option (battery, solar with battery, mains)
Decide if you need our retrofitting service.
Once you have this information, contact our sales team by calling or emailing

[email protected]
How do I get my roof lantern blind fitted?
If you're taking delivery of a new roof lantern with a blind, the blind rails will already be fitted to the base unit. The fabric blind will be sent separately and can be clipped onto the blind rails once your roof lantern has been installed.
If you'll be retrofitting the blind to your existing roof lantern, the best way is to use our retrofitting service. To find out more, call our team on 0116 497 1242 or email [email protected]
Can I fit the roof lantern blind myself?
If you'd prefer to fit your roof lantern blind yourself, we provide components and documentation.
You can read more about the assembly and installation on our technical documents page.