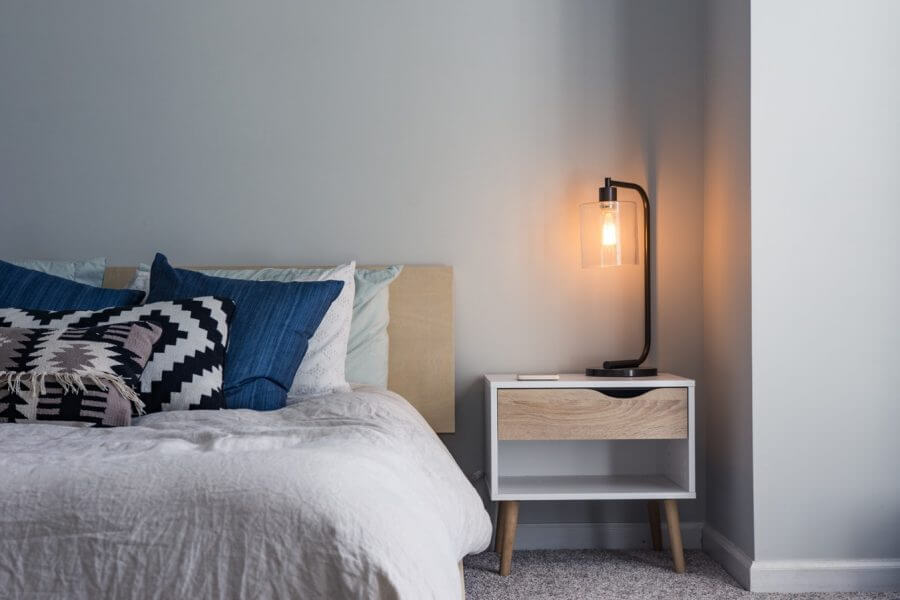 5 Tips For Planning Bedroom Lighting
Lighting is an important consideration throughout your entire home. That's because it not only impacts your energy consumption and power bills, but it also affects your mood, productivity, mental wellbeing and energy levels.
Of particular importance is the amount of natural light entering your living environment. Numerous studies have shown how natural light benefits everything from your body's vitamin D storage to the amount of sleep you get each night.
In fact, one study showed how natural light boosts the health of office workers. It found that workers who had windows in their office had better quality sleep, slept for longer, exercised more and had a better overall quality of life than those whose offices had no windows.
The bottom line is that light – especially natural light – affords lots of benefits, which is why your home lighting decisions should never be hasty.
Now whilst you will probably want a lot of light in your kitchen, your bedroom is likely to be a different story altogether. But what should you focus on?
Here are our top tips for planning bedroom lighting:
1. Multifunctional
First and foremost, don't forget that your bedroom is much, much more than just a place where you sleep. In fact, because modern homes are often more compact than their traditional counterparts, the bedroom plays a multifunctional role within the home, acting as an intimate space for sleeping, relaxing and connecting.
This reality is something that requires us to give a little more thought to our bedroom lighting considerations. For example, your bedroom may also double up as a mini study, which means you'll need ample light to work in. Then there's the light needed to fold and put away clean clothes – you don't want to be doing that in dingy light, after all.
Obviously, though, your bedroom still needs to retain its cosy, calming, comforting nature. My gosh, so much to think about!
2. Plan for convenience
The last thing you want to have to do when you're almost asleep is get out of bed and turn the lights off. This is especially true during the winter (it's coming) when your duvet is acting like a warm cocoon, encasing your body and protecting you from Jack Frost's icy touch.
Therefore, convenience is a must when you're planning bedroom lighting. Bedside lamps that afford enough light for reading and can easily be switched off with an outstretched arm are a great way to boost the convenience of your bedroom lighting.
Dimmer switches located close to your bed are another effective solution that allows you to control the amount of light in the room, without even needing to get out of bed.
Or, if you are going to have a rooflight in your room, fitting it with an electric blackout blind means that you can leave the remote control by your bed – so you can open it for natural light or close it when you're ready to sleep without having to poke a single toe out from under the duvet.
3. Layered lighting for different areas
As we've already mentioned, modern bedrooms serve many purposes, including lounging, exercising, working, reading, watching TV. As a result, you really need multiple layers of light to fill different areas.
There are three aspects to consider here: ambient lighting, task lighting and accent lighting.
Ambient lighting refers to the general amount of light needed in a room to enable you to move around in it safely. It is achieved using overhead lighting, floor lamps and table lamps.
Task lighting is the lighting needed to carry out particular activities in your bedroom, like working, exercising or putting on make-up. The key is to throw the right amount and the right type of light into the space you are carrying out said task in. For example, light from bulbs will suit most tasks, but natural light from windows or rooflights will help to make sure make-up is done right and show up true colours of clothing when deciding on an outfit.
Accent lighting is what gives rooms their atmosphere. Illuminating a piece of artwork, adding a subtle glow under a bed or brightening up a window with some fairy lights are all examples of accent lighting.
4. Maximise natural light and air
During the day, you want to allow as much natural light and air to enter your bedroom as possible. Draw back your curtains, open the windows (providing it's not freezing outside) and allow your bedroom to freshen up.
Brighter rooms with lots of natural light make us feel happier, more energetic and generally more vibrant. The problem with bedrooms, though, is that both privacy and security can sometimes be issues, and people are reluctant to leave windows and curtains/blinds open for prolonged periods of time.
If you are considering fitting a rooflight but privacy and security are issues – no problem. There are a range of solutions to help. Such as adding a privacy tint to the glass in your rooflight or choosing Security Performance toughened glass which makes it more difficult for intruders to break through.
Roof Maker have solutions to fit all requirements and budgets. Whether you need flat rooflights, pitched rooflights or elegant roof lanterns, we've got you covered. Many of our products even come with built-in rain sensors and remote controls, affording you both peace of mind and ease of use – perfect for bedroom applications.
5. Selecting the right light bulbs
If you think all light bulbs are created equal, think again. Both a light bulb's brightness and colour temperature have the ability to affect your mood and the way you function.
When choosing a light bulb, there are two factors to consider: lumens and colour temperature.
Lumens have taken over where watts left off, becoming more popular with the advent of more energy efficient lighting such as CFLs and LEDs. While watts tell us how much energy a particular bulb uses, lumens refers to the level of brightness. While it varies from room to room, the total suggested lumens for a bedroom ranges between 2000 and 4000.
Colour temperature, as its name suggests, refers to the colour temperature of a bulb. In other words, its appearance or tint. While most light bulbs emit a white light, this ranges from warm to cool.
As a general rule, warmer temperatures are more calming, relaxing and inviting – making them an ideal choice for bedrooms. Cooler temperatures, on the other hand, are general used in places where concentration is important, such as schools, offices and hospitals.
The tips above have only really scratched the surface when it comes to bedroom lighting. Nevertheless, we hope they have given you plenty of food for thought.
Are you considering buying a rooflight or roof lantern for your home? If you are, call Roof Maker on 0116 269 6297. Our rooflight experts will help you to choose the right solution for your needs.