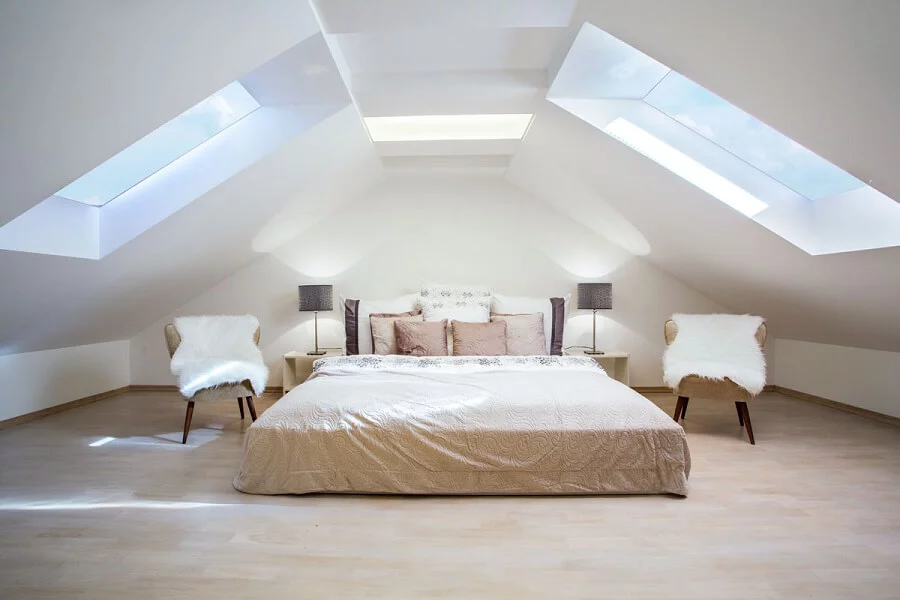 How to create the ultimate roof room for your home
A loft conversion, or a roof room as they're also known, is a fantastic way to add some extra space to your home. Roof rooms are often a quick win because they can be turned around in a relatively short period of time, are significantly cheaper than other types of extension and allow you to maximise wasted space. And it is usually wasted space, let's face it – boxes of Christmas decorations or bags of old clothes shoved up in the loft space.
Find a new home for your Christmas decorations and get those old clothes down to the charity shop, so you can start utilising your loft space to its absolute fullest.
Follow these top tips to create the ultimate roof room for your home:
1.     Check if you need any planning permission
Normally, loft conversions only require planning permission if you are going to significantly alter the exterior appearance of your property. Chances are you're not going to do this, but it's always better to be safe than sorry.
A quick call or visit to your local planning authority (LPA) should provide the reassurance you need.
2.     Define a budget (and stick to it)
As with any building project, a loft conversion requires a budget. Whilst it will often be less than many other types of work, it's important that you stick to the budget you set. Focus on getting the actual room finished first before you start looking at all the goodies you want to put in it. Some people get carried away and spend too much on furniture, fixtures and equipment before the actual roof room is completed. Doing so could leave yourself short for the actual conversion.
3.     Consider access
Your existing loft is probably accessed via a pull-down ladder or set of steps. Your new roof room, however, will almost certainly require a bespoke set of stairs. This is a big consideration as space is often at a premium.
Furthermore, you can't just stick a set of stairs anywhere. You need to think about how exactly you'll enter the roof room. After all, it's never nice to hit your head, right? That's why the location of your new stairs is actually pretty important, especially as it will also impact the floor (storey) below.
4.     Let there be light (and ventilation)
Lofts are naturally dark and gloomy, and just because you've converted yours into a room, it won't change that reality. Fortunately, plenty of natural light and air can be let in by installing a high-quality rooflight (or two).
The beauty of rooflights is that they can be installed with little disruption. Rooflights also allow significantly more natural light into a roof room than traditional vertical windows. If noise from rain or other outside causes is a concern, you can also opt for acoustic performance glazing to reduce noise pollution.
Moreover, the range of designs, choice of glasses and low Ug-values mean that rooflights are an all-round, affordable solution.
5.     Prepare to be disrupted
Whether you like it or not, a certain amount of disruption is part and parcel of having some building work done – and that includes a loft conversion. Let the professional builders get on with their jobs in peace and resist the urge to bother them every five minutes unless it's to offer them a fresh cup of tea.
Be prepared ahead of the project start date by removing everything from your loft and laying down the necessary protective covers on your floors and walls. Your builders do not want to turn up to start work and find that the space isn't ready.
Are you considering converting your own loft into a roof room? If you are, call Roof Maker on 0116 269 6297. Our rooflight experts will help you to choose the right solution for your natural light and ventilation needs. Alternatively, visit our showroom or get a quote online.