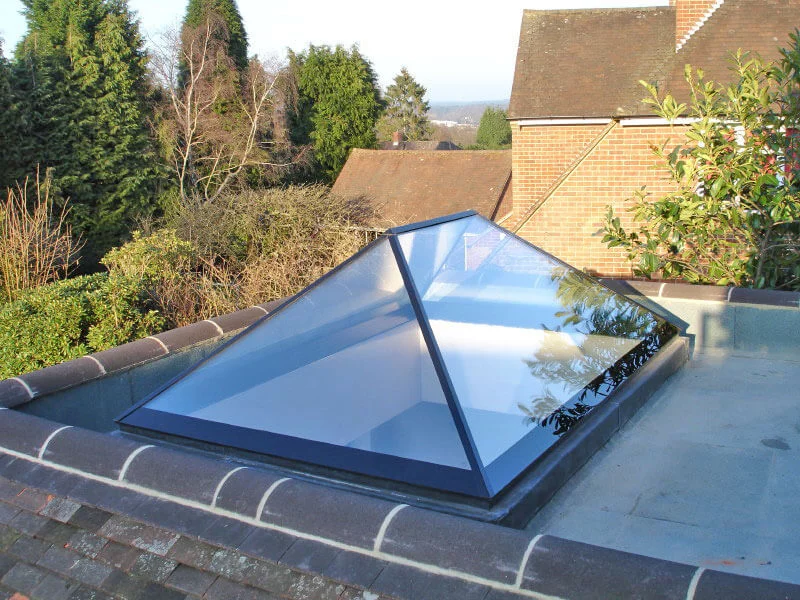 What Type Of Rooflight Glass Should I Opt For?
You've chosen the perfect rooflight for your home from our wide range and you're now being asked (among other things) what type of rooflight glass you would like. Whilst it might seem like a simple question, with a myriad of glazing choices available, it's one that some customers may feel slightly overwhelmed by because of the sheer choice.
So, what should you consider when choosing rooflight glass and how do you know which type is right for your particular needs?
Here's the lowdown:
Unparalleled quality
First and foremost, whichever type of rooflight glass you choose, you can be sure that you are getting absolute quality. That's because here at Roof Maker – unlike many other rooflight companies – we manufacture our own glass. It's known as Reflex® Glass.
With specialist ultraviolet (UV) and infrared (IR) blocking capabilities, our Reflex® Glass is manufactured to BS EN12150 standards and unparalleled in terms of quality, affording you complete peace of mind.
Did you also know that all our glass comes with a low-maintenance easy clean coating as standard? It's yet another benefit you get when you purchase a Roof Maker rooflight.
Moreover, because we make our own glass, we have total control not only when it comes to quality, but also features (few rooflight manufacturers can boast this). That's one of the reasons why we've got so many different rooflight glazing options for our customers to choose from.
But which one's right for you?
Energy
As its name suggests, our Energy glass provides exceptional thermal insulation. This prevents heat loss during the colder winter months and ensures your home is as energy efficient as possible. As a result, your home will not only stay warmer, but you'll also save on heating costs.
If you're not already familiar with Ug-values (the measure of a product's thermal insulation), check out our blog post on the subject: What are Ug-values and why are they important?
In a nutshell, the lower the Ug-value, the better the insulation.
To give you an idea of just how good our Energy glass is, a standard double-glazed window typically has a Ug-value of 2.8 W/m²K. Our tripled-glazed energy glass boasts Ug-values as low as 0.5 W/m²K (depending on your chosen product).
We've managed to achieve this outstanding thermal insulation by using an argon-filled cavity and a foam spacer to separate each pane used in our Energy glass.
Our Energy glass is ideal if you have a north or east-facing property as it will afford maximum light and heat during the morning.
Solar Performance
So we've seen how our Energy glass can effectively keep heat in. But what about when you want to keep heat out?
Beautiful summer days, whilst we all welcome them, can make the rooms in our homes uncomfortably hot and that's why we designed our Solar Performance glass.
With all the same great features of our standard Energy glass, our Solar Performance glass also has the added benefit of reducing solar gain, which is when the sun's rays heat up a space or object.
An object's ability to minimise solar gain is measured using what's known as a G-value. Again (like Ug-values), the lower, the better. Some of our products achieve G-values as low as 23%.
Moreover, just because our Solar Performance glass is good at keeping unwanted heat out, it also keeps wanted heat in, thanks to its excellent thermal insulation properties.
Our Solar Performance glass is ideal if your property faces south or west and catches heat from the sun during the hottest parts of the day.
Acoustic Performance
Nobody likes it when outside noise from busy roads, building works, etc. floods their homes and disturbs their peace and quiet. It can have a really detrimental impact on day-to-day life and, if it's constant, can really start to get you down.
Luckily, our Acoustic Performance glass has been designed to afford all the benefits of our standard glass, but with additional outside noise reducing properties. It does this by utilising laminated panes, which are a little bit thicker and spaced further apart, , which in turn reduces the frequency of sound passing through it.
Choose a rooflight with our Acoustic Performance glass and you won't even know there's a busy main road or building works there.
For ultimate noise reduction, opt for our triple-glazed Acoustic Performance glass.
Security Performance
Your home is your castle and you want it to be as secure as possible at all times. The good news is that a rooflight from us with Security Performance glass won't put a chink in your castle's armour.
Whilst all of our glazing options feature toughened glass as standard, our Security Performance glass goes the extra mile and features laminated toughened glass. Unlike ordinary glass, our Security Performance glass does not shatter on impact. This is thanks to a unique plastic interlayer that keeps the pane in one piece, even if its integrity has been compromised.
Rest assured that intruders and burglars will struggle significantly to break through out Security Performance glass, keeping you, your loved ones and your valuables safe.
Ultimate Performance
Have you ever heard of Passive House? It's not a brand name but rather a construction standard that refers to a property which can maintain a comfortable interior climate without active heating and cooling systems. In other words, a Passive House is an ultra-low energy building that requires very little (if any) heating or cooling.
Our Ultimate Performance glass has been designed with Passive House standards in mind.
You can even create your own combo
Did you know that you can mix and match (so to speak) our glass and benefit from say minimised solar gain and reduced noise? That's right! You're the boss when it comes to choosing the features that are perfect for you and your home.
Are you considering buying a rooflight or roof lantern for your home? If you are, call Roof Maker on 0116 269 6297. Our rooflight experts will help you to choose the right solution for your needs. Alternatively, visit our showroom or get a quote online.