December 12, 2021
Looking to revitalise your home with a brand-new design but don't know how? It can be difficult knowing where to start when designing or redesigning your home, but these 5 Instagram accounts are the perfect place to get you thinking about what you can do.
overatno18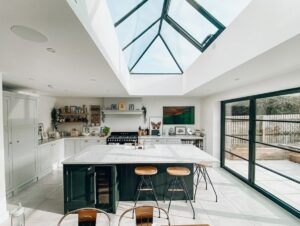 Why stop with just a splash of colour? If you want your home to really stand out, take a look at overatno18, who manage to use many different colours with natural floral patterns and house plants to create a truly unique space that is overflowing with personality and charm! If you're looking for a warm and welcoming living space to entertain guests that doubles as a snug and cosy home for a relaxing night in, we can't recommend overatno18 enough!
theroseandthewood
Back in 2019, theroseandthewood took the plunge and demolished their old home and have been sharing their journey as they build their dream home. You may not be able to start from the ground up, but one look at their gorgeous home is guaranteed to give you plenty of ideas. They have created a luxurious and spacious modern home that is nothing short of breath-taking, incorporating natural light to bring every room to life. If you're chasing that refined yet homely style, you'll be hard-pressed to find anyone who made it better!
homewithhelenandco
Do you want your home to be bursting with colour, fun, and excitement? Look no further than homewithhelenandco! Using plenty of pastel colours and pinks with bountiful house plants, colourful wall décor, and comfy furniture to invite us into their bubbly home, they are the perfect inspiration for those wanting to bring new life into their home in an exciting way!
staying_inn_southsea
Many of us who love darker colours often struggle to find the space for them in our homes, worrying that they will make our homes feel cold and cramped. But staying_inn_southsea has found a way to seamlessly incorporate them into their home with amazing results. Whilst pairing dark blues and golds for a refined aesthetic, they have flooded their kitchen with natural light thanks to large sliding glass doors and a Slimline roof lantern to keep that spacious and comfortable feel you don't want to lose.
interiordesignsnorfolk
For our last source of inspiration, we are heading over to Norwich where interiordesignsnorfolk has been constantly building, renovating, and styling their home. Currently on home number 28, they have tonnes of experience, and it shines through in their designs. Their current project is a sophisticated contemporary property that elegantly blends blacks, greys, and whites for a refined space that is both welcoming and smart – a balance that is incredibly difficult to strike.

Did you find something that gets you thinking about the potential in your home? Whether you're excited to design a home bursting with colour or a refined and sophisticated space, natural light goes a long way in bringing your home to life. At Roof Maker, we are experts in creating the perfect rooflight for your home. Contact us today by calling us on 0116 269 6297 or email us at [email protected] and our team will be happy to help.

Tags: Flat Roofs, Roofing, Rooflights