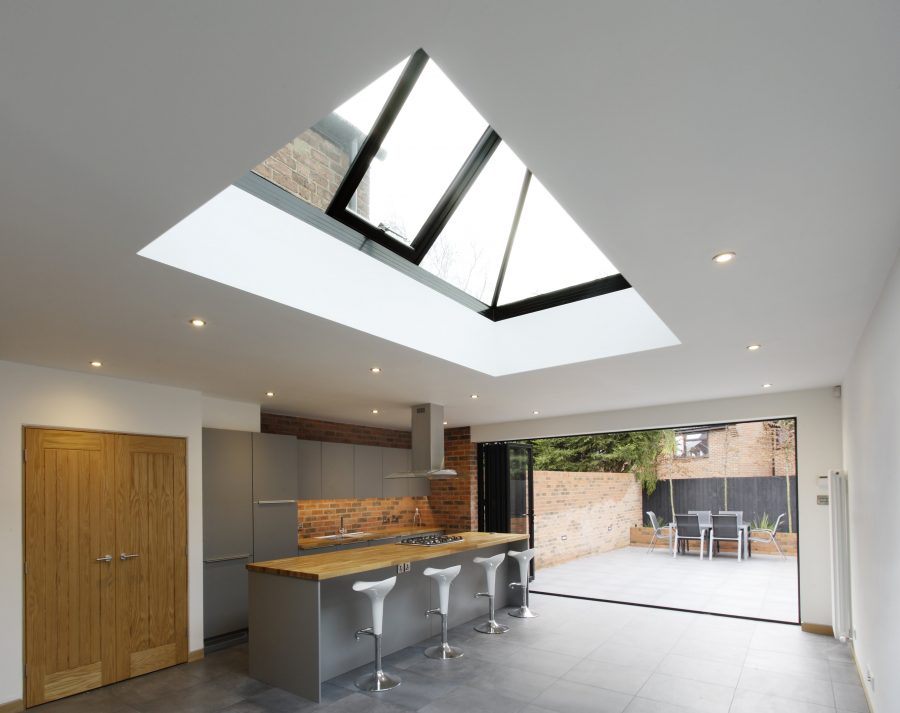 5 Ways To Fill Your House With Fresh Air This Summer
Summer is just around the corner and that means the weather will soon be fine enough to open up your home to the elements a little and let in some much needed fresh air. In fact, according to the Met Office, temperatures this summer are likely to be above average, meaning the UK could be basking in sunshine over the next few months.
But besides flinging open your windows or leaving your backdoor ajar when you're at home, how else can you fill your house with fresh air this summer?
Here are five ways to give you some inspiration:
1. Bi-fold doors
Another way to increase the amount of fresh air in your home this summer is with a set of bi-fold doors, which many customers have installed to compliment their skylights for a modern and airy home.
With the ability to be open on airy summer days, bi-fold doors are the perfect choice for homeowners who want to create a seamless boundary between their house and their outdoor space.
The nature of bi-fold doors means that they allow more fresh air to enter your home than traditional doors. They are also great for letting more natural light into your home too.
2. Slide-opening doors
For properties where space is at a premium and every centimeter counts, slide-opening doors are a great choice. That's because their unique design means they do not encroach on a property's living space when they are opened.
Available with attractive frames and in sleek styles, slide-opening doors are another stylish way to allow more fresh air into your home. Furthermore, like their bi-fold door cousins, slide-opening doors are robust and strong enough to provide the security your home needs.
3. Trickle vents
Trickle vents provide an effective way of allowing air to slowly trickle into your home, without the need to open a door or window. They are simply tiny openings in doors and windows that allow fresh air to flow into a home. This makes them great for the summer when you want your home to fill with fresh air, but cannot leave a door or window open because there's no one at home.
Just be sure to close any trickle vents you have installed in doors and windows during the winter to prevent draughts and unnecessary heat loss.
4. Vented roof lanterns
Roof lanterns are one of the most stylish, eye-catching ways to allow plenty of natural light into your home. But did you know that they can also be manufactured and ordered with vents to allow fresh air in too?
That's right! Our Slimline® roof lantern can be ordered with manual or electronic double-glazed vents as optional upgrades, including an option with a climate control and rain sensor that automatically does the opening and closing for you. This makes them perfect for kitchens, extensions and living spaces. All you need is a flat roof!
With easy clean glass as standard and available flat packed, fully assembled or installed by us, a vented roof lantern from Roof Maker could be the perfect addition to your home this summer.
5. Opening rooflights or vented roof lanterns
If you're not sure whether a vented roof lantern is right for your home, we've got a bunch of other products that can also help fill your home with fresh air this summer.
Take our hinged-opening pitched skylights,  hinged-opening flat rooflights and slide-opening flat roof lights, for example. These opening rooflights are perfect for rooms where you need maximum light and ventilation.
With electrical operation, our opening skylights can be controlled at the touch of a button. Plus, the free rain sensor that comes with some of our electric openers means you'll never need to worry about the weather taking a turn for the worse again.
Like the idea of a roof lantern, but want more of an opening than that provided by a vent? You need one of our slide-opening roof lanterns. Operated by remote control, these sliding roof lanterns afford all the aesthetic benefits of a standard roof lantern, but also slide open to allow fresh air to fill your home.
Are you considering buying a rooflight or vented roof lantern for your home? If you are, call Roof Maker on 0116 269 6297. Our rooflight experts will help you to choose the right solution for your needs.