But which option is best for you and will give you what you really need?
In this article, we'll go through some of the considerations to help you with those key decisions.
But let's start by looking at the differences between a conservatory and an extension.
Conservatory vs extension — what's the difference?
What is a conservatory?
A conservatory is usually added to the rear of your home, overlooking the garden.
A typical conservatory:
Is single storey and built at ground level
Has a floor space no larger than 30 square metres
Is separated from the house by an external wall/door/windows
Has walls that are at least 50% glass
Has a roof that's 75% glazed or translucent.
Following this configuration makes the installation easy and means the conservatory will be exempt from some building regulations, which helps to keep the cost down.
What is a home extension?
An extension is integral to your home and is designed to be part of the existing space. Because it's part of your building, the space is more versatile and can be used in more ways than a typical conservatory.
Large extensions can be dark if there's limited space for windows. But adding skylights can flood the area with natural light, creating a bright impressive space the whole family can enjoy.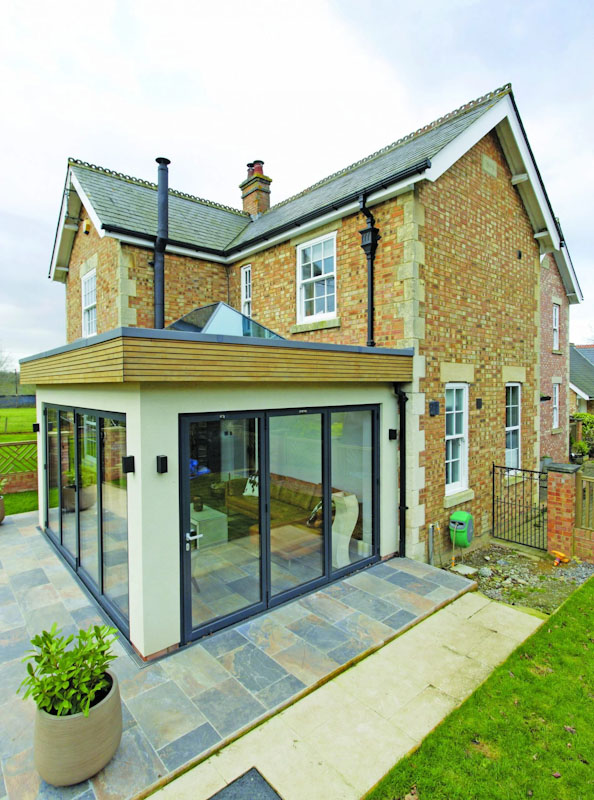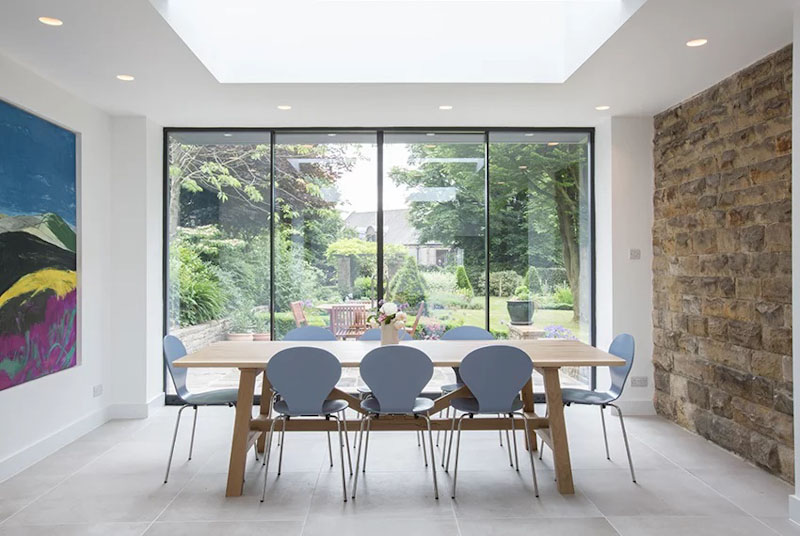 Planning your conservatory or extension
Before we start our conservatory vs extension comparison, there are some basic questions you need to ask yourself.
How much do you want to spend?
Is a conservatory cheaper than an extension?
Short answer, yes, but it may not offer the same flexibility. We'll come to that later.
According to Household Quotes:
The starting price for a 35-square-metre Victorian style conservatory, with no base and a polycarbonate roof is around £6,250
The cost could go all the way up to around £17,500 for a conservatory of the same size and style with a glazed roof and a wooden frame
The final price will be based on a number of factors including the floor size, style of conservatory, wall type, glazing and frame material.
Because a conservatory is a complete product, you'll usually get a fixed price upfront.
The cost of an extension
An equivalent sized single-storey extension would start at around £35k. This figure includes VAT, but is just for the building shell. It doesn't include any of the fixtures and fittings, such as windows, skylights or flooring.
Depending on your plans, there may also be an additional outlay for any planning applications and architect services.
However, an extension will offer you much more potential in terms of how you can use the space.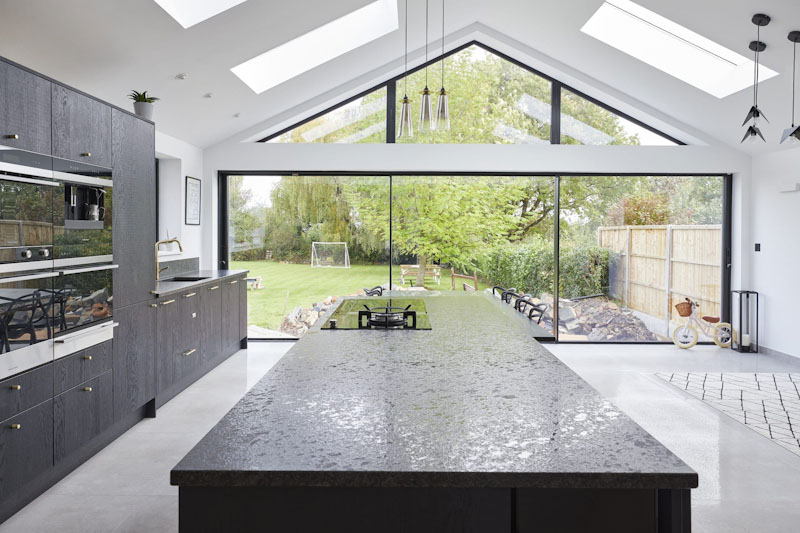 How do you want to use the extra space?
How to use a conservatory
Conservatories are typically used as playrooms, dining rooms and garden rooms. They offer a bright space, with lots of natural light and views of your garden.
But they're unlikely to be suitable for use as a kitchen, bedroom or bathroom because they're not typically functional spaces.
Many conservatories are not even classed as habitable rooms, because they don't:
Comply with building regulations
Provide enough privacy
Have the necessary functionality
Maintain a comfortable temperature.
And because they're mostly glass, there's limited wall space for storage.
An extension with skylights
An extension is a continuation of your existing living area.
This makes it a more versatile space, which could also be used as a kitchen/dining room or open plan living area. You could even use your extension for an extra bedroom or bathroom, which could be ideal if you have a growing family.
Including skylights in your design will give you a comparably bright and impressive space that makes the most of the natural daylight.
Where will your conservatory or extension be built?
A conservatory is typically a single-storey construction, added to the ground floor and usually facing into the garden of your property.
An extension could be built on any side of your property, providing you have space and planning permission. And it could allow you to extend your property upwards as well as outwards.
Will you need planning permission?
Both conservatories and extensions may be classed as permitted developments, which means they may not need planning permission.
But it's your responsibility to check this before starting any work.
If you don't get the planning permission you need, you may be forced to take down your build at your own expense.
To check if you need planning permission, consult your local council.
What's the timescale?
If you do need planning permission, this could take at least a couple of months to be granted, so you'll need to allow for that.
How long to build a conservatory?
Conservatories are a more standardised product, so they tend to be an easier build. And because they're an add-on to your home, most of the construction work is done outside, causing minimal disruption.
According to Checkatrade, installing a conservatory takes around 3–4 weeks.
How long to build an extension?
An extension is a more complex construction, which is subject to more building regulations. And because it's integral to your home, there will be more disruption and dust to contend with.
Constructing the shell of a single-storey extension takes around 8–10 weeks. And you'll need to allow extra time for adding the fixtures, fittings and finishings.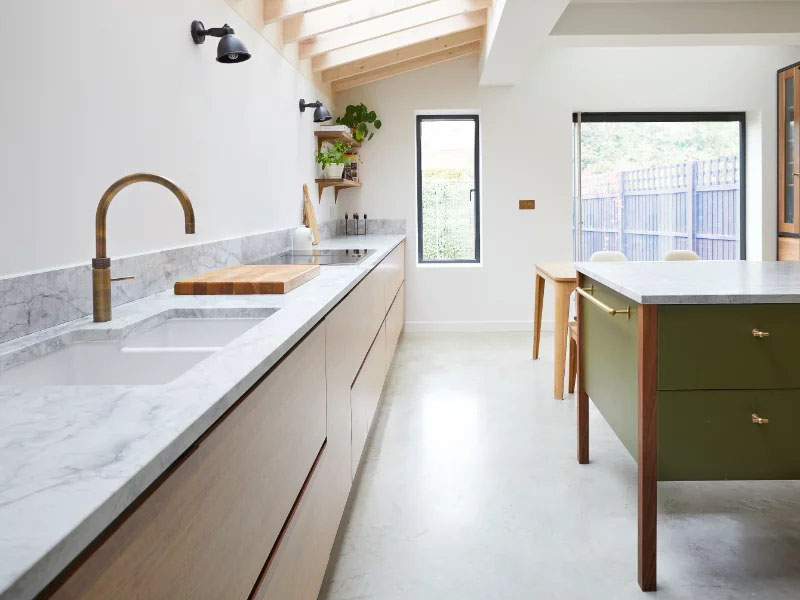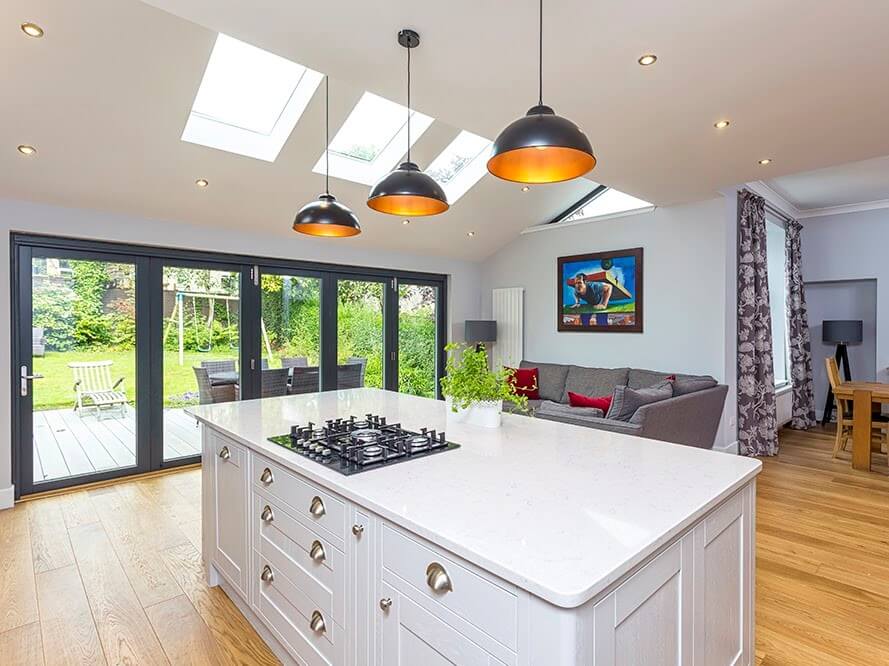 Conservatory vs extension
Now we've looked at the planning side, let's compare conservatories vs extensions on some of the things that really matter.
Added value
How much value does a conservatory add to your home?
A conservatory could add anything from 5-12% to the value of your home. But the actual percentage will depend on where you live, the quality of the conservatory and how well it fits the style of your property.
How much value does an extension add?
Extensions with skylights have become highly desirable and can add a real wow factor to your home. You could use your extension to create a large bright open-plan living area. Or transform your loft or garage into habitable living space.
The value an extension can add will vary, but this tool from the Office of National Statistics could help to give you some idea.
As an example, a loft conversion with pitched rooflights could add around 15% to the value, while converting a garage into a bedroom with ensuite, could add up to 20%.
If you have questions about adding value with a conservatory or extension, it's a good idea to talk to a local estate agent. They will be able to tell you how such changes have increased the value of similar properties in your area.
Structural integrity
Conservatories are exempt from some of the building regulations that apply to full extensions. This means they're never going to be quite as strong or robust as a built extension.
Durability
How long does a conservatory last?
The life expectancy of a conservatory is generally accepted as anything between 10 and 20 years. But the true figure will depend on a number of factors, such as the quality of the build, the materials used and how well it's maintained.
How long does an extension last?
An extension has the same lifespan as any residential building, which is normally between 70 and 100 years, if it's cared for and well-maintained.
Windows and skylights typically have a warranty of between 10 and 20 years, but the actual lifespan can be much longer.
All Roof Maker skylights come with a market-leading 20-year unit seal warranty, plus a wide range of other benefits.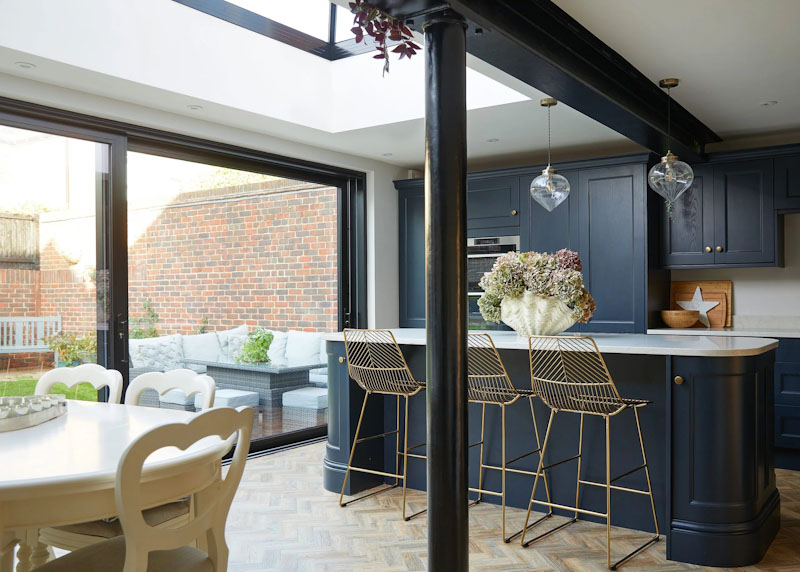 Temperature regulation
The rising cost of energy is a concern for most people. If you're getting a conservatory or extension, you want to be sure it will stay warm/cool without costing a lot of extra money.
Conservatory temperature regulation
One of the common complaints with conservatories is that they're freezing cold in winter and boiling hot in summer. If you can't maintain a comfortable temperature, it will be impossible to use the space all year round.
The best way to resolve these problems is by upgrading your conservatory. Choose high quality insulated glazing and tinted/coated glass that helps to repel intense heat from the sun. You can also insulate and tile the roof, though this will mean losing some light.
Upgrades like these will obviously cost more money, so you'll need to research what you'll need and adjust your budget.
Extension temperature regulation
It's easier to maintain a comfortable temperature in an extension, because the walls and roof can be insulated.
And if you opt for skylights, they can be insulating, too, with double or triple-glazed panels that help to stop heat escaping and keep your energy bills down.
In warmer weather, solar control glass prevents an uncomfortable build-up of heat.
Noise insulation
Conservatory noise
Polycarbonate conservatory roofs offer little in the way of noise insulation. When it rains, it can sound like rocks hitting the roof.
There are better options available, including insulated glass and tiled roofs, but these will be more expensive and often require further building regulations.
Skylight noise
Noise can also be a concern if you want to add skylights to your extension. But there are effective ways to reduce outside sounds, including rain noise.
For example, you could opt for triple-glazing, which has an extra layer of glass. Or there's the option of specialist acoustic glazing, which uses thicker panes of laminated glass with more space between the layers.
Maintenance
Both conservatories and extensions perform better and last longer when they're properly maintained.
As with any building, maintenance includes cleaning the glass, oiling the window/door mechanisms, removing moss and debris, and keeping the gutters and downpipes clear.
Roof Maker skylights come with an easy clean coating as standard. The coating uses the sun's rays to break down dirt on the surface of the glass, so the rain can wash it away. It doesn't eliminate the need for manual cleaning completely, but it does help to reduce it.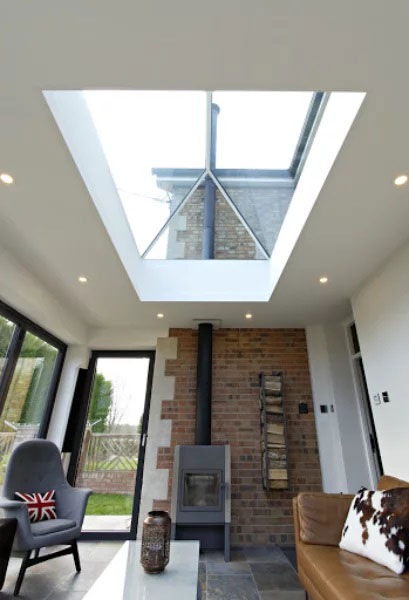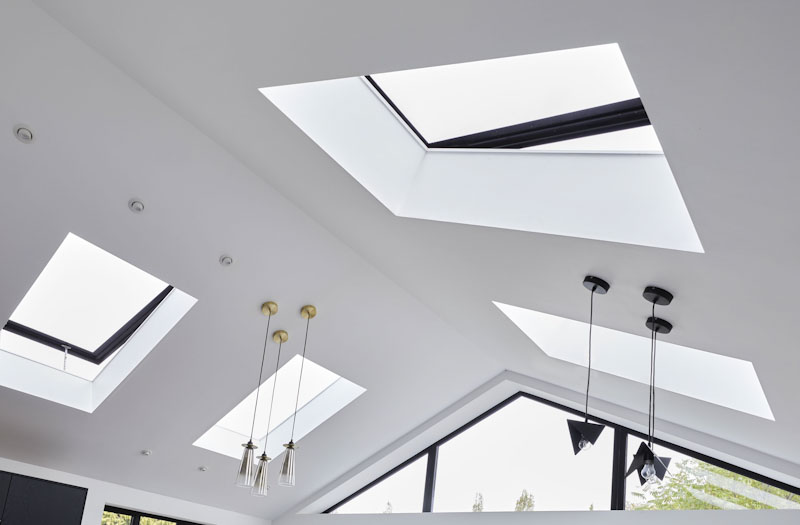 Considering an extension with skylights?
If you've seen the photographs on Instagram and Pinterest, you'll know the wow factor an extension with skylights can bring to your home.
And if you want to learn more about how it works in a practical sense, you can take a look at our client case studies and hear from people who've been there and done it.
Roof Maker designs and manufactures stunning skylights that illuminate your home with natural light and create elegant functional living spaces. From enviable kitchen/dining rooms to beautiful bedrooms and bathrooms.
Browse our range online or contact the team for expert advice, information or quotations.
Call us on 0116 629 6297 or email [email protected] and we'll be happy to answer any questions and give you the expert advice you need.