The trend for extending
In 2021, The Times reported that a record number of planning permissions had been approved. The article revealed that more homeowners are choosing to stay put and extend their existing properties than move to somewhere bigger.
It's a trend that's set to continue. According to RISA, an independent inspection body, around 15% of UK homeowners are planning extensions in 2022.
Why consider extending your home?
Extending your home could be an ideal solution if you need more living space, but would prefer to stay in your current home and location.
A well thought out extension will increase the value of your property and could even work out cheaper than moving.
Why choose a single-storey rear extension?
Single-storey extensions are usually the cheapest to build, which means you can make a big difference to your home for a smaller investment. Getting planning permission for this type of extension also tends to be easier.
Rear extensions are popular because they usually face onto the garden and are a good way to bring your indoor and outdoor spaces together.
Large windows, garden views and lots of natural light create a sense of bringing the outside in. Connecting with nature in this way makes your living space feel peaceful, bright and welcoming.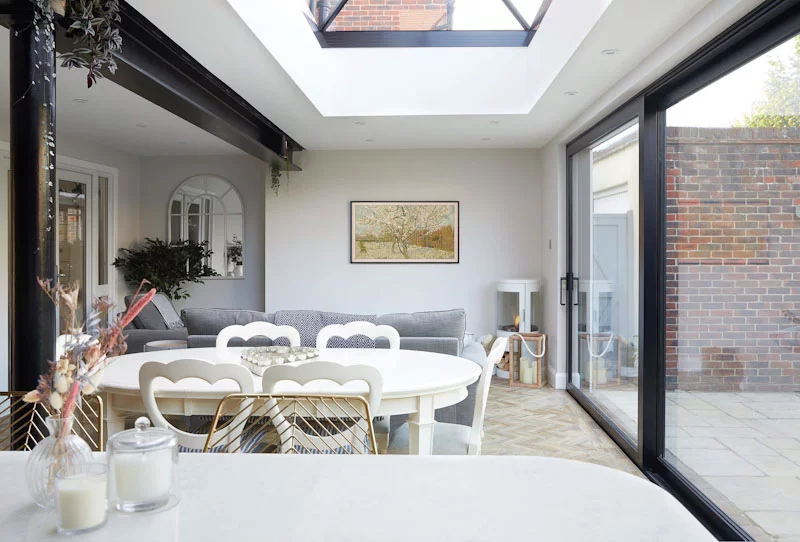 How to use your single-storey rear extension
A built extension is often preferable to a conservatory or lean-to because it's more versatile and can have infinite uses. However, the potential for a single-storey rear extension can sometimes be more limited.
When an extension is on the rear of the house, it's often the only room that has access to the garden. And that might not be practical if you want to use it as an extra bedroom or bathroom.
The value of communal space
The most valuable space in a home is the communal space, where all members of the household can come together. This includes rooms like kitchens, dining rooms, lounges and family rooms.
And there's a particular trend for using rear extensions as multifunctional spaces. For example, combining a kitchen, dining and living space could be ideal for families who want to spend more time together, even if they're all doing different things.
This also makes an effective entertaining space, where you can be cooking in the kitchen and still spending time with your guests.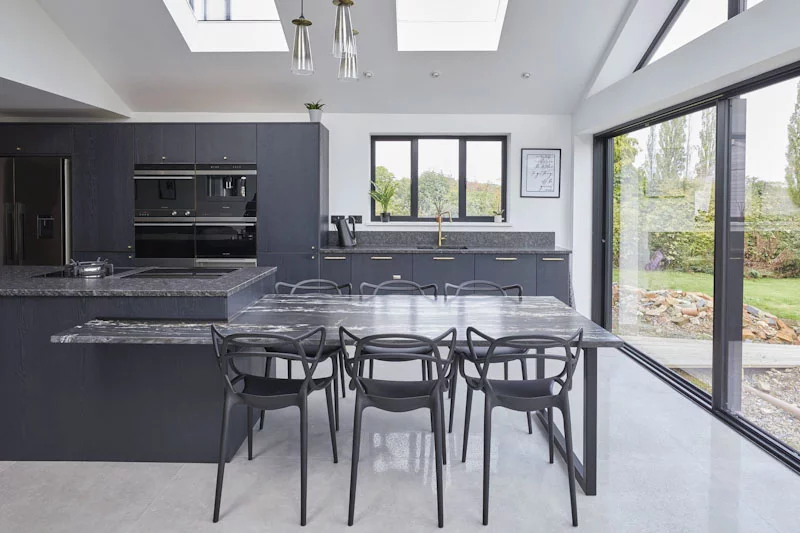 Single-storey rear extension ideas
The most enviable rear extension designs you see on the likes of Pinterest and Instagram are bright modern spaces, flooded with natural light.
This effect is achieved by installing skylights or roof lanterns, which channel sunlight into the room from above.
Skylight and roof lantern ideas
There are a number of different options you can choose from, depending on the the style of roof you're planning and the look you want to achieve.
Flat skylights
Flat skylights are designed for flat roofs. They can be fixed, or with a hinged opening mechanism if you also want ventilation.
If your extension has a more rounded shape, you might prefer a circular rooflight, like the O-Lite, for example.
And if you want a larger area of glass, modular rooflights can provide that.
Pitched roof skylights
Pitched roof skylights are designed for pitched roofs that slope. Like flat skylights, they can also be fixed or with a hinged opening to let in fresh air.
Roof lanterns
Roof lanterns create a stunning architectural feature on your flat roof. Their three-dimensional shape adds height to your room, creating a bright and spacious feel. And the pitched glass panels channel light into your room throughout the day.
Pyramid skylights
As the name suggests, pyramid skylights have a pyramid shape. These skylights are designed for flat roofs and have angled glass that draws in light from all directions.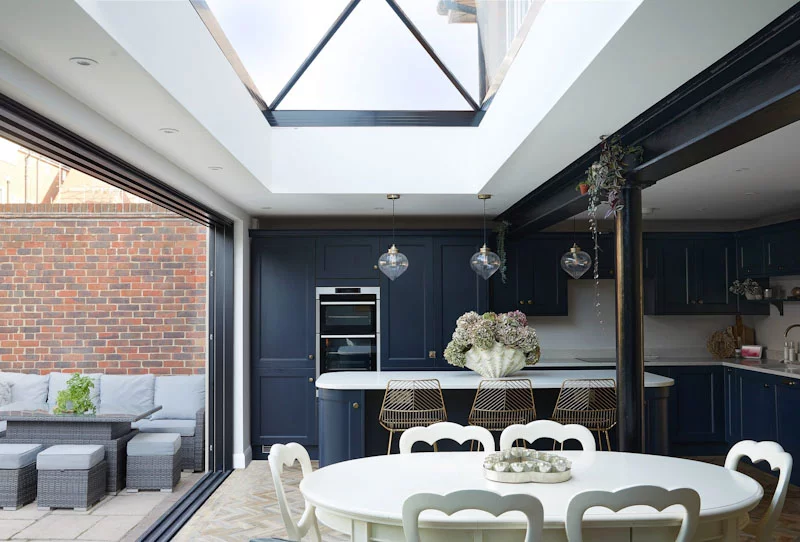 Extension roof ideas
Conventional flat roofs are the cheapest and quickest to build for single-storey extensions. But they're not the only option.
You might find an alternative roofing option is more suited to your property or will give you a better result.
Green roofs
Green roofs, or living roofs, are flat roofs that are planted with foliage. They're designed to create more green space — particularly in urban areas — and to encourage biodiversity.
Upstairs windows overlooking the green roof become a prime vantage point for observing passing insects and birds.
Green roofs can also incorporate skylights, which will give you sky views in your extension and fill your space with natural light.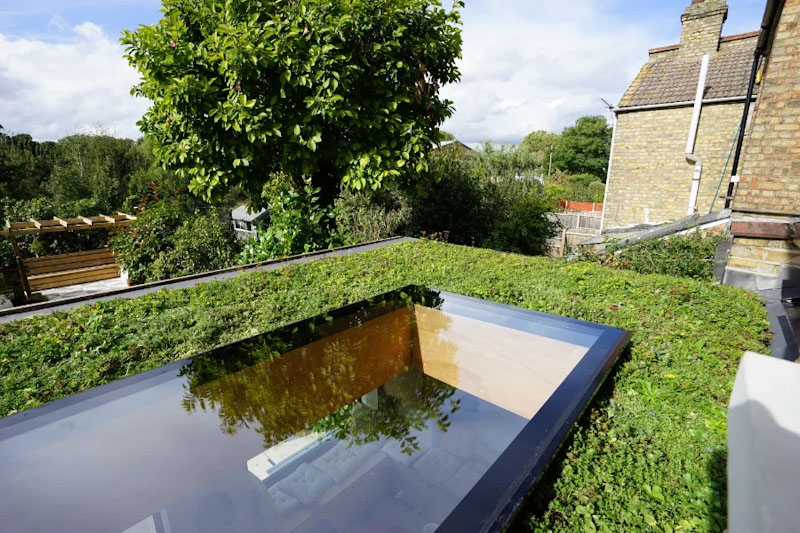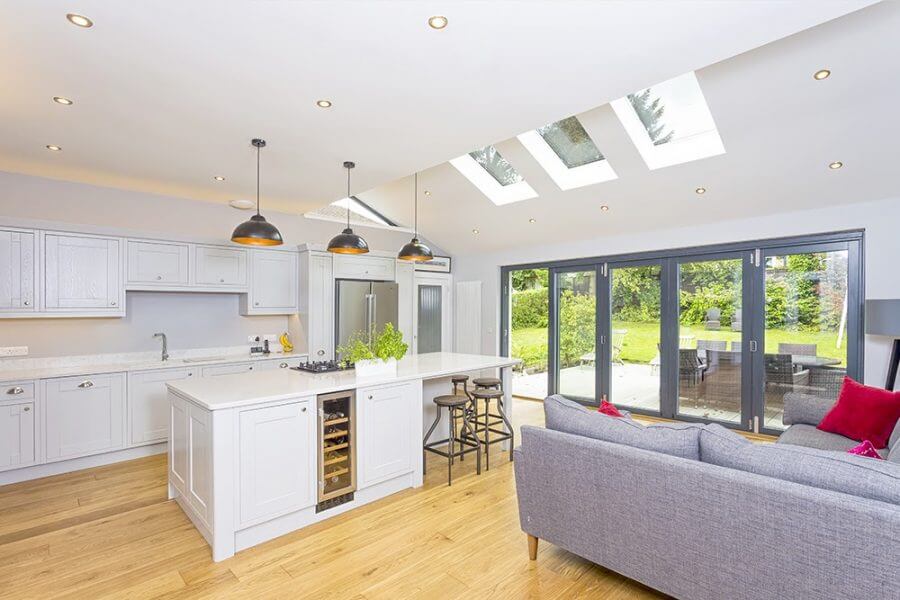 Pitched roofs
The sloping form of a pitched roof is a classic design that will suit most properties.
In a single-storey extension, you can also have a vaulted ceiling that follows the line of the roof. This will add height to the interior of your extension for a room that feels bright, impressive and spacious.
Adding pitched skylights and a gable end window will allow sunlight to flow through your extension throughout the day.
Crown roofs
Crown roofs have a flat top with sloping sides. This might be an option if you want the dramatic effect of a pitched roof, but are limited in terms of height.
A crown roof could potentially give you the option to add both flat and pitched skylights, which will channel more sunlight into your room as the sun moves around.
Exterior ideas
Most extensions are built from blocks then finished with exterior detailing. The most obvious choice for this would be a material that matches the rest of your property, whether that's red brick, grey stone or render.
Alternatively, you could choose something more unusual and make your extension a standout feature. Here are some ideas.
Metal cladding
Metal cladding is practical, durable and comes in a range of colours, which gives you plenty of options to customise the look of your extension. Choose large flat panels for a smoother finish or go for a more industrial ridged effect.
If you're having skylights, too, they can be powder coated in the same colour as your cladding, which will bring the look together.
Timber
Timber detailing gives a more natural finish and can suit a rustic or modern aesthetic depending on the style. It can also soften the appearance of extensions that are very glass-heavy and might otherwise look too modern.
Glass
A glass extension uses maximal glass, which creates an even greater sense of being outdoors with all-round views of your garden.
You could complete your glass extension with a glazed roof or opt for a more conventional insulated roof with skylights. With skylights, you also have the option of a blackout blind if the glare from the sun gets too bright.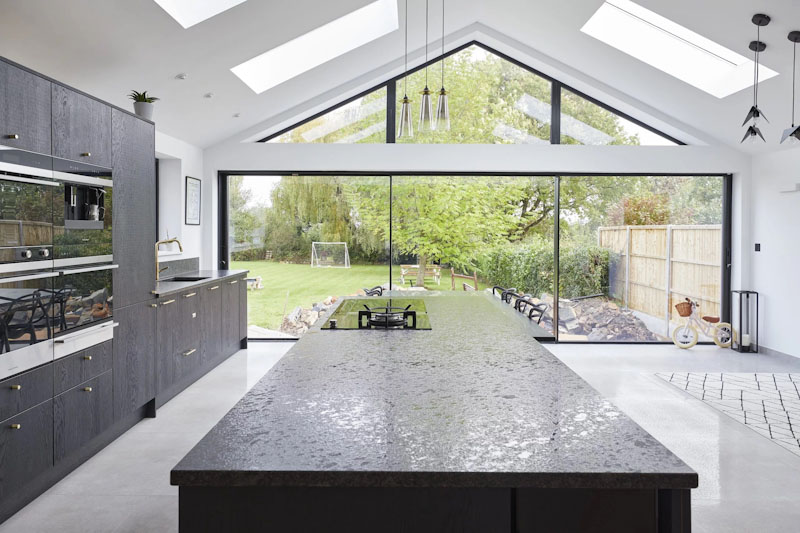 Exterior door ideas
There are a number of options for the doors that open onto your garden.
In most cases, your skylights can be manufactured and powder coated with a matching frame colour to coordinate your aesthetic.
French doors
French doors are the most traditional option and comprise two hinged glass panel doors that open in the middle. The doors are available with aluminium, wood or UPVC surrounds, which will complement any property.
Sliding patio doors
Modern sliding doors can be made with extra wide sliding glass panels. This means they can create a wider exit into your garden and give a more seamless view of your outdoor area.
Bi-folding doors
Bi-folding doors replace the wall, or part of the wall, at the end of your extension. They comprise several hinged glass panels, which can be opened and folded back in a concertina action.
These doors create the largest opening and merge your indoor and outdoor areas into one continuous space.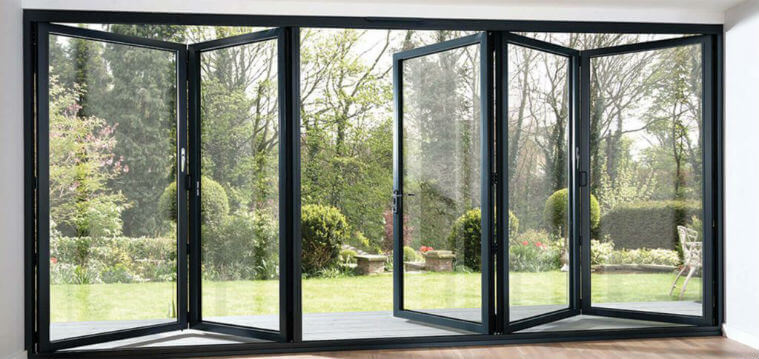 Interior inspiration
In 2022 the most coveted single-storey rear extension interiors are bright airy spaces that feel close to nature.
Roof Maker brings the daylight. And whatever interior style you choose, our skylights and roof lanterns have a classic minimal design that will complement it beautifully.
Here are four of our favourite interior schemes to inspire you.
New York loft
A New York loft is a bright contemporary space with lots of glass to make the most of the views. The look uses muted colours, while exposed brick and steelwork give a modern industrial aesthetic.
European orangery
Orangeries became popular Northern Europe back in 17th century. They were a cross between a conservatory and a greenhouse where plants and fruit trees could be grown.
You can recreate the style in your extension with natural materials, like wood, wicker and stone. Keep it neutral or add some vivid citrus accents and a selection of indoor plants. For a modern twist, add a living wall or contemporary water feature.
Minimalist
Minimalist interiors are based on the premise that less is more. The style focuses on simplicity with clean lines and lots of open space. Colours tend to be fresh and modern — either neutral or muted with lots of white.
Coastal
The coastal style has a bright and airy beach house feel. Neutral colours balance with an ocean palette of blues and greens. Textures include woven fabrics, wooden furniture and accents of shiny metal and glass.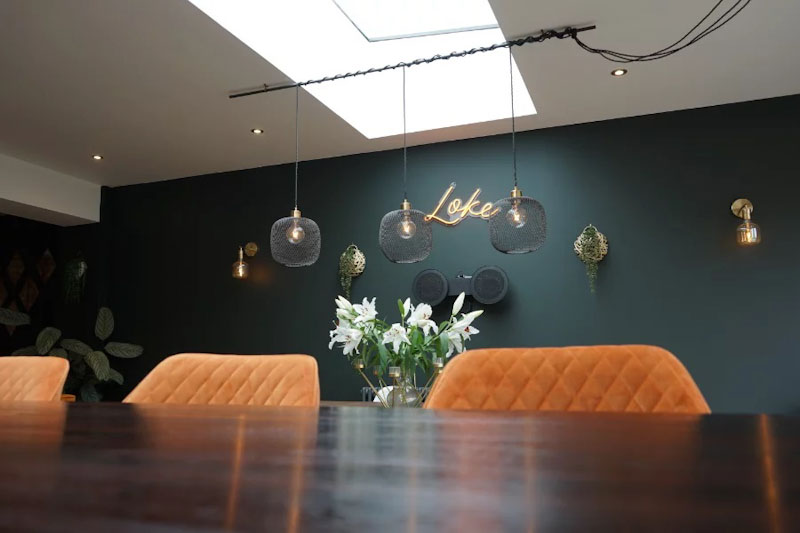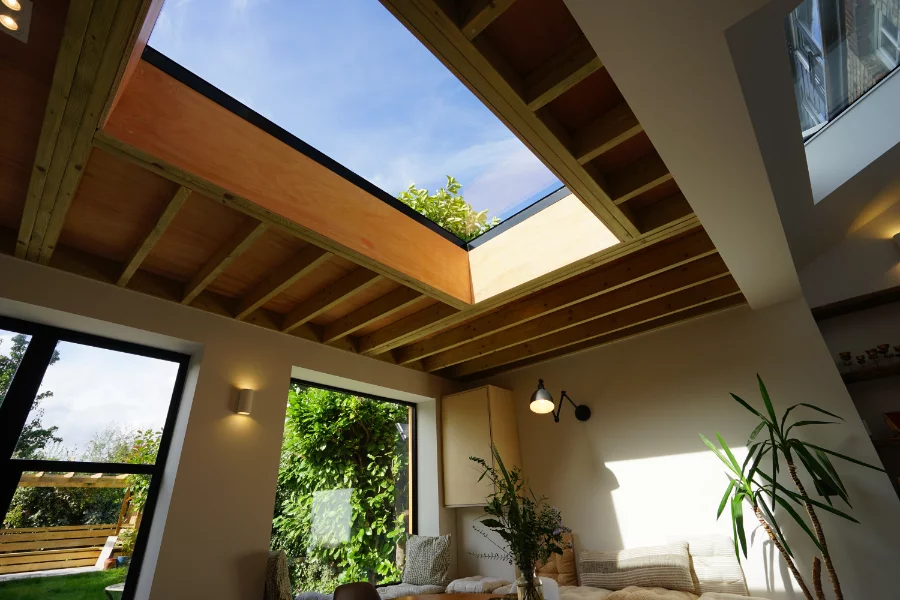 Do you need skylights or roof lanterns for your single-storey rear extension?
Roof Maker has been designing and manufacturing market-leading skylights since 2001.
Every item is precision-made and built by hand to your exact requirements.
You can set the measurements, subject to manufacturing limitations, and choose from a range of frame colours and glazing options to get the look and finish you want.
Our skylights are designed to maximise light flow, so from inside your extension, all you'll see is glass, with no intrusive frames to spoil your view.
And if you need some guidance, our team is on-hand with friendly advice and expert suggestions to help you through the process.
Call us on 0116 629 6297 or email [email protected] and we'll be happy to answer any questions or provide a quotation.