When we say energy efficient skylights we are mainly referring to their thermal efficiency. The more thermally efficient the skylight is the more energy you will save. For the average homeowner installing the right skylight will save them money on their energy bills over time.
Thermal efficiency of a skylight is generally measured by a Ug-value, the lower the value the more energy efficient the skylight is.
However thermal efficiency is not the only factor to contribute to energy efficiency. Skylights can be fitted into spaces that traditional windows can't, allowing you to increase the natural light in your home which means you don't need as much artificial light. This saves on electricity which not only reduces the bill but also helps reduce the home's carbon footprint.
Passivhaus rooflights
Roof Maker's Passive House Flat rooflight is the only UK manufactured rooflight to receive an accreditation from the Passive House Institute. It has set a new standard in energy efficient skylight design. Designed specifically for the future build market it has energy values of Ug-value of 0.2 W/m2K and uw value of 0.93 W/m2K with an energy efficiency class phB.
Manufactured in Roof Maker's Leicester factory from extruded aluminum profiles and high-performance factory-glazed triple glazed units, it incorporates a patented 'stepped' glass design, which is central to its thermal performance.
A beneficial part of any Passivhaus project, it will enhance thermal efficiency, helping to reduce a home's carbon footprint, whilst providing the benefits of excellent low maintenance, durability and a contemporary appearance with a frameless view from the inside.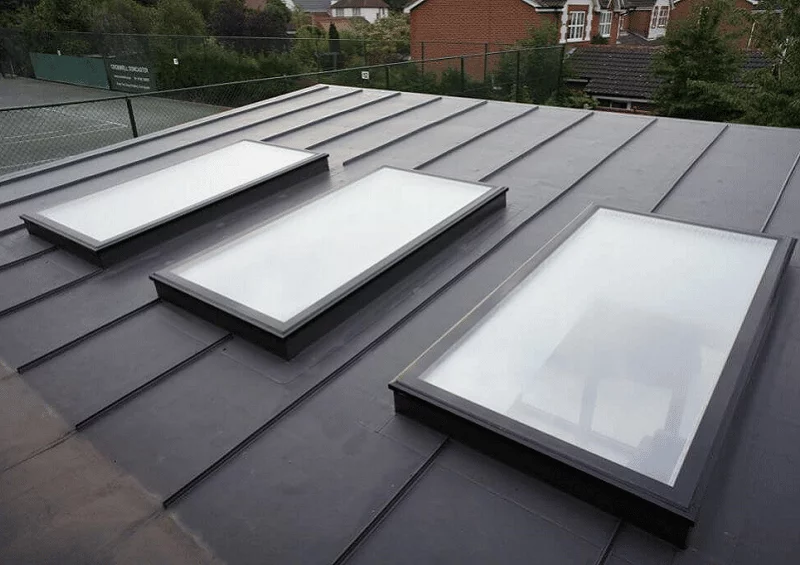 What is Passive House?
Passive House is an aspirational building standard of energy efficiency designed to significantly reduce a buildings exological footprint. The name is derived from the German term, Passivhaus and the first Passive House homes were built in Germany in 1990.
The Passive House Standard
Allows for heating and cooling related energy savings of up to 90% compared with an average building.
Reduces CO2 emissions by reducing the use of fossil fuels.
Working to counteract climate change.
Why choose a Roof Maker Passive House Rooflight
Thermal Performance
Central to its thermal performance is the patented 'stepped' glass design, which can maintain a 30-degree centigrade difference between the outside and inside of the property. The indented design effectively serves as an additional thermal break.
Expanded polystyrene insulation (0.038 W/(mK) within the thick aluminium base frame separates the metal parts, keeping heat transfer to a minimum and, along with its insulated timber upstand, is critical to its Passivhaus standard thermal performance.
Reflex + Triple glazed low E toughened IGUs are 50mm thick and 95% argon gas filed. The low e coating is a high performing Climaguard 1.0 softcoat adding to its thermal performance.
Its structure is:- Glass 1 – 6mm Clear Toughened; Cavity 1 – 16mm 95% Argon; Glass 2 – 6mm Climaguard 1.0 Tgh; Cavity 2 – 16mm 95% Argon; Glass 3 – 6mm Climaguard 1.0 Tgh.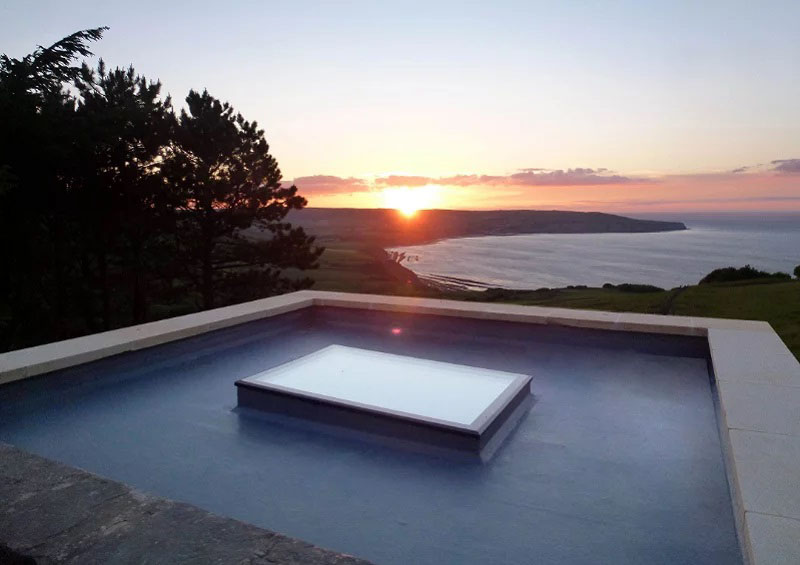 Affordable
Prices start from £527 ex VAT compared to our Triple Glazed Flat rooflights which start at £478 ex VAT. For the slight additional cost the Passive House Rooflight will help to save you more money on your energy bills.
Minimal Panes
By achieving the Passive House standard with a three-pane triple glazed unit rather than the four or five panes you may expect. You do not need to be concerned about the weight of the rooflight.
Get in touch
If you need expert advice, or a quotation, call the team on 0116 269 6297 or email [email protected] and we'll be happy to help.