It's a common dilemma: you love your home, but you'd like more usable space — and extending outwards isn't an option you want to consider.
But have you thought about extending upwards instead?
If you have a loft, it could be converted into a usable living area, which will give you the extra space you're looking for.
Why convert your loft space?
While some lofts are filled with precious memories and family treasures, most are just a storage area for things we no longer use or need.
Clearing and converting the space could give you an extra bedroom or bathroom. A separate home office. Or a lofty escape for relaxing.
Unlike other extensions, a loft conversion may not need planning permission if it meets the permitted development criteria. These criteria will vary according to where you live, so it's sensible to check with your local authority before you start.
A loft conversion with rooflights will create a bright room during the day and a perfect spot for stargazing when night falls.
And it could add an estimated 10-20% to the value of your home.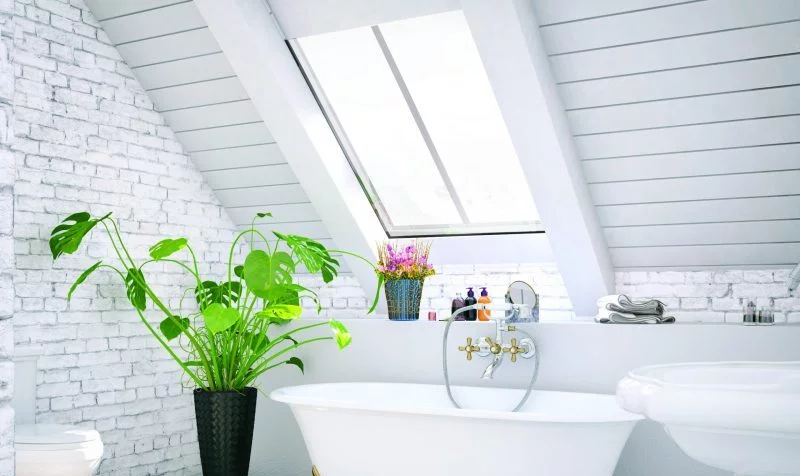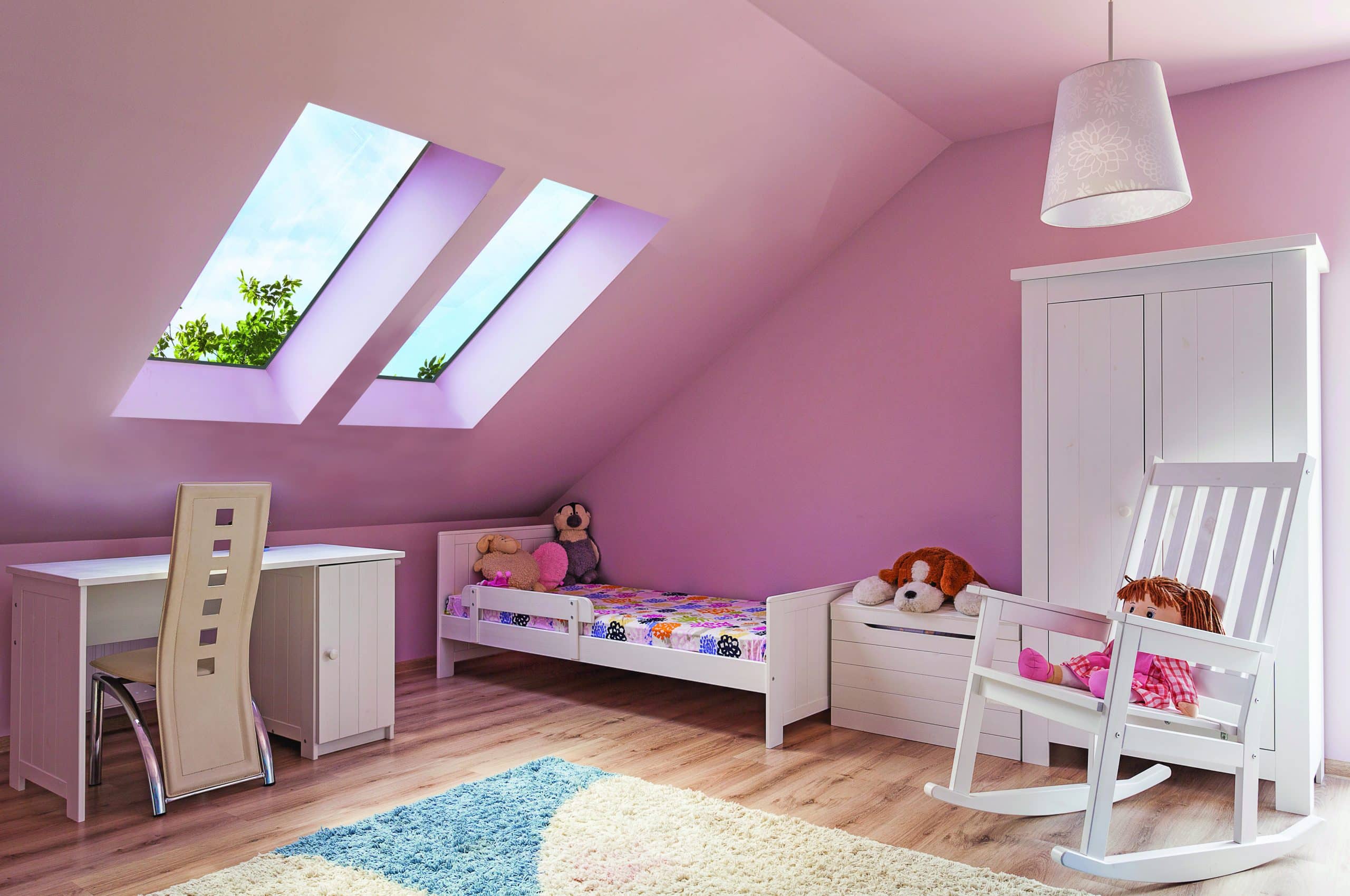 Loft conversion design ideas
Here are some general tips, considerations and ideas for your project.
Making the most of your space
The amount of loft space you have will vary according to how and where your roof slopes.
If your loft has plenty of space with enough head height to walk around, you might opt for a vaulted ceiling with rooflights.
But if the space with sufficient head height is limited, creating a dormer loft conversion might be a better option. In this scenario, you would have dormer windows, with the option to add rooflights as well.
Some loft spaces are short on head height and don't have the option to create a dormer loft conversion. In cases like this you can use some interior design trickery to give the illusion of space.
For example, having solid white walls, ceilings and woodwork will create a seamless open space. And installing large rooflights will allow natural light to enter and flow freely around the room.
Planning the layout
Having your layout in mind from the beginning can help you avoid stress and unexpected costs down the line.
Consider where your stairs will be and decide on the layout of your furniture. This will help you figure out where your fixtures and fittings need to go.
Power points and switches will need to be exposed and accessible.
Radiators come in a variety of shapes and sizes, which might be handy if you have limited or awkward wall space.
A well-placed rooflight can illuminate a dark stairwell or home office desk. While a rooflight above the bed or bath can be perfect for watching the stars.
Incorporating existing features
Some loft spaces have interior features you can use in your design.
For example, a brick or stone chimney could become a feature headboard for your bed. And exposed rafters or wooden beams will give the space a more natural rustic feel.
Co-ordinating your exterior scheme
With a loft conversion, it's best to choose an exterior style that will suit your existing property.
If you're having a dormer loft conversion, use the same coloured bricks. And choose rooflights with frames that complement your existing windows.
Roof Maker's rooflight range offers a range of frame colours, so you should have no problem finding something that works for you.
Including rooflight blinds
Overhead sunlight can be bright and may create uncomfortable glare in your loft conversion at certain times of day.
A rooflight blind can either dim that glare or block it out completely.
It could be an ideal complement to your rooflight if you'll be using your loft conversion when the sun is at its most intense. Or if you want to keep your room cool during that time to avoid an uncomfortable build-up of heat.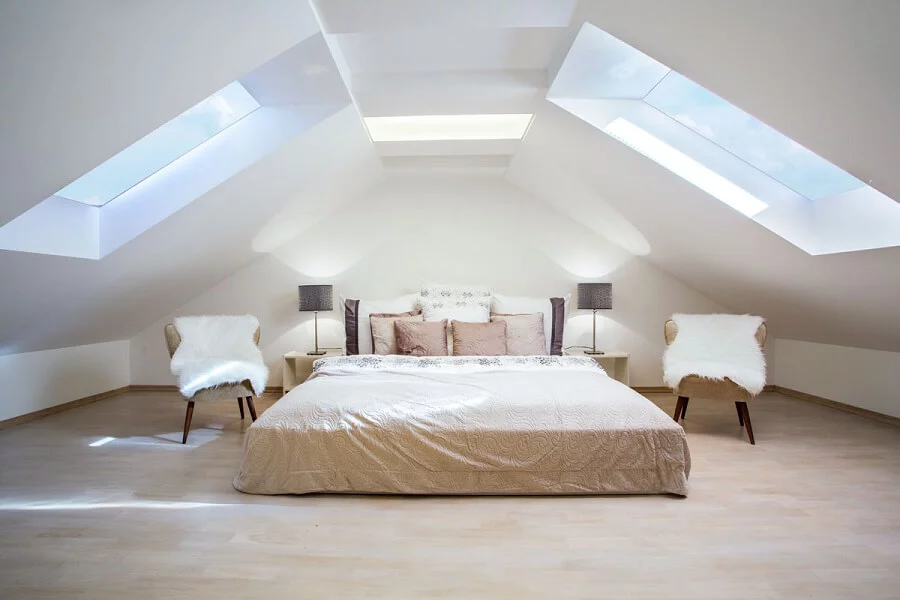 From loft space to living space
Here are some loft conversion ideas to show you what you could achieve.
Loft conversion bedroom ideas
A loft conversion is most commonly used to create an extra bedroom.
But depending on how much space you have and where the stairs are placed, there may be the option to have two rooms or a bedroom annex.
How to use the loft space
Two separate bedrooms might be the best option if you have a large family to accommodate.
Alternatively, you could use the whole loft to create one bedroom with an ensuite bathroom. This could become a master suite, a self-contained guest room or a more independent space for an older child.
If you're creating a bedroom with an annex, that annex space could be used in a variety of different ways.
For adults or fashion-conscious teens, it could be a walk-in wardrobe. For new parents, it could be an adjoining nursery. For an older child, it could be a separate study or hangout.
The possibilities are endless.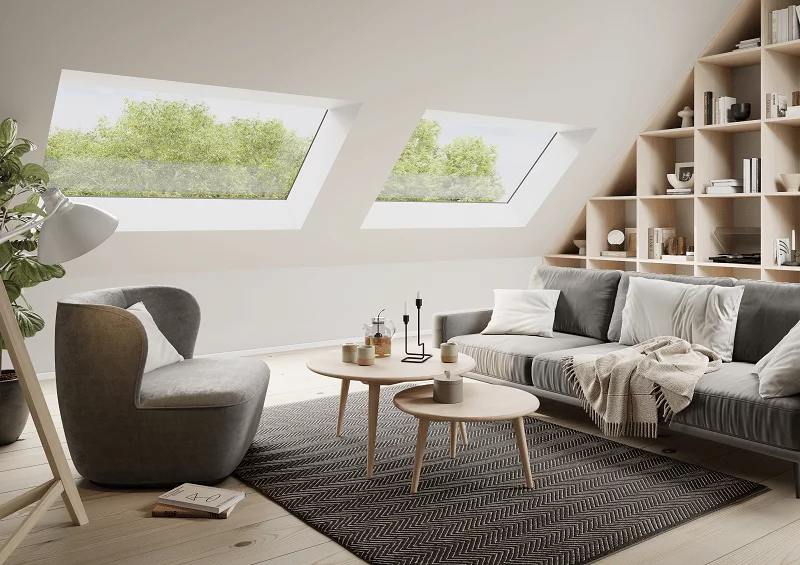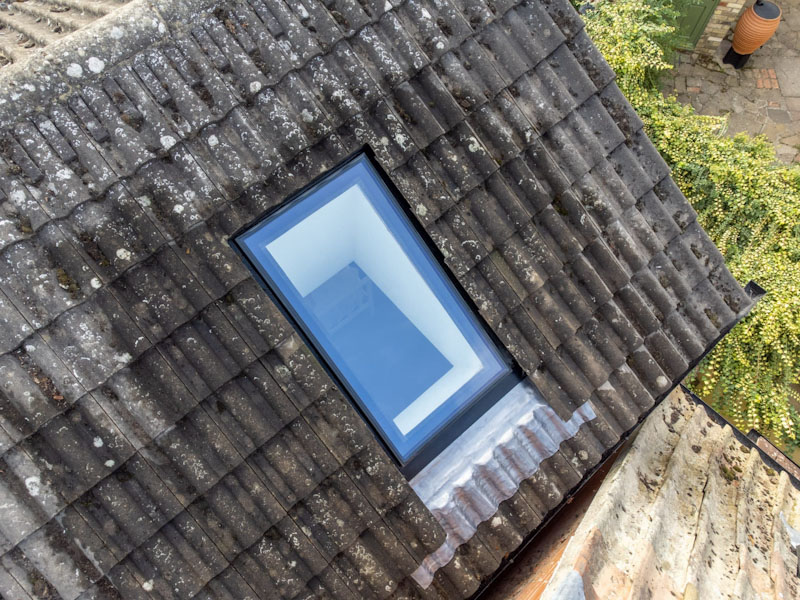 Loft conversion home office ideas
The trend for working from home started during the Covid lockdowns — and it's a trend that seems set to continue. Since Covid ended, home working has tripled.
And, as 2023's interior design trends show, home offices are going to be popular.
A small loft conversion can be the perfect size for an office.
Sited at the top of the house, your office will be away from family distractions. And it will make it easy to shut down and close the door at the end of the working day.
A loft space is ideal for creating a healthy and productive workspace with lots of natural light and the option of fresh air.
Roof Maker's rooflight range provides both. With rooflights that give you maximal daylight for the size of the hole in the roof. And the option of a hinged opening for natural ventilation.
Made to measure blinds can dim the sun if it gets too bright.
Best of all, the office is all yours, so you can decorate it as you wish and create the kind of inspiring space you want to work in.
Loft conversion bathroom ideas
A bathroom in the loft can be the perfect place to escape from the rest of the house and unwind.
Add a rooflight and you can bathe under blue skies, passing clouds and twinkling stars.
For bathrooms, we recommend a hinged opening rooflight, which offers natural ventilation and helps to clear any build-up of steam.
Loft conversion hangout ideas
A hangout is a favourite place for spending time and doing things you enjoy.
Your loft space could make the perfect hangout as it's separate from the rest of the house and, with windows or rooflights, can offer the best views.
You could design your loft space around your favourite activities.
That might be a:
Fiction library
Mini gym
Home cinema
Music room
Gaming hub
Home bar
Social space
… or a little bit of everything.
If the things you enjoy are noisy, remember to include some soundproofing in your conversion!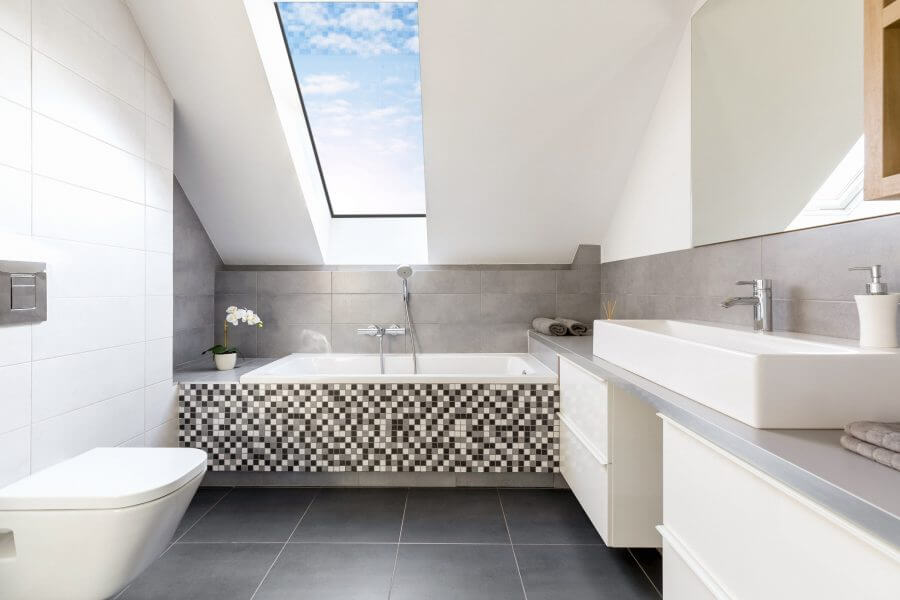 Planning a loft conversion?
If you're planning a loft conversion, chances are, you'll need some rooflights.
And that's where Roof Maker can help.
Pitched roof loft conversions
Most loft conversions are created in a pitched, or sloping, roof. And for this kind of project, you need pitched rooflights.
Roof Maker offers three different options, all of which give you the most possible light for the size of the hole in your roof. These rooflights appear frameless from inside, so all you see is glass.
Luxlite LP
Luxlite LP is the most affordable pitched rooflight we offer.
This non-opening rooflight is triple-glazed as standard, for superior heat insulation and noise reduction. The unit is also lightweight and is a low profile skylight, which means it will sit closer to the surface of your roof.
Luxlite
Luxlite is a high performance rooflight, which also offers exceptional thermal performance and noise reduction.
It's available double or triple-glazed and can be fixed or with a hinged opening for ventilation.
Conservation Luxlite
The Conservation Luxlite offers the same high performance and customisation options as the Luxlite.
The only difference is in the aesthetic. Our conservation rooflight is designed to replicate the look of an original Victorian skylight. This makes it ideal if you have a listed building, if your property is in a conservation area, or if you just want a rooflight with a more traditional style.
Need help or more information?
For expert help and friendly advice, call the team on 0116 269 6297 or email [email protected].